Last Updated on January 23, 2023
There's no shortage of celebrities who love triangle bikinis.
Bella Hadid, Dua Lipa, Kendall Jenner and Kim Kardashian are amongst the A-listers who never seem to wear anything else. Oh, to live somewhere sunny!
READ MORE: The Best Bathing Suits For Small-Chested People
If you've been wondering whether the itsy-bitsy-teeny-weeny bikini top would suit you, I'm here to help.
Wear Next may receive a small commission if you click a link from one of our articles onto a retail website and make a purchase.
Do triangle bikinis look good on small chests?
If, like me, you've got small boobs, you can pretty much rock any bikini. Unlike those with big boobs, you don't need to worry quite as much about support.
Triangle bikinis are probably one of the most commonly worn styles on the planet, and they definitely look good on small boobs. However they sometimes don't come with padding, so if you're looking for a boost to your boobs, you might want to find one that does.
READ MORE: Small Boobs? Same – and I've Found 9 Bikinis That Really Work For Us
What is the most flattering neckline for small chests?
Working out which necklines suit you will help you work out the right bikini or swimsuit to buy too.
There's a huge variety that will work for you, including bandeau necklines – also known as boob tubes or tube tops – and off-the-shoulder necklines. These highlight the collarbones and shoulders.
Similarly halternecks accentuate the shoulders, while v-necks often give the illusion of bigger boobs – particularly more narrow v-necks.
Scoop necklines also work on pretty much every body, offering a softer touch than other angular styles.
READ MORE: The Vanilla Girl Aesthetic Is the Latest Look to Go Viral on Tiktok – but What Is It?
Shop triangle bikinis
Spring scalloped halterneck bikini top, £140, Marysia – buy now
Padded triangle bikini top, £12.99, H&M – buy now
Swim Triangle Top, £38, Skims – buy now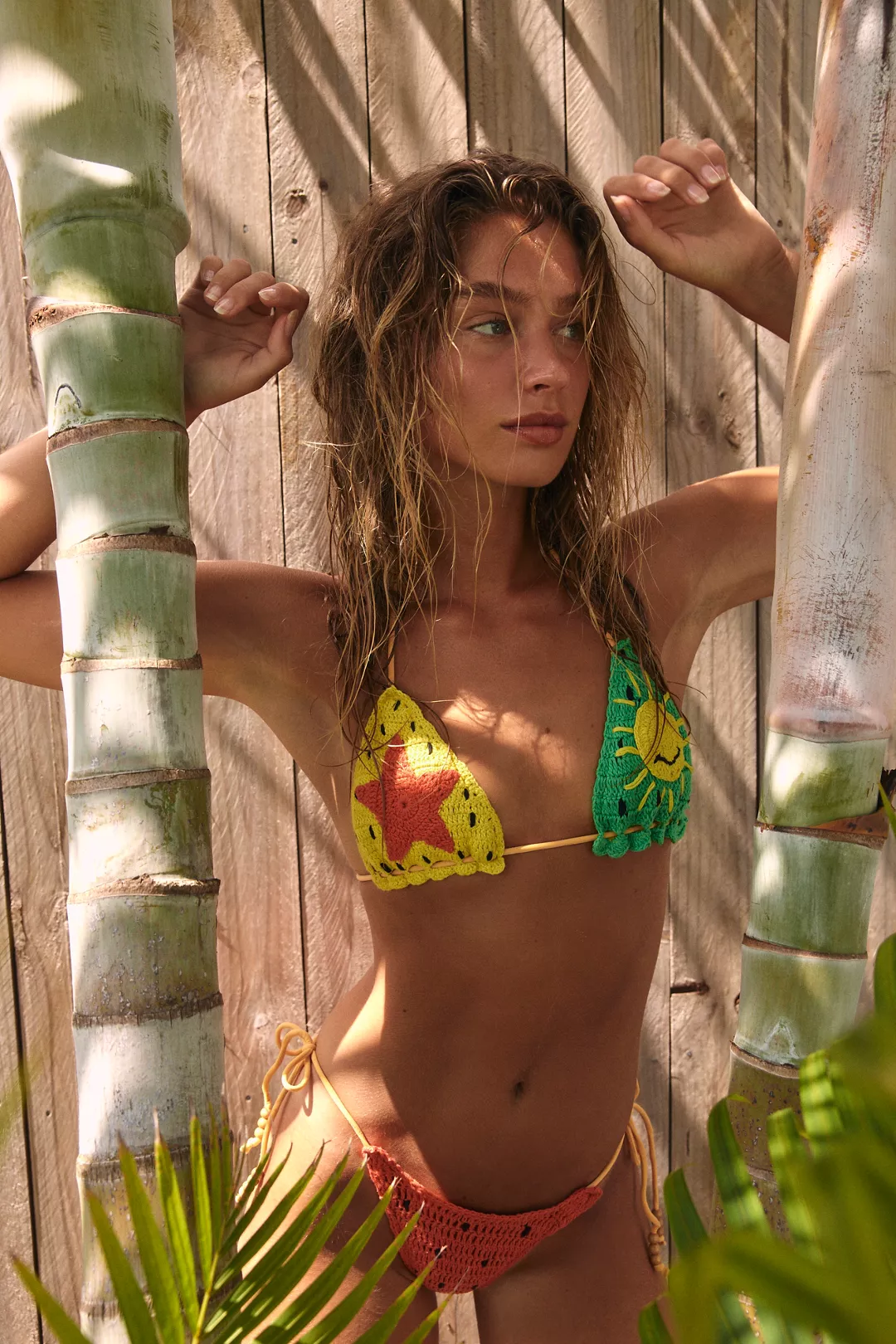 The Crochet Tri Bikini Top, £78, It's Now Cool at Free People – buy now