Last Updated on May 16, 2023
If you're waiting for your next hair appointment, I've got a little secret to share with you: root touch-up sprays.
I got my first grey hair at around 19, and at 32, I now have what feels like millions. I try to dye them when I can, but in-between appointments, these handy hair sprays are such an easy alternative.
They do what they say on the tin. Pick a spray as close to your hair colour as possible, and simply spray your roots to cover them up.
They're not expensive, but they make the world of difference – if not just to my confidence. I'd love to be comfortable rocking my greys, but I'm not there yet so this is the next best thing.
Wear Next may receive a small commission if you click a link from one of our articles onto a retail website and make a purchase.
What is the best root touch up in between salon visits?
I don't mean to be biased, but I'd say these root touch-up sprays. They're quick, easy and they last all day.
I use Nice n' Easy's root touch-up when I have 30-45 minutes to spare, but day-to-day, this is far quicker and easier. Plus, it won't affect your hair if you plan to lighten it.
Is spray on root touch up safe?
These are completely safe. Think of them like make-up for your hair!
I've never had any issues apart from slight itching, but this could be down to my sensitive scalp.
How long does root touch up spray last?
It should last all day without transferring to your clothes or hands, but you'll need to wait for them to dry. I usually lightly brush my hair after I use them to make sure it blends in without looking sprayed on.
Do you use root touch-up spray on wet or dry hair?
These should be used on dry hair for best results.
READ MORE: 9 of the Best Dupes For Dior's Bestselling Lip Oil To Keep Your Lips Glossy and Moisturised
Shop root touch-up sprays
L'Oréal Magic Retouch Instant Root Concealer Spray (various shades available), £4.75, Amazon – buy now
This is my personal favourite root touch-up spray. I find it doesn't transfer to my clothes, lasts all day, and it's cheap as chips!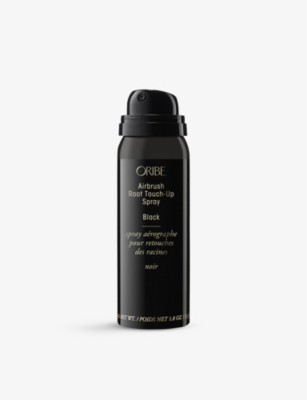 Blonde airbrush root touch-up spray 75ml (various shades available), £30, Oribe – buy now
Clairol Root Touch Up 2 In 1 Spray Dark to Medium Blonde (various shades available), £8.99, Boots – buy now

L'oréal Professionnel Hair Touch up – Light Brown 75ml (various shades available), £11.35, Sephora – buy now
The Shave Factory Hair Building Keratin Fiber Medium Brown 21g (various shades available) , £10.50, Sephora – buy now