Last Updated on October 28, 2022
The last thing anyone wants is to shrink their favourite top, dress or trousers in the wash, especially if you've only worn them once. It's happened to me several times, and I'm still trying to learn my lesson.
There are plenty of things you can do to avoid it happening, but perhaps the best place to start is by checking whether the brand you want to buy from creates clothes that can handle being put in the washing machine in the first place.
READ MORE: Zara is Launching a Pre-Loved Platform to Extend The Life Of Your Wardrobe
So what's the deal with Zara? Do their clothes shrink in the wash?
Here's what you need to know.
Do Zara clothes shrink?
As far as my own wardrobe goes, I haven't found it difficult to wash any of my Zara pieces – nor have I noticed them shrink after washing.
However not everyone says the same. According to one Zara customer, they often do shrink in the wash.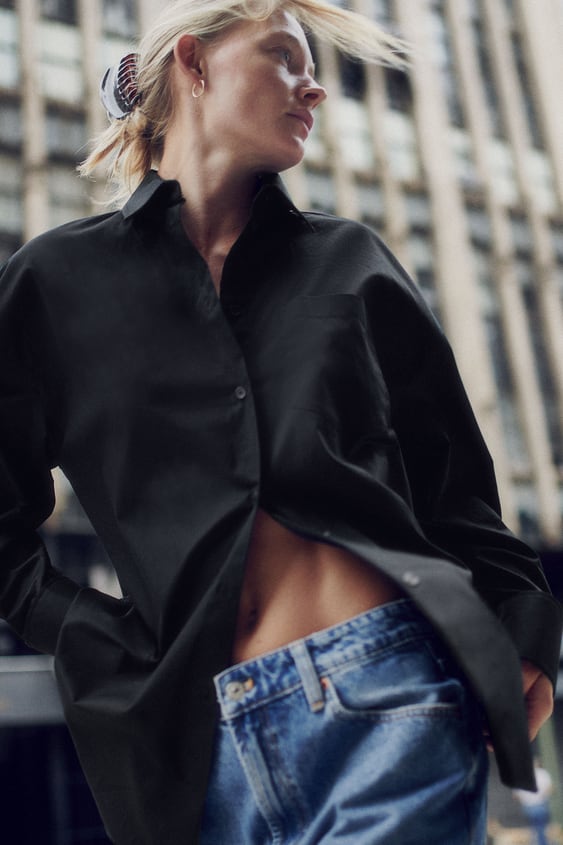 In a review of the brand on Zara's official Facebook page, they wrote: 'About 95% of my wardrobe is ZARA, however I feel lately the standards of the fabrics are used have become very poor.
'At least 5 of my sweaters have shrunk by 1-2 sizes and not to mention they have lint balls forming all over them after the first wash, which was disappointing.
'I am careful to follow all the wash instructions, but despite following the directions they shrink.'
The Sun also performed a shrink test to measure how much smaller high street pieces are after being washed. They washed a Zara dress and found it to be 1.7inches shorter afterwards.
How to avoid shrinking your Zara clothes in the wash
I consulted Google for some answers and found this Reddit thread on how to avoid Zara clothes from shrinking in the washing machine. And the advice is largely the same — read the care instructions carefully.
Zara is known for its stylish and purse-friendly pieces, from their trend-forward pieces to timeless basics. They're also the subject of many viral fashion trends on Tiktok, like their pink satin dress, which became popular last year.
The brand's best pieces also quickly sell out and they're rarely restocked, so it's best to keep it in good condition if you can.
Read Zara's care labels
First and foremost, take a look at the clothing labels.
Each garment will have a care label, which offers clear instructions on how it should be washed. If it says hand wash, that's what you should do or you risk ruining it after one wash.
Zara also offers recommendations about the best way to care for different garments. You can read it here.
Use the delicate setting on your washing machine
Most washing machines have a delicate setting for baby clothes and hand wash-only items. It's also there to help prevent your clothing from shrinking in the wash.
The gentle cycle is often used for those clothes, but you can use the delicate setting instead if you're washing something that's not explicitly labelled as needing special care.
READ MORE: 14 Key Trends For Autumn Winter 2022 You Can Actually Wear
Wash in cold water—it makes all the difference
Washing your clothes in cold water has plenty of benefits, including preserving your clothes' vibrant colours and preventing the dreaded shrinkage.
At the same time, switching to cool water reduces your energy consumption, saving you money and decreasing your carbon footprint.
Dry them on a rack or set your dryer to the lowest setting
Set your dryer on low heat instead of high heat—this will help prevent shrinkage and keep more of their natural fibres intact. But there are a few fabrics that you shouldn't put in the dryer.
Any delicate materials like cashmere, lace and silk should be dried on a rack
The general rule of thumb is to read the care label and check if the clothing item is suitable for the dryer before you pop it in.