Last Updated on April 19, 2023
Spring is here and so are the colourful socks.
I'm a big-chunky boot kinda' gal during the winter so I can get away with thinking very little about my socks; as long as they're warm and cosy, I'm good to go.
Now we're due some warm weather though, it's time to have fun with styling socks again.
Across the internet, or in my bubble at least, pops of colour are popping off; one of the best ways to experiment with this yourself is colourful socks.
So how do you do it right?
Colourful socks are all about adding personality to an outfit, but there is a fine line between looking stylish and looking silly – although I wouldn't let that put you off.
Here are some of my top tips to follow if you're a bit stuck when it comes to styling colourful socks.
For more from Lindsey, follow her on Instagram and check out her interiors website house-house-house.com.
Wear Next may receive a small commission if you click a link from one of our articles onto a retail website and make a purchase.
Stay away from novelty socks
I'm sure I'm not the only one who remembers the wall of novelty socks in Topshop and Topman, but unless you want to look like a politician on a Sunday or a teenager from 2005, I'd leave these where they belong – on the shelf.
Don't go too matchy-matchy
I always think the best kind of outfit is an outfit that looks as though it's been thrown together, it looks effortless, you know? Which is why I wouldn't go too matchy-matchy with the socks.
I'd avoid having my socks the exact same shade as my jumper for example, otherwise, it can start to look like a uniform (or you're trying too hard).
Work with an overall colour pallet, rather than a specific colour
Remember back in the day when everyone was creating beautiful product shots on Instagram? Well, you want your outfit to look like that and the colourful socks to bring it together as a whole.
Don't be afraid of patterned socks
Tartan, floral, spotty, animal print, checked socks: they all get a big tick from me.
Red socks
Red socks, blue jeans and Dr Martens = a winning combination. Always. Not sure how to introduce colourful socks into your wardrobe? Start here.
Go with your gut
Fashion is all about having fun and self-expression so if the socks feel right to you – go for it; I'm no stranger to throwing the rule book out the window and you shouldn't be either.
Socks and sandals
I know this is a dividing opinion, but a world in which socks and sandals can't be worn together is not a world I want to live in. This is the best way to show off your jazziest socks – think sheer, glittery and 3D florals.
Shop socks
Socks I'm into right now:
Sheer Spotty Blue Ankle Socks, £7.50, Oliver Bonas – buy now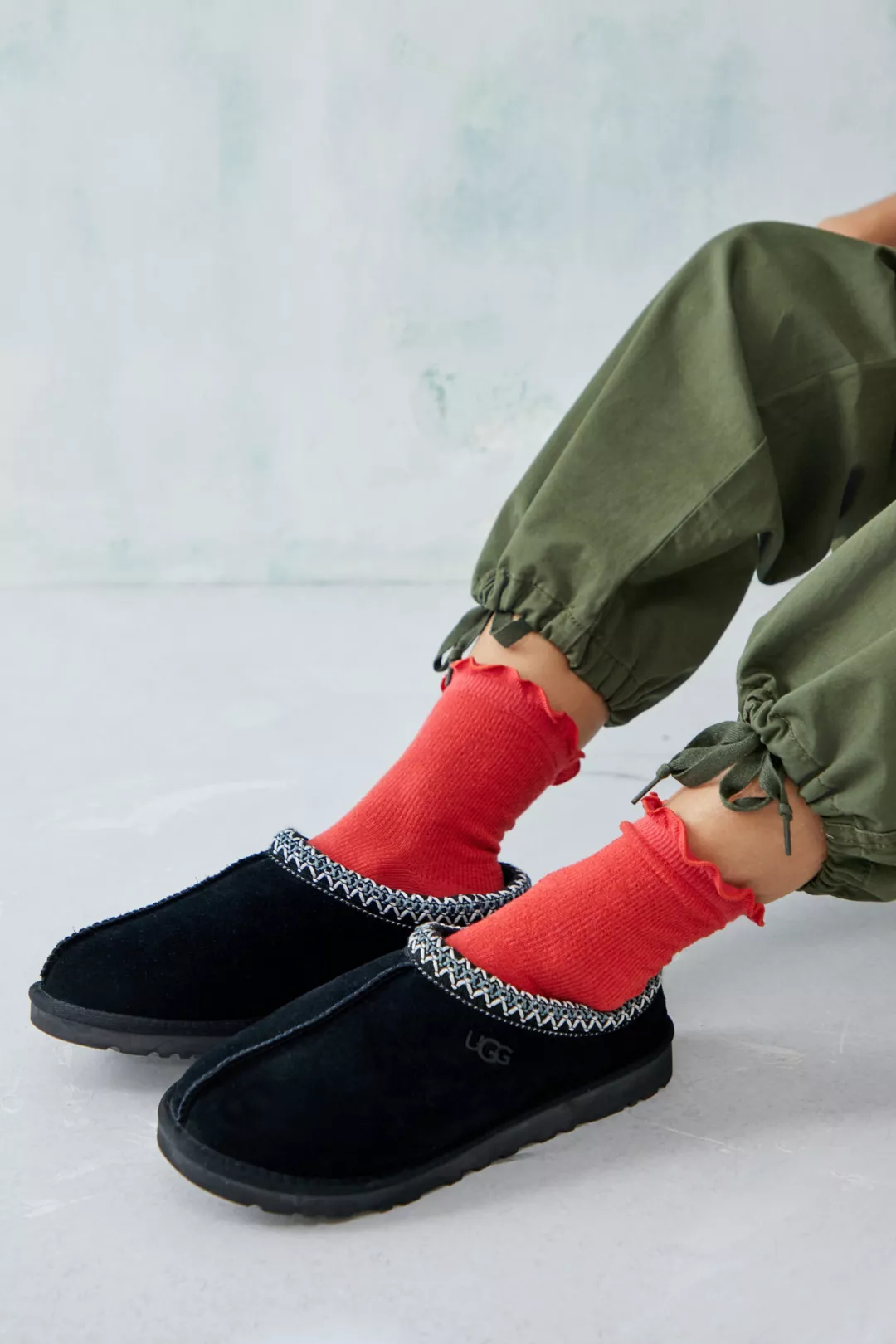 Red Karsyn Lettuce-Edge Socks, £10, UGG – buy now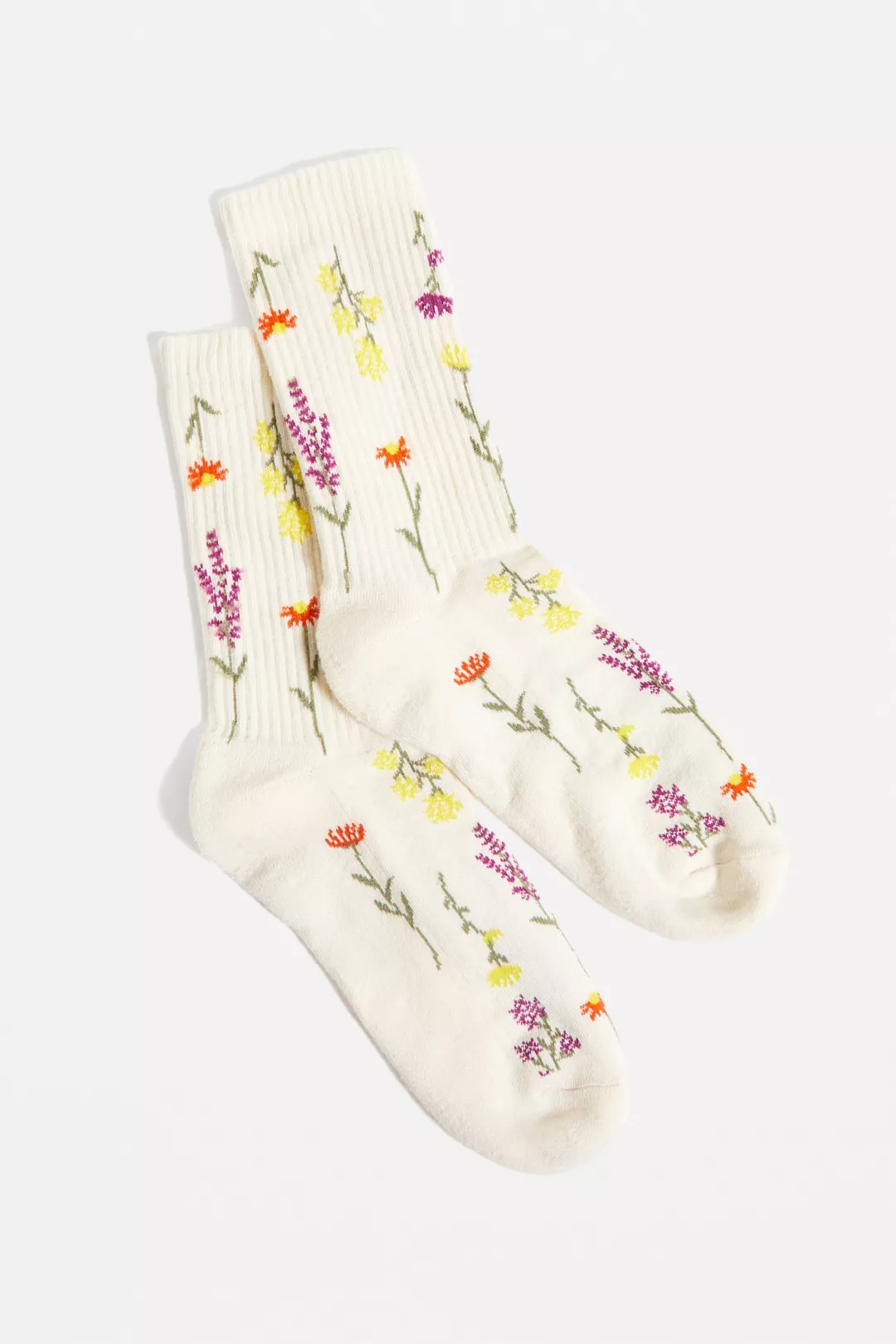 New Flower Print Socks, £7, Out From Under – buy now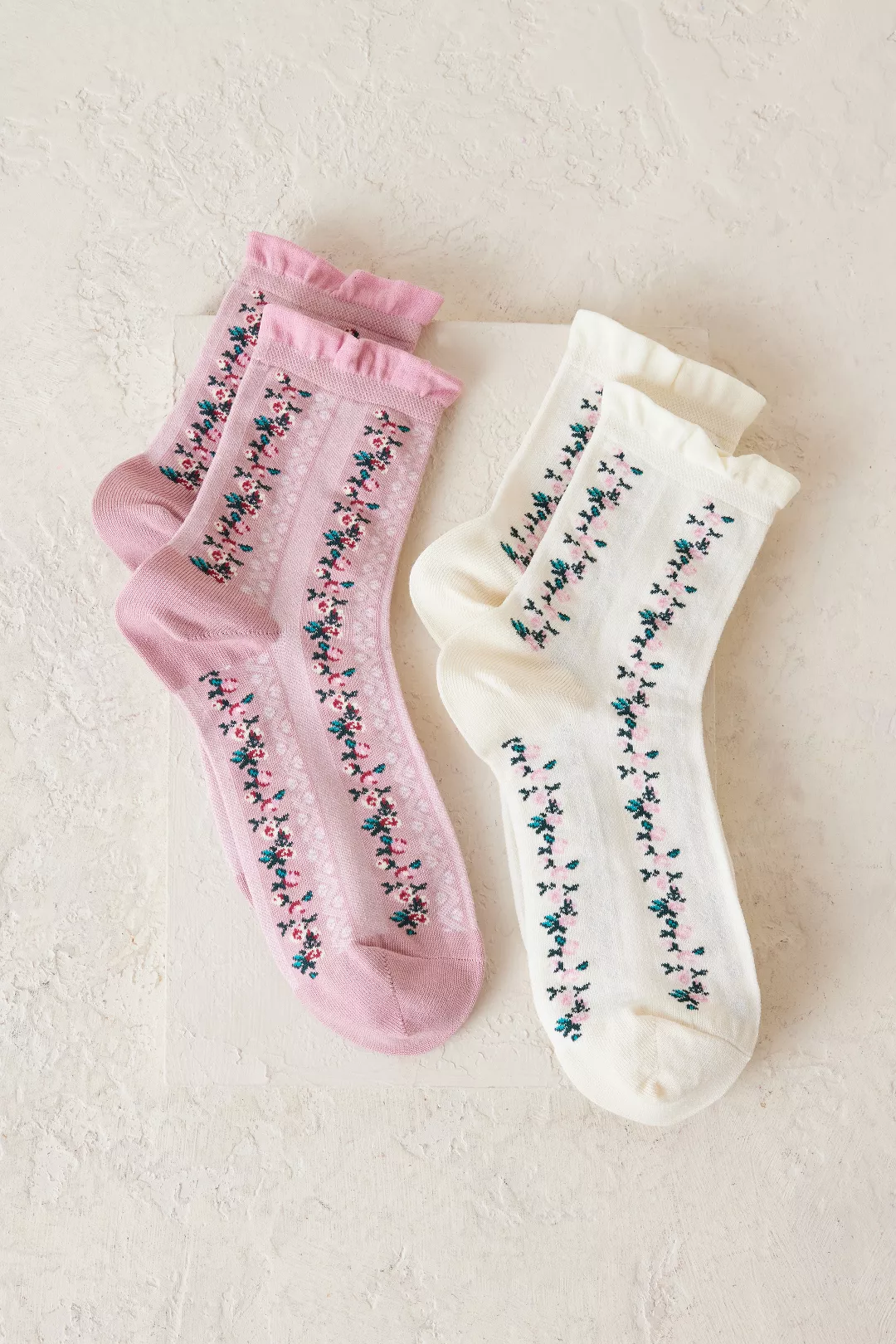 Set of 2 Paneled Floral Socks, £25, Anthropologie – buy now
5-pack Rib Socks, £16, Weekday – buy now
Brushed Animal Print Orange Cotton Ankle Socks, £7.50, Oliver Bonas – buy now
Checkered Socks, £17, & Other Stories – buy now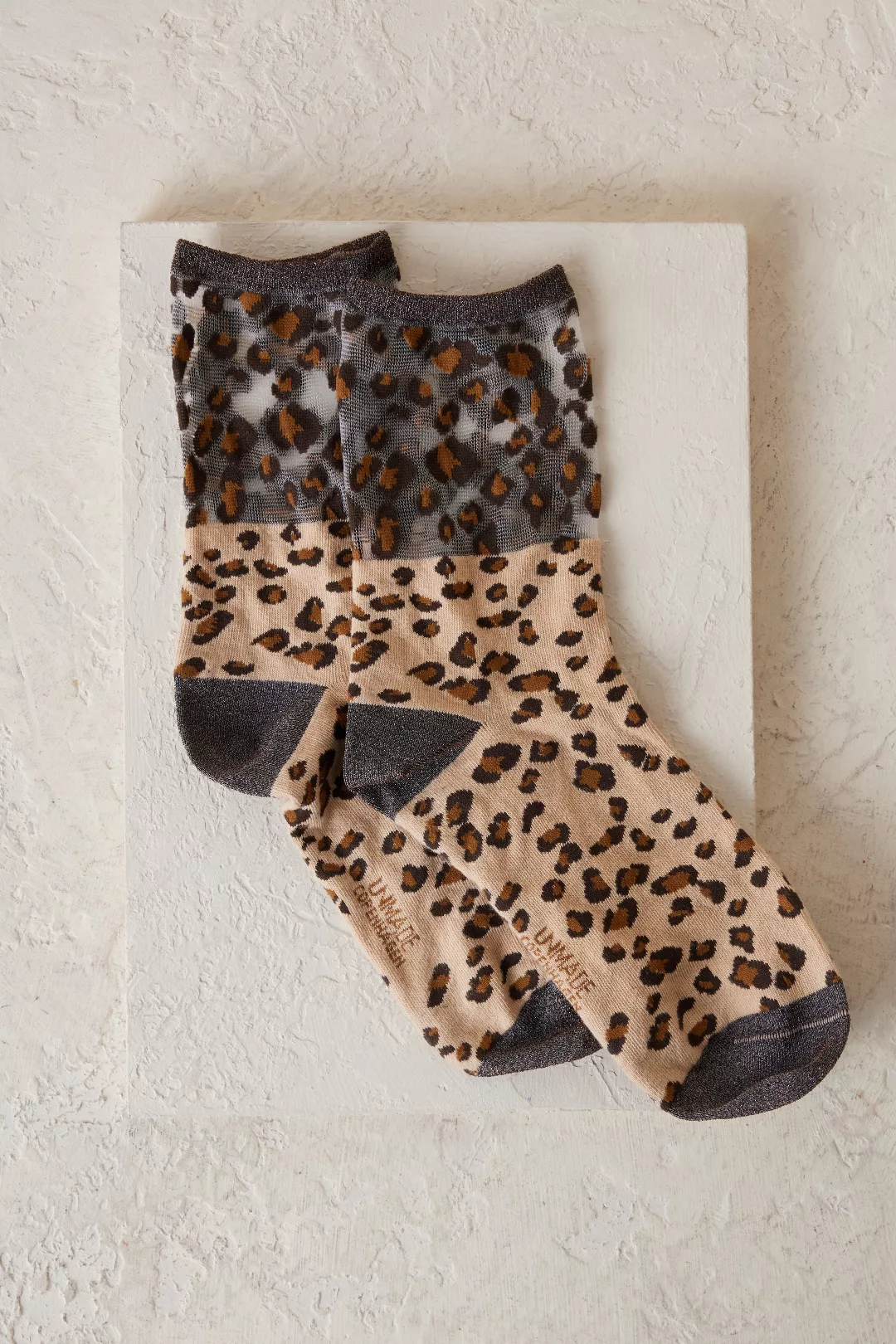 Leopard Mesh Socks, £12, Anthropologie – buy now
2-pack DryMove™ Sports socks, £9.99, H&M – buy now
Metallic Socks Gift Set, £23, & Other Stories – buy now
Dagmar Polka Dot Socks, £8, Becksondergaard – buy now
Set of 2 3D Floral Socks, £25, Anthropologie – buy now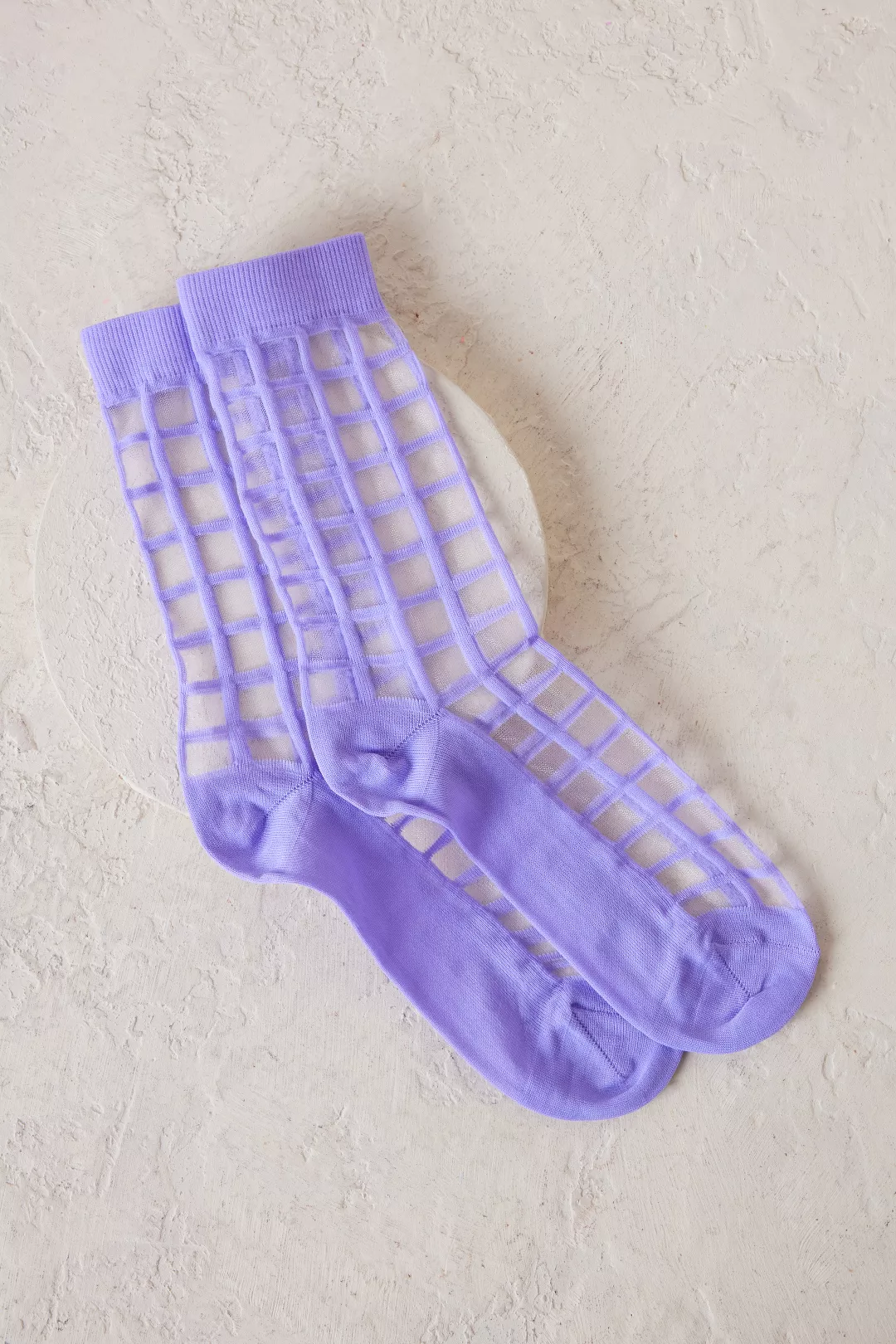 Sheer Grid Socks, £30, Swedish Stockings – buy now
Should your socks be visible?
Socks are a great way of adding personality to your outfit so don't be shy about showing them off. I've never been a fan of trainer socks, for me, they can get in the bin.
Should socks be the colour of your pants or shoes?
'Apparently' socks should be coordinated with your trousers, rather than your shoes, but as long as they tie in with the rest of your outfit, it doesn't matter either way.
Are patterned socks still in style?
There are some great patterned socks available and they can add a lot of interest to an otherwise simple outfit. However, as I mentioned before, novelty patterned socks are a bit of a fashion faux pas, I reckon.
How do you wear different colour socks?
Traditionally, socks should be a few shades darker than your trousers, but I would respectfully ignore tradition and wear what you think looks good.