Last Updated on September 22, 2022
Ready for a refresh or just desperate to know what's popular?
Take a look at my list below. You'll find thirteen of the most up-to-date trends in the interiors world right now. 
READ MORE: How To Paint Your Ceiling: 6 Tips For DIY Beginners
Wear Next may receive a small commission if you click a link from one of our articles onto a retail website and make a purchase.
Tufted Everything
Tufted rugs have been bang on trend for a while now – have you searched #tuftock on TikTok recently? There's 3 hours of my life I won't get back.
Well, it seems this was only the beginning of our new found love for carpet, it's getting bigger, shaggier and more colourful.
It's creeping onto the walls, around mirrors and even onto furniture and upholstery.
If ever there was a trend to divide opinion, surely it's going to be this one?
I own a tufted rug mirror and I have carpet on my walls already so I'm sure you can guess what side I'm on. #tuftock all the way! 
The Gina Mirror, £350, Al's Place – buy now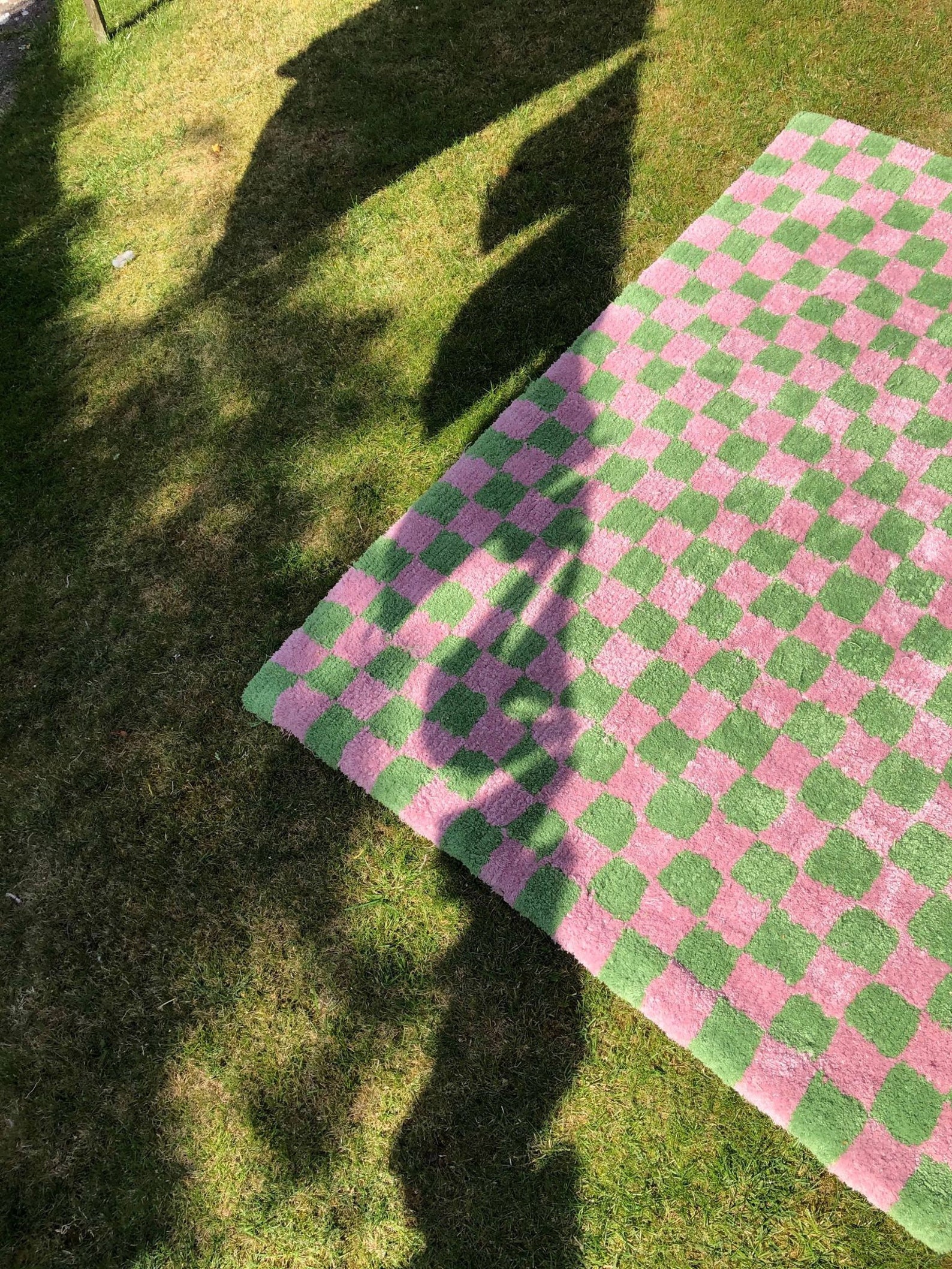 Checkerboard rug, £500, Peachy Panther at Etsy – buy now
Candy Colours
Oh boy! I'm excited about this trend.
I am so happy to see colourful homes being embraced properly. Finally, brands are starting to offer pieces in colours other than black, white or grey.
Expect to see popping pinks, electric blues and toy reds packing punches into living spaces from here on out. 
Chub mug, £25, MADE – buy now
The neon matisse pillow you know you always needed, £39, Wilder Home – buy now
Small glass vase, £12.99, H&M – buy now
Mint Green
Green is such a popular colour, we've been seeing it in spaces for quite some time now but sage green and deep jade are stepping aside for fresh mint.
While other shades of green might be a bit more forgiving, minty green can be a bit tricky.
It can add a new lease of life in an already light room but anywhere dark or dreary and it will do just the opposite. 
READ MORE: The Best Staircase Paint To Inject Some Colour Into Your Home, By A Seasoned Expert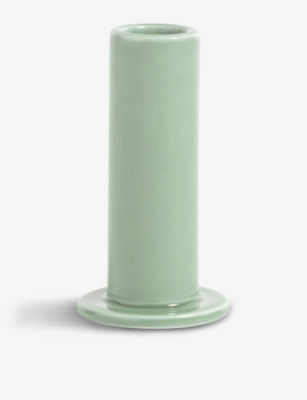 Tube earthenware candleholder 5.5cm, £16, HAY at Selfridges – buy now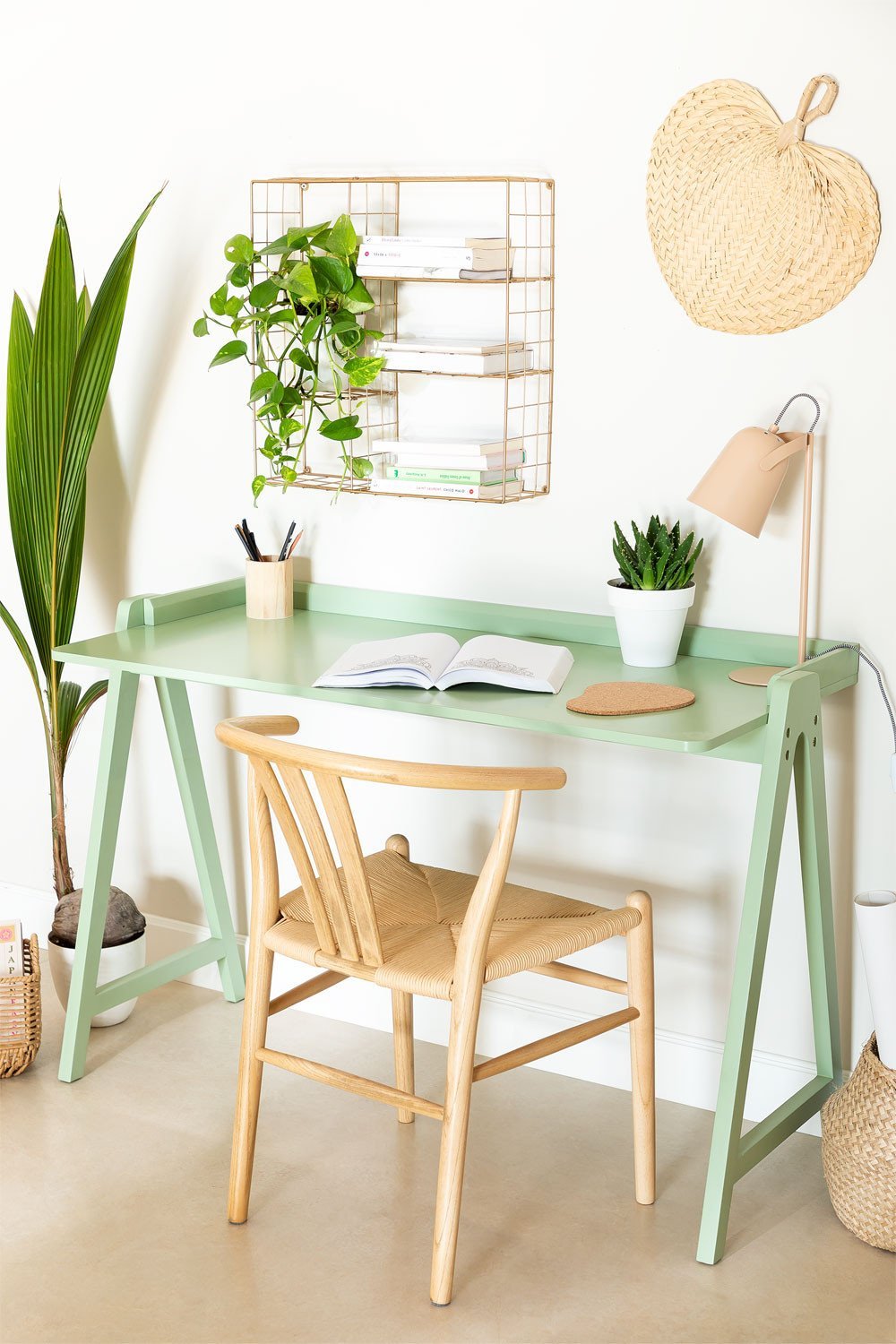 Wooden Desk Kailo Style, £169.95, Sklum – buy now
Terracotta
To me, terracotta is one of the most exotic colours; it screams warmth and holiday and loveliness when I look at it.
Since it's been harder to travel due to the pandemic, it's no wonder this colour's popularity is on the rise – it really does bring the holiday 'home'.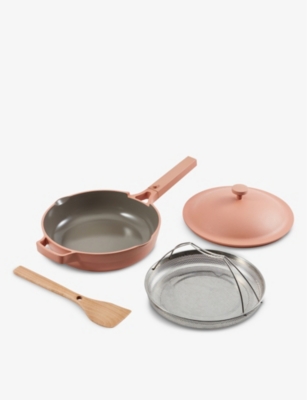 Always Pan cast aluminium and ceramic cooking pan 54.6cm, £125, Our Place – buy now
Orange 04 Paint, £42, Lick – buy now
Craft Renaissance
I can't pretend crafting was cool when I was growing up, but is that changing?
As a complete antithesis to being glued to our phones, it seems people are swapping scrolling for sewing, painting and pottery.
Hand-made ceramics are on the mantelpiece, homemade art is on the walls and crochet cushions are on the sofa. 
Rainbow Cushion Crochet Kit, £39.99, Wool Couture Company – buy now
Candle making kit, £29, Sculpd – buy now
Mature Trees
These days, house plant owners talk with more fondness for their plants than their children. Is this the beauty of loving something that doesn't cry or need a nappy change?
While house plants are still popular, their bigger, leafier cousins are making their way into places.
This trend is all about strengthening our connection to nature in a big (leafy) way, soon we won't be able to move for trees – which is no bad thing IMO.  
Ficus Moclame, £64.99, Hortology – buy now
Stylish 70s Groove
70s Groove is all about creating a sophisticated party at home with bright colours, close to the ground sofas and furniture with lots of curves.
Think 70s but without it looking like a film set; upcycled furniture is polished rather than shabby chic and retro patterns are glamorous and mature. 
Marbled plant pot, £40, MADE – buy now
Jual Retro Modular Bookshelf BS201 – Oak, £389, Furnish – buy now
New Boucle
We can all breathe a sigh of relief, white boucle is on its way out.
As beautiful as this fabric is – I love texture as much as the next gal – it's hard to keep clean, especially now we're all pet parents.
Fear not though, we'll still see lots of boucle around it'll just be in different (more practical) colours.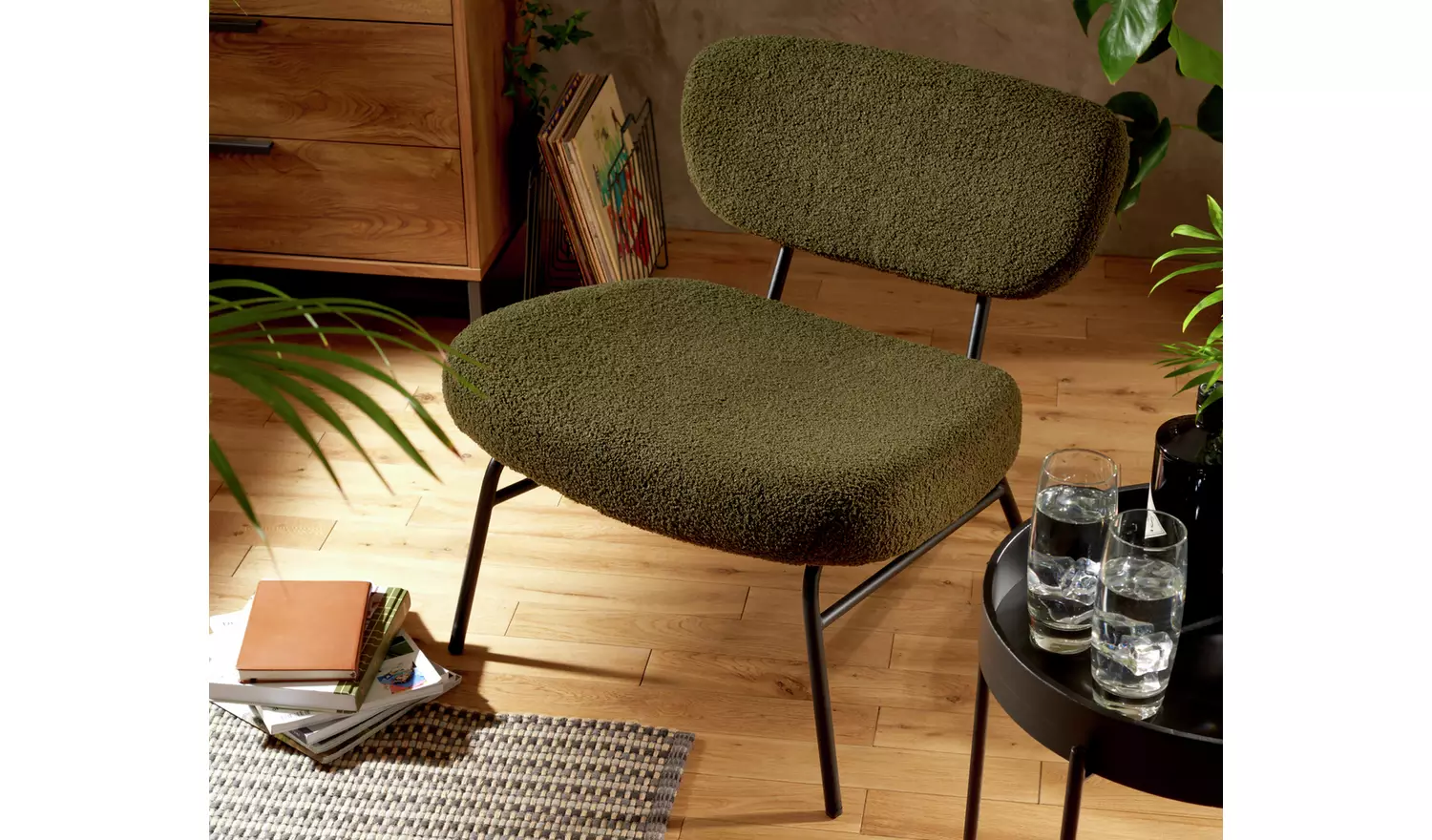 Cole Boucle Accent Chair – Khaki, £190, Habitat – buy now
High Shine
Reflective surfaces are having their moment, be that on sculptures, furniture or incorporating lots of mirrors.
Again, maybe not the most practical when it's in your home (nobody wants to be wiping away fingerprints off cabinets 24/7) but it is a great way of bouncing around light and making rooms feel bigger. 
READ MORE: I Painted my North Facing Living Room the Wrong Colour – This is What Happened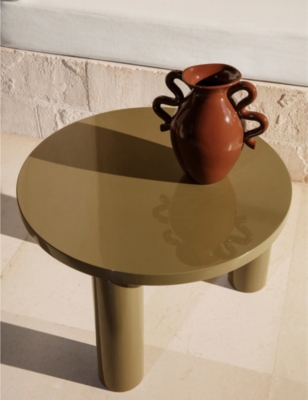 Post three-legged small fibreboard coffee table 65cm, £655, Ferm Living – buy now
Swirly modular coffee table, £314, Wilder Home – buy now
'Core
When I say 'core, I'm talking about Barbiecore and cottagecore, two strong aesthetic trends idealising a particular way of life. These trends have transcended fashion into lifestyle and interiors.
Hyper-femininity is popping up at a really interesting time so get ready to welcome ditsy florals, frilly cushions, wicker baskets while simultaneously enjoying stilettos, mini dresses and all pink everything. 
Patterned cotton fitted sheet, £9.99, H&M – buy now
Lowes Vintage Purple Glass Water Jug, £24.50, Oliver Bonas – buy now
Colourful Kitchens 
They say the kitchen is the heart of the home. It's certainly my favourite place to be, so it's wonderful to see an injection of colour in this space.
Cabinets, walls and worktops are all being splashed with colour.
Want to know what I really love about this trend though? It isn't reserved for one style; traditional, modern and industrial are all handling colourful makeovers. 
Gluggle Jugs, £27, Oliver Bonas – buy now
Colored Glass 4-pack, £46.95, NA-KD Home – buy now
Sustainability & Reimagining Waste
Sustainability is hot in the interiors world right now (and rightly so), with designers moving towards 'slow design'.
This means reworking what we already have; upcycling ideas and recycling materials.
Little Greene Paint company is a great example of this: they've introduced a brand new colour range from unwanted and leftover paints.
Re:mix Sage Green, £28, Little Greene Paint – buy now
Statement lighting
As someone who despises having the big light on, lighting is super important to me. It feels like all I've done is invest in lamps recently but that's a story for another day.
Lamps and lighting are taking on a more sculptural shape right now – they look good even when they're turned off.
We've also witnessed a rise in the 'it' lamp, like the glass mushroom and the Scandi inspired acrylic dome – you know the one? 
Lil retro cloud lamp, £66, Wilder Home – buy now
Presley Yellow Stripe Glass Desk & Table Lamp, £185, Oliver Bonas – buy now
Main image credit: Frederik Vercruysse for H&M