Last Updated on November 16, 2023
Wondering what M&S' Florentyna perfume smells like? Allow me to explain. As a long-time user of the high street store's floral scent, I'll be sharing what you need to know about this affordable perfume to help you with your decision of whether to make the jump or not.
It's not just Zara that has designer perfume dupes. M&S has a wide range of fragrances and many of them have also been likened to luxury scents like Marc Jacobs's Daisy, YSL's Black Opium, and Chanel's iconic No. 5, to name just a few. These perfumes are iconic for good reason, but they're not the cheapest perfumes on the market. You can expect to pay upwards of £100 on a luxury perfume, and while it's well worth it if it makes you feel good, you might not need to.
Before I get your hopes up, it's worth mentioning that sadly Florentyna isn't a dupe for a designer scent that I'm aware of – but don't turn your nose up at it. It's a really delicious perfume and the £12.50 price tag is an added bonus. So let's explore what makes Florentyna so special and how it can add to your perfume collection.
Next, read about Zara's incredible dupe for Carolina Herrera and discover what Zara's Rose perfume is a dupe for.
Wear Next may receive a small commission if you click a link from one of our articles on a retail website and make a purchase.
What does M&S Florentyna perfume smell like? 
M&S' Florentyna Perfume has a top note of Gardenia, middle notes of Lily-of-the-Valley Jasmine and Orange Blossom, and a base note of Musk, which creates a perfume that smells like a classic bouquet of fresh flowers. As you've probably guessed, it's a floral fragrance, which makes it perfect for spring and summer. It's elegant and timeless, just like a little black dress.
What is the new name for M&S Isis perfume?
M&S changed the name of their Isis perfume to Aqua in 2016. It went by its former name for 25 years, but M&S finally decided to make the switch after customers drew parallels between the terror group and the perfume range.
What does M&S New York perfume smell like?
M&S New York perfume is an amber, floral fragrance with top notes of Apricot, Gardenia, and Bergamot, middle notes of Rose, Jasmine, and Woody Notes, and base notes of Vanilla, Musk, Heliotrope, and Sandalwood. It's been likened to Chanel's Allure perfume, so if you're a fan of the designer scent, it's worth giving it a go!
Shop M&S Florentyna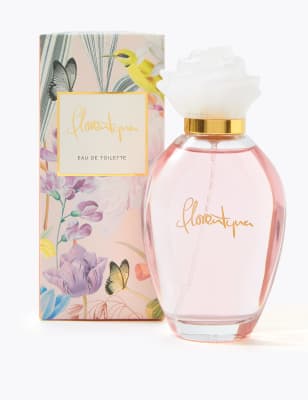 Classic Floral 100ml, £12.50, M&S – buy now