Last Updated on March 4, 2022
Feather pyjamas have have been having their moment for a while now, but the trend isn't going anywhere. In fact, it's just getting bigger.
Sleeper first started the trend with its host of luxurious nightwear in a rainbow of colours and now many high street brands have taken note, meaning you can now get the look at a more affordable price.
READ MORE: These Spring Dresses Will Freshen Up Your Wardrobe Instantly
Kendall Jenner was spotted wearing a pair from the brand for her Vogue Beauty Secrets video, while Instagram girls have been lounging at home in their feather trimmed nightwear too.
Feather pyjamas aren't just for sleeping though. Many influencers have worn theirs for almost all occasions – from weddings, to parties – so they're well worth the investment, if you ask me.
At Wear Next, we encourage you to wear whatever it is that makes you comfortable and confident and these PJs couldn't be more comfy and cute.
If wearing your pyjamas out is something you want to try (or if you want to feel extra while lounging around at home), you can get a pair of Sleeper feather pyjamas for £235.
There's nothing like PJs from the luxury label and the good news is there are a few pairs on sale right now.
If you still can't stretch to spending hundreds on nightwear, you'll be glad to know that many high street brands also have similar styles from just £30.
ASOS has a candy stripe satin pair that look luxe, while Jayley Collection has a pair in soft blue that look as comfy as they are chic.
Make sure you grab a pair because this feather-trimmed nightwear aren't going anywhere this winter!
For fashion advice and general chit-chat, join our Facebook group What To Wear Next or follow us on Instagram.
Wear Next may receive a small commission if you click a link from one of our articles onto a retail website and make a purchase.
READ MORE: I'm Obsessed With Zara's Jeans Right Now and I'm Convinced You Will Be Too
Buy now
The Weekend Chic Feather-Trimmed Recycled Jersey Top and Leggings Set, £199, Sleeper at Net-A-Porter – buy now
Apollo Pink Pj Feather Trousers, now £95, KITRI Studio – buy now
Night Satin Pyjamas with Detachable Faux Feather Trim, now £30, ASOS – buy now
Party Pyjama Set with Feathers, £235, Sleeper at Coggles – buy now
Psst…new customers get 10% off Coggles with the code NEWCOG.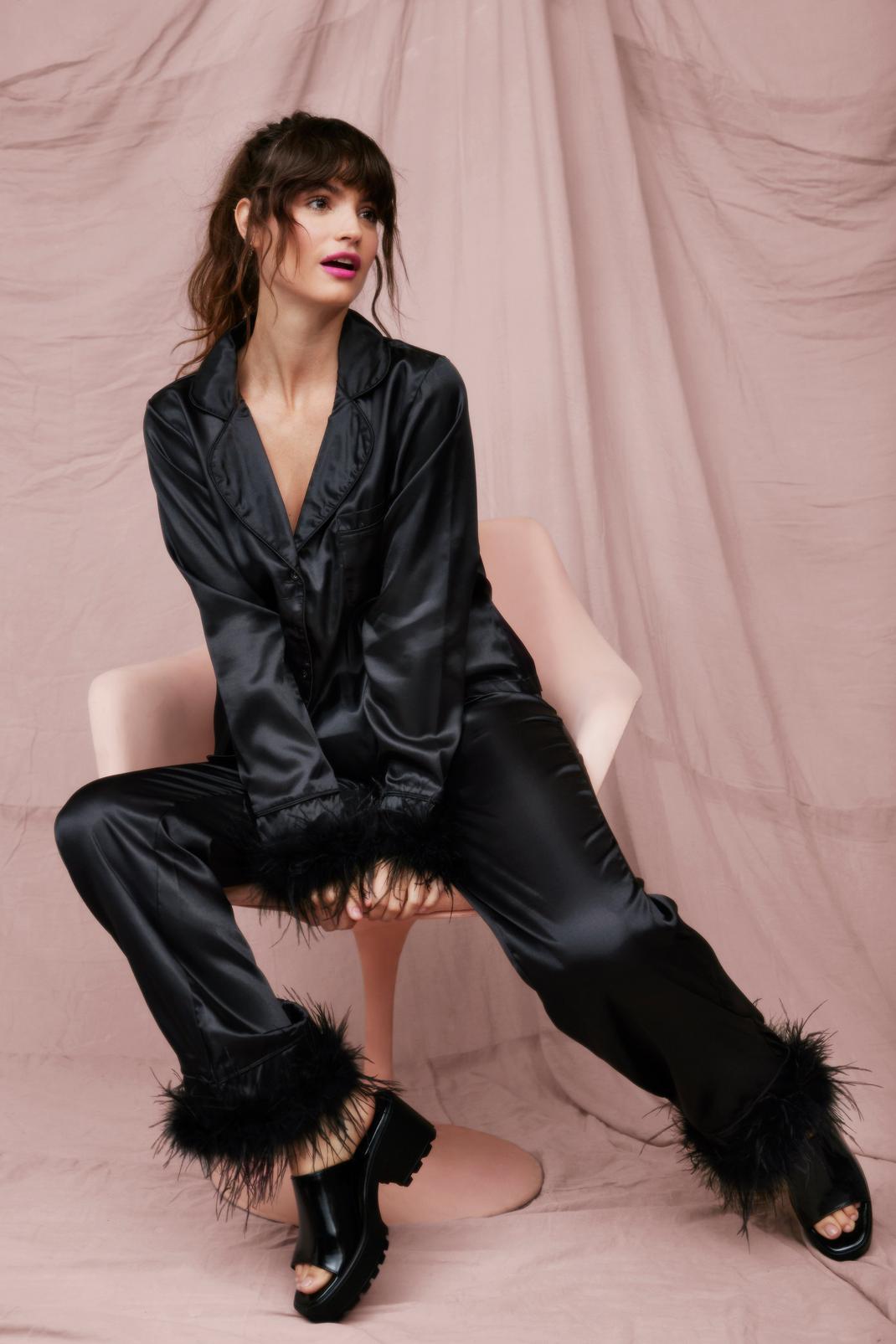 Satin Feather Pajama Shirt and Pants Set, now £47.20, Nasty Gal – buy now
Women's Party Pyjama Set With Feathers, £220, Sleeper at Coggles – buy now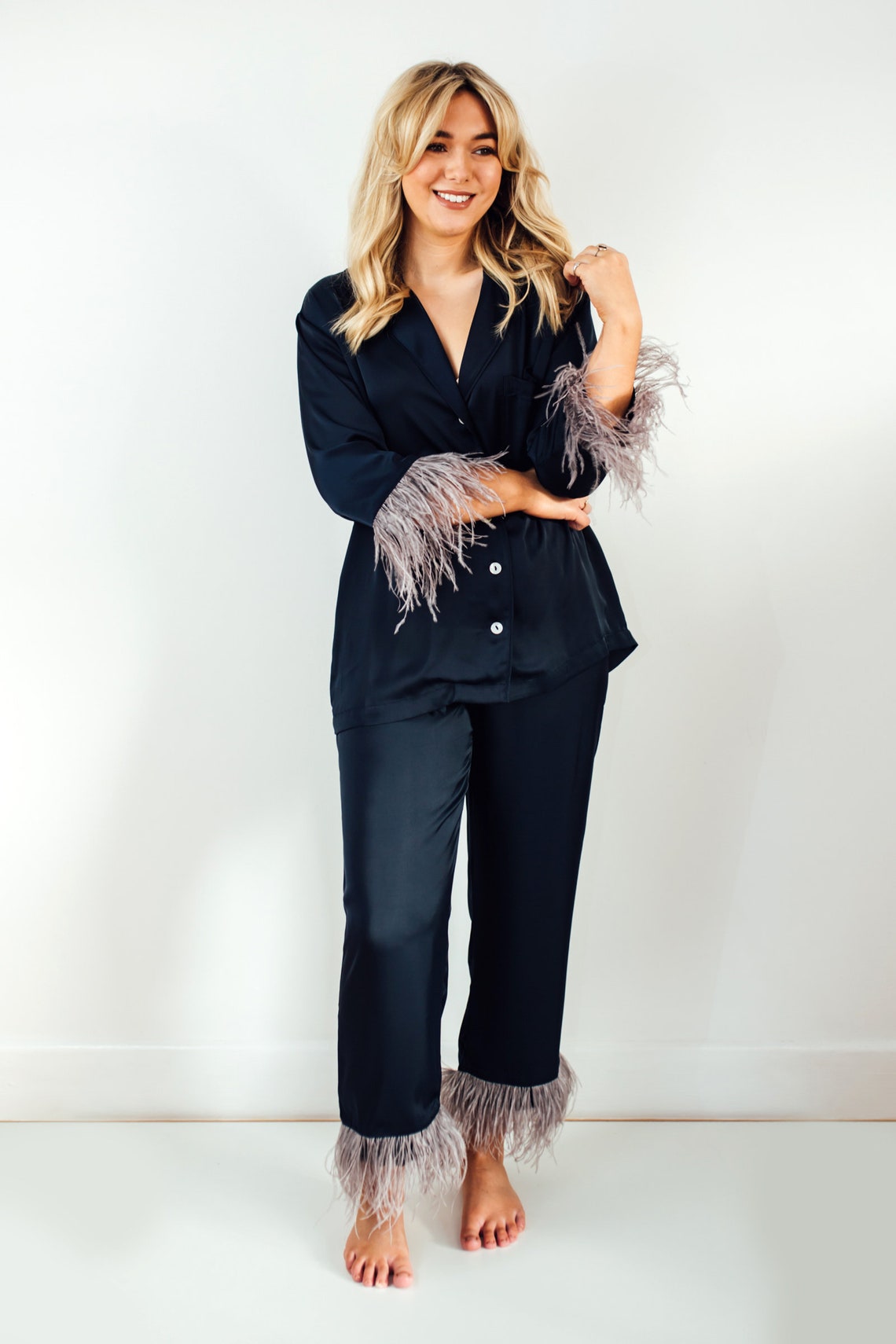 Personalised Pyjamas, £105, Luna Nightwear at Etsy – buy now
Blue Awilix Day to Night Feather Co-ord, £158, Jayley – buy now
Pyjama Set With Feather Trim, now £44.99, Forever Unique – buy now
Ostrich Feather Pyjamas, £135, RoisinReuss at Etsy – buy now
Pink Awilix Day to Night Feather Co-ord, £158, Jayley – buy now
Plus gingham long pyjama set with detachable feather trims, now £24, Night at ASOS – buy now (up to size 28)
White Awilix Day to Night Feather Co-ord, £158, Jayley – buy now