Last Updated on September 18, 2023
IThinking about getting a new pair of M&S jeans? You might just hit a jackpot! f you're anything like me, you need to be very particular when it comes to jeans. The fit has to be perfect; no space at the waist, the correct leg length is a must and I can't deal with my jeans being too tight. I have my own set of standards, but if there's a brand I deem worthy of checking out, it's Marks & Spencer.
This iconic British brand is seriously underrated on so many levels, especially their denim collection. They start at a particularly low cost of £22.50, and as they've been making jeans for decades, you can be confident they know what they're doing. Come rain or shine, fashion's infatuation with jeans remains steadfast. They have solidified their place as a reliable and timeless fashion staple that transcends seasonal trends, and we all need at least one pair in our wardrobes.
Jeans have been getting looser and looser in the last few years, perhaps cemented when Kate Moss graced the Bottega Veneta SS23 runway in a pair of effortlessly chic baggy jeans. The jeans trends for 2023 are wide-ranging though, going from the ever-popular mom jeans to the Y2K-inspired low-rise jeans.
If you're meticulous about yours, you're probably looking for brands that can offer both quality and style. M&S' can give you just that. Whether it's their highly sought-after summer dresses or chic sandals, the brand has a reputation for excellence that's hard to match, and their jeans are no exception. Having personally put various styles to the test, I can confirm that the hype is real. The range of denim options available is impressive, and they fit me so, so well.
Below, I've compiled an edit of my personal favourites. With most styles coming in under £45, these are definitely worth a try. Next, wondering what to pair with your favourite denim pants? Get some outfit inspo and read How to Wear Jeans With Sneakers – 5 Outfit Ideas For 2023 or 7 Fashion Girl-Approved Ways to Wear Jeans With Boots next.
Wear Next may receive a small commission if you click a link from one of our articles onto a retail website and make a purchase.
The Mom Jean
The Mom Jeans in blue denim, £39.50, M&S – buy now
Mom jeans have been around for several seasons and seem to be sticking around for the long haul, as M&S delivers effortlessly flattering high-waisted mom jeans. These are a complete wardrobe staple, which work with anything from an oversized blazer and heeled boots, to a hoodie and jeans.
The Straight Leg
Sienna Straight Leg Jeans with Stretch in black mix, £22.50, M&S – buy now
Prefer straight leg? M&S has the perfect pair, which come in an array of colours and fits, from extra short to extra long and all sizes in between.
The Bootcut Jean
Eva Bootcut Jeans in indigo mix, £22.50, M&S – buy now
Bootcut jeans are also making a resurgence. This timeless style is slimmer at the waist, with a flared out ankle. Team yours with an oversized blazer and pointed black boots.
The Boyfriend Jean
Boyfriend Ankle Grazer Jeans in light denim, £39.50, M&S – buy now
Prefer looser styles? Join the club. Baggy styles are one of 2023's key denim trends, and M&S have offered their own take on the trend with these printed boyfriend jeans.
The Cigarette Jean
Harper Supersoft Cigarette Jeans in soft white, £32.50, M&S – buy now
Another wardrobe classic, the Harper Supersoft Cigarette Jeans have a straight fit and cropped ankle-length hemline. As always, M&S offers petite and tall options, as well as the same style in a variety of washes.
The Slim Fit Jean
Lily Slim Fit Jeans with Stretch in med blue denim, £22.50, M&S – buy now
Made from cotton-rich denim with added stretch, these slim fit jeans are another wardrobe staple. If you're someone who avoids trends, stick to this classic shape.
The Skinny Jean
Ivy Skinny Jeans in black mix, £22.50, M&S – buy now
Skinny jeans might be controversial right now, but if you love them, wear them! This pair won't break the bank at just £22.50, and a simple colour like black goes with absolutely everything.
The Flared Jeans
Magic Shaping High Waisted Slim Flare Jeans, £45, M&S – buy now
These high-waisted slim flare jeans offer Sculpt & Lift™ technology to lift your bum and they offer bi-stretch fabric and a contoured waistband to hold in the waist. On top of that, these jeans have hidden front pocket technology to hold the tummy. They're a little more expensive, but with so many benefits they're well worth it.
The Wide-Leg Jean
The Wide-Leg Jeans, £35, M&S – buy now
Another popular style right now is the wide-leg jean. M&S' pair are a bargain at just £35 and get plus points as they're made using responsibly sourced cotton. I'm investing in a pair for autumn, and I'll be wearing mine with a chunky knit, trench coat and heeled boots for a smarter take on the trend.
The Cargo Jean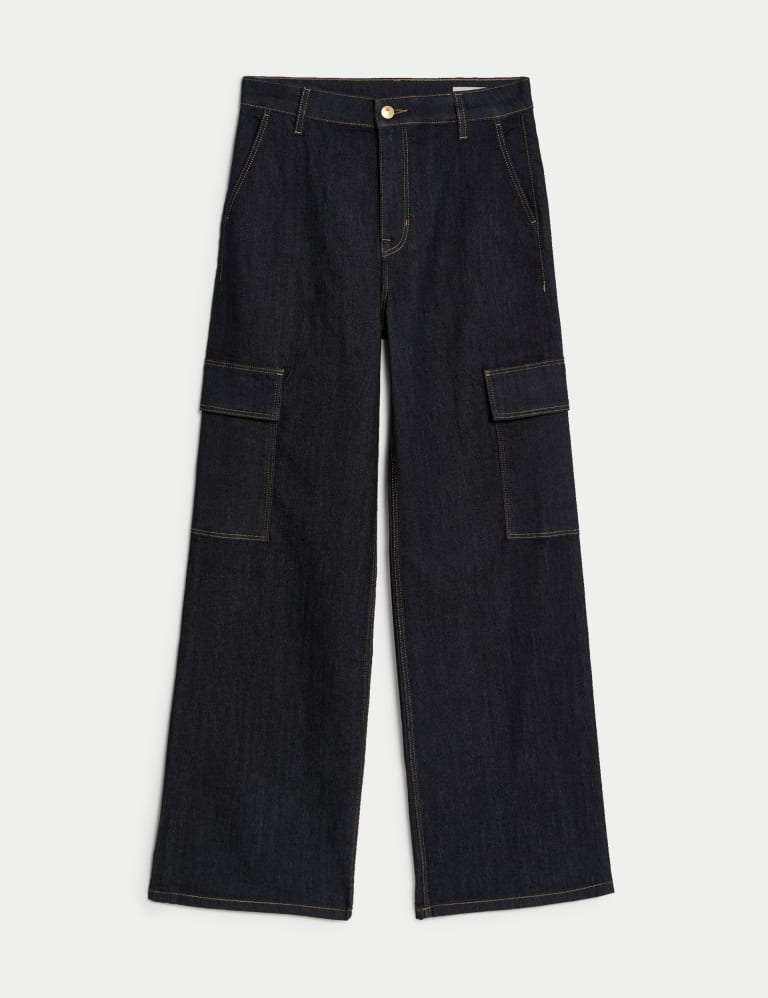 High Waisted Wide Leg Cargo Jeans, £45, M&S – buy now
Mix chic and street style into your wardrobe with these high-waisted, wide-leg cargo jeans. It's a subtle take on the utilitarian trend, and I'm here for it.
The Smart Jean
Harper Cigarette Smart Jeans, £39.50, M&S – buy now
Looking for a smarter pair of jeans? Try the Harper cigarette smart jeans, which come in a beautiful mix indigo wash. The darker denim pairs well with crisp cuts and tailored pieces, offering a more contemporary look than relaxed styles.