Last Updated on September 5, 2022
If you've decided to give up fast fashion during Second Hand September, vintage fashion will be your new best friend.
While I'm always prone to walking past other people wearing the same items as me when I shop on the high street, there's no risk of that when shopping pre-loved pieces.
READ MORE: What is Second Hand September? How to Take Part and Everything Else You Need to Know
Many trends are circular too, meaning they come back around. Case in point: the reemergence of Y2K and 90s fashion, and there's plenty of authentic pieces from the decades available to shop vintage.
Here, we've rounded up some of the best online vintage clothing shops for you to browse if you're looking to cut down on fast fashion or simply fancy some vintage retail therapy.
Rokit
Y2K Apple Green Cropped Blazer Style Jacket in size S, £30 – buy now
Londoners have been shopping at Rokit's Brick Lane store for years, so much so that it's grown into one of the best-known vintage stores on the street.
Whether you're looking for a sequin dress, or vintage Adidas, they cater to every style – but if you can't find anything vintage you want, Rokit also upcycle clothes for their Rokit Originals range.
Retold Vintage
Vintage wool waistcoat in size 14, £55 – buy now
Retold vintage launched in 2018 and has amassed an Instagram following of almost 42k already.
If going to vintage stores full to the brim of old shoes fills you with dread, but you still want to shop more sustainably, Retold is the place for you.
There's no tat here – just elegant, good quality and beautifully curated pieces.
Waiste Vintage
1970's Green Sheer Baby Doll Dress in size 8, £45 – buy now
Influencer Sara Louise Thomas gives us outfit envy every day on Instagram with her picturesque shots and beautifully put-together outfits.
Fortunately, the former ASOS Insider is the owner of a beautiful vintage shop in Brighton – so you can literally shop her style.
She's always updating the shop's website with unique garments – like this floral dress.
READ MORE: Why has sustainable fashion left plus size women out for so long?
Peony Vintage
Plaid Collar Dress in Size 12, £31.50 – buy now
If you've ever been to Margate, chances are you'll have strolled past Peony Vintage and been mesmerised by their gorgeous pink shop front.
Fortunately for those that don't live there, Peony is also available to shop online.
From retro floral dresses, to cute jewellery, you'll be overwhelmed for choice. Everything is just perfect.
Beyond Retro
Penny Lane Fur Trim 1970S Coat in size L, £140 – buy now
There's no way you can enter a Beyond Retro store without buying something. There's just so much to choose from – and somehow, it's always on trend.
While London remains in lockdown, shop on their website for kitsch printed tops, vintage converse, retro sportswear and much, much more.
Nordic Poetry
YSL jacket, £695 – buy now
If you love designer fashion, Nordic Poetry is the place for you.
While NP have a store in London, you can browse their carefully curated selection of high-quality Gucci sunglasses, Burberry scarves, Cavalli jeans and Valentino knits online.
This 60s YSL jacket blew us away.
Mad Seventies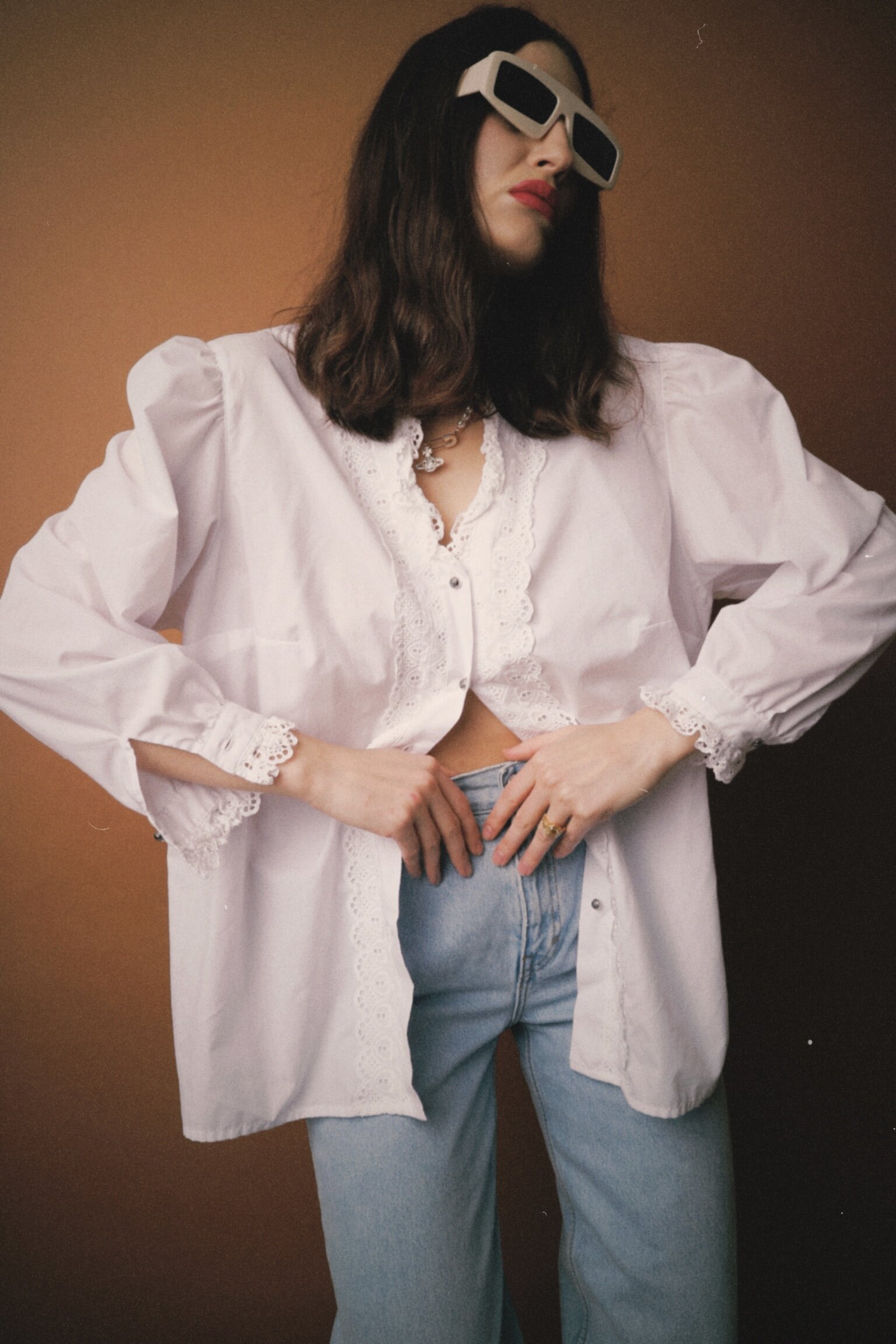 Austrian white blouse in size S-M, £65 – buy now
Mad Seventies is – you guessed it – largely inspired by 70s fashion – and boy, do they know how to make it look good.
Every piece is exquisitely styled, proving so well that vintage fashion can be just as cool as buying brand new.
The shop, which also sell on Depop, offer leather jackets, oversized floral shirts and a selection of killer blazers, and they're always updating new items.
House De'Ville
Stripe blouse in size 16, £25 – buy now
Another Margate-based vintage seller, House De'Ville was launched during the Covid-19 pandemic and has quickly grown thanks to founder and stylist Jemelia's unique style.
Made-to-order pieces made from deadstock fabric were recently added to the brand's roster, including 90s-style mini skirts and mini dresses with 60s silhouettes.
Expect to see a lot more from De'Ville!