Last Updated on April 6, 2023
You're invited to a wedding. You've already chosen a pair of killer heels and picked out the best accessories, but you're wondering whether the LBD that works so perfectly with them is acceptable to wear. So we're here to answer the ultimate question in wedding etiquette: can you wear black to a wedding?
Usually, it's hard to go wrong with a black dress. It's a style staple that makes anyone look effortlessly chic but when it comes to weddings it's a different story.
READ MORE: Can You Wear Red To a Wedding?
You can't ignore the superstitions that surround them, as well as cultural traditions and of course, dress codes.
Ever heard about a superstition about how a bride crying on her wedding day brings good luck? Yep, wedding customs like these can seem silly, but some people do believe them.
So, if you believe that black is the only color that flatters you, and you want to wear it to the wedding you're invited to, it's best to think it through.
So let's delve into the topic…
Wear Next may receive a small commission if you click a link from one of our articles onto a retail website and make a purchase.
Is it acceptable to wear black to a wedding?
Traditionally, wearing black to a wedding has been considered taboo. Our parents and grandparents would never have questioned this as it was widely believed that black was a colour of mourning, more associated with funerals than weddings.
But these days, wearing black is entirely acceptable. It's crucial to avoid wearing white unless specifically instructed to do so, but black isn't as much of a hot topic anymore.
If the the couple did not specify a dress code, then you can definitely wear that little black dress – but if you're being extra careful and you know the bride and groom well, try asking them first.
READ MORE: This 70s Shoe is Back and Better Than Ever
What colour is best to wear to a wedding?
When attending a wedding, it's best to respect the couple's dress code preference.
While there's no specific colour that is universally considered the 'best' to wear to a wedding, you can consider the wedding's theme, setting, and time of day when selecting an outfit. 
White is almost always reserved exclusively for the bride, and wearing it can be seen as a serious breach of wedding etiquette.
To avoid any confusion with the bride's attire, it's recommended to steer clear of off-white, eggshell, beige, champagne, cream, or any other super light colour that could be mistaken for white.
Red is also a tricky colour to wear on the big day as a wedding guest, as in some cultures, it's incorporated into the bride and/or groom's wedding outfits. In South and East Asian cultures, it's seen as lucky.
Shop black wedding guest dresses
Knit Dress with Buckle at The Shoulder, £49.99, Zara – buy now
Mini Dress, £275, Ganni – buy now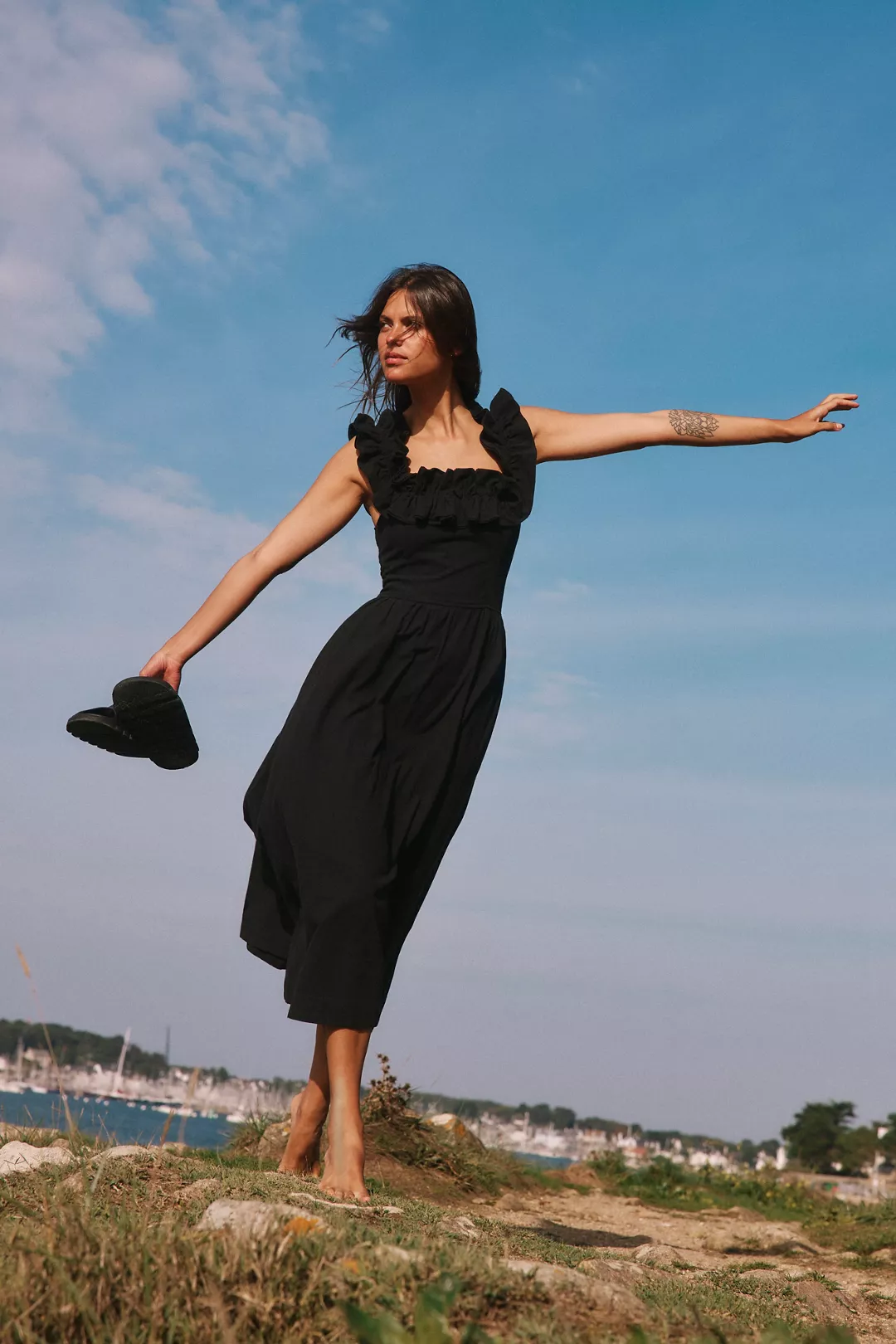 Ruffle It Up Midi, £98, Free People – buy now
Petite Halter Midi Dress, now £41.40, Warehouse – buy now
Jaxie Trimmed Satin Midi Dress, £310, Stine Goya – buy now