Last Updated on August 24, 2023
Looking for the best women's jeans you can get in 2023? Then you've come to the right place. Finding a good pair of jeans should be easy, but it isn't one size fits all. Our body shapes vary hugely, so what works well for one person can be completely wrong for another. There are so many factors to take into consideration. Take torso length for example; I have a friend who has a long torso, so she has to find trousers with a longer crotch to account for that. This is something I've never even noticed on myself, but my issue is that awful gape at the back of jeans. My jeans are always tight on the thigh, and loose at the waist.
That's why everyone – myself included – hates buying jeans so much. Trying them on is a faff, and it can feel draining too when they don't fit well, look unflattering or end up being super uncomfortable. But it isn't all doom and gloom. There are some really incredible jeans brands out there, and with a little bit of effort, you can find an excellent pair that work perfectly for your body. Once you've found them, never let them go. In fact, it's probably worth buying them a few times over and taking really good care of them so they last longer. Check out our article on how often you should be washing your jeans for our best tips.
So let's get into it. I've been on the hunt for the best jeans you can get in 2023, and I'm sharing them with you here. If you're looking for decent jeans for a man in your life, we also have a great article on the best men's jeans too.
Wear Next may receive a small commission if you click a link from one of our articles onto a retail website and make a purchase.
Best women's jeans: quick links
Best for budget jeans: ASOS, H&M, Monki, Amazon, New Look, M&S, Primark.
Best for investment jeans: FRAME, Citizens of Humanity, Acne Studios, Raey, Re/Done, A.P.C.
Best OG jeans brands: Wrangler, Lee, Levi's.
Best for sustainable jeans: Asket, Nudie Jeans, E.L.V. Denim, DL1961, Reformation.
Best for curvy women: Good American, H&M, Abercrombie & Fitch, ASOS.
Best for tall women: Topshop, Long Tall Sally, ASOS, New Look, River Island, M&S.
Best for petite women: M&S, ASOS, Madewell, Levi's, Next.
Sustainable denim
The Standard Jeans, £125, Asket – buy now
Asket is a brand with a conscience. Every item is made to last, so instead of trending items, they're timeless, good quality and essential to your wardrobe. This 'standard' pair of jeans do what they say on the tin, but they'll last you a long, long time.
Light Blue Match Boyfriend Jean, £300, E.L.V. Denim – buy now
E.L.V. Denim create all their pieces from 100% upcycled materials and they only work with skilled local workers in the British capital to design and produce their items – hence the name, which stands for East London Vintage. The brand's jeans aren't cheap, but you can find them on plenty of discount websites like The Outnet and Anthropologie's sale section.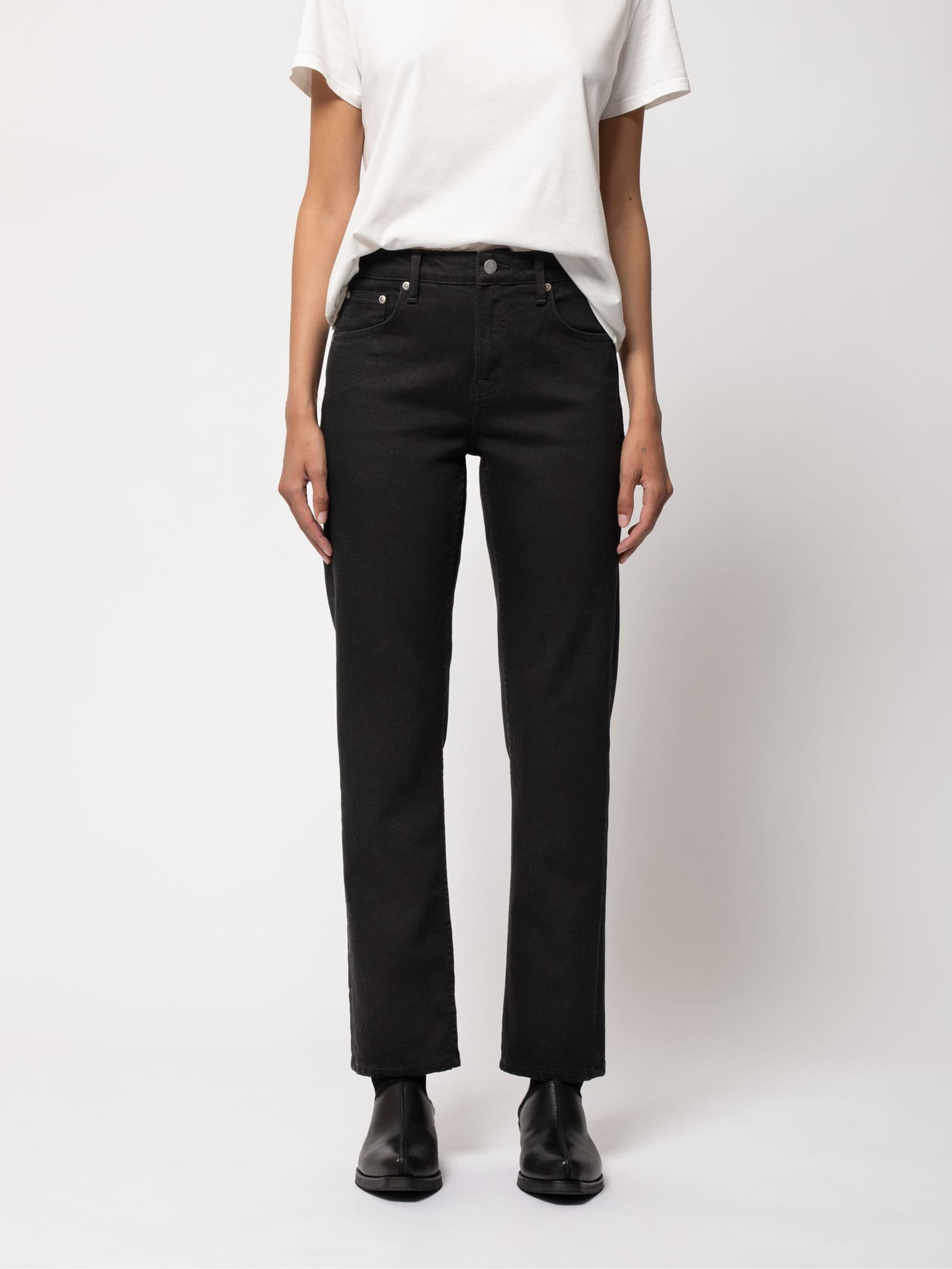 Straight Sally Everblack, £195, Nudie Jeans – buy now
Every pair of Nudie jeans are made from 100% organic cotton, but that isn't the best part. Every pair comes with a promise of free repairs – forever. That price doesn't seem so high now, does it? This classic pair of black jeans will go with absolutely everything, but if you prefer blue denim, they have plenty of that too.
Budget jeans
Wide High Jeans, £24.99, H&M – buy now
If you're on a budget, H&M should be the first place you go to buy a new pair of jeans. They have a huge variety of pairs to choose from, including straight, baggy, skinny, wide leg, bootcut, flared and more, and they offer plus-size and maternity options too. At that price, this high-rise pair of loose-fitting jeans are going straight in my basket.
Yoko high waist wide off-white jeans, £40, Monki – buy now
As Monki is an H&M-owned brand, it makes sense that their jeans would be similarly affordable. However Monki's jeans are often a little more fun than H&M's, with patterns and colours galore. That said, they offer plenty of simple and effortless pairs, like this off-white pair for £40.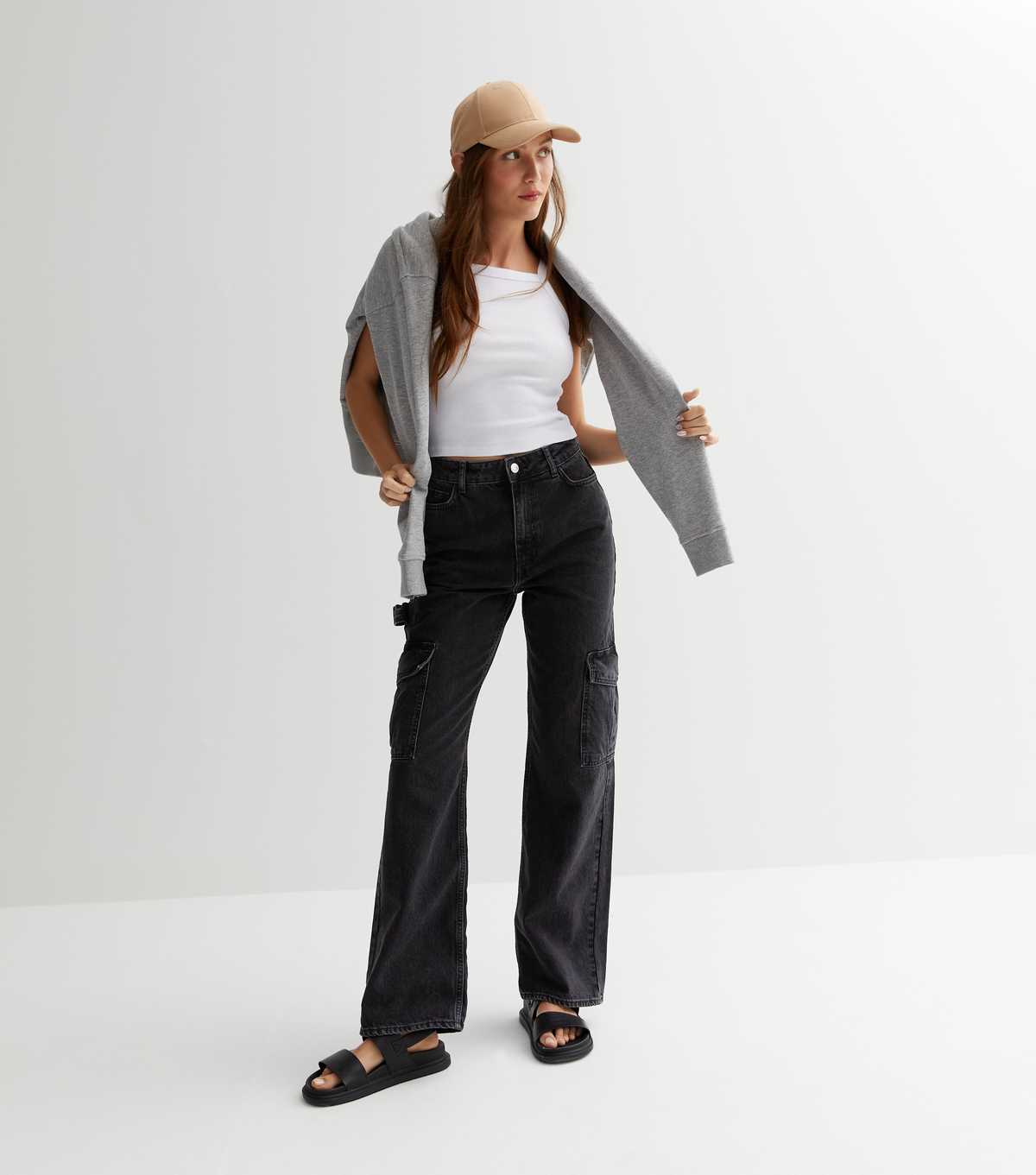 Black Cargo Jeans, £34.99, New Look – buy now
New Look is another underdog when it comes to denim. The high street brand has almost 250 styles to choose from and cater to plus size, petite, tall and maternity fits. This pair kill two birds with one stone; we all know cargo pants are very much in, but these definitely count as jeans.
Investment jeans
Buying less, but better? Instead of spending the same amount on five pairs of average jeans, why not make a well-considered jeans purchase? The below pairs might be on the expensive side, but if you tot up the cost per wear, you might find they're worth it.
Annina organic-cotton wide-leg jeans, £320, Citizens of Humanity – buy now
Founded in 2003, LA-based brand Citizens of Humanity does things differently. Each pair of jeans is produced by an average of 40 skilled craftspeople, who follow a 50-step process to create the end product, ensuring a meticulous fit. The brand has a clear focus on sustainability and have invested in advanced technology to achieve this, such as laser technology, ecological stones, ozone wash machines and a recycled water system.
Le High and Tight patchworked wide-leg jeans, £530, FRAME – buy now
Another LA-based brand, FRAME was founded in 2012 by Swedish duo Jens Grede and Erik Torstensson. Today they're the fastest growing denim brand in the US and boast Karlie Kloss, Emily Ratajkowski and Miranda Kerr as fans. Not only are their fits impeccable, but FRAME aim to use less water and dyes with fewer harmful chemicals in their manufacturing processes too.
Elisabeth recycled-cotton wide-leg jeans, £210, A.P.C – buy now
Atelier de Production et de Création or A.P.C are a Parisian brand that has been running since 1987, so it's fair to say they know what they're doing. The brand, founded and owned by Jean Touitou, started off making classic jeans in raw denim, achieving global status with their simple but elegant designs, the brand has since expanded to include a full collection of men's and women's clothing and accessories.
Plus-size jeans
90s Baggy High Jeans, £29.99, H&M+ – buy now
Decent plus size jeans aren't easy to find, but H&M+ has a wide variety including this pair of 90s baggy high-waisted jeans available from sizes 16 to 30. These would look incredible teamed with heeled boots and an oversized blazer, but if you have something else in mind, chances are they'll have a pair for that. At H&M you're never short of choice; as well as these, you can find skinny, bootcut, straight and flared jeans in different washes.
Good Curve Straight Never Fade Jeans, £125, Good American – buy now
Founded by Khloé Kardashian and Emma Grede, Good American offers a collection that is '100% inclusive'. With jeans available in sizes 0-32 Plus, every item on their website is shown on three size ranges of models so you know exactly how it will fit someone with a similar body shape as you. The brand also claims to have a 'relentless obsession with fit' and 'uncompromising attention to comfort,' so spending a little extra money and time finding the right pair will definitely pay off.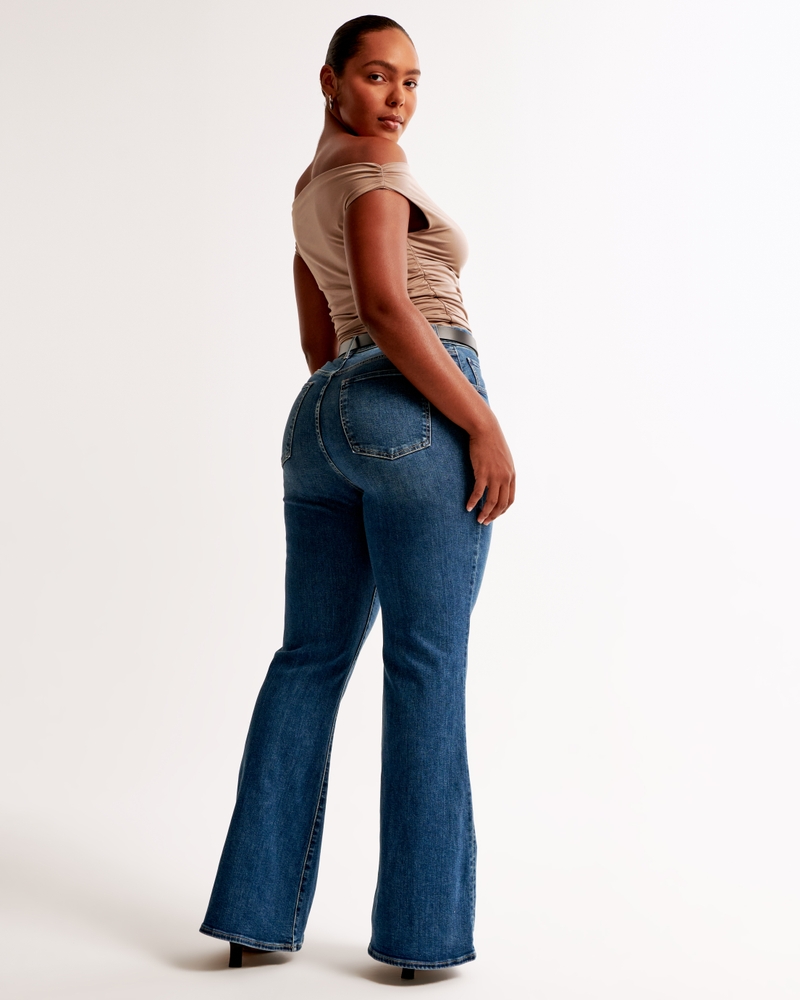 Curve Love Ultra High Rise Stretch Flare Jean, £75, Abercrombie & Fitch – buy now
It might come as a surprise but Abercrombie & Fitch have a huge variety of plus-size jeans, with sizes going up to a UK 26. They're not all just skinny jeans either; almost every style is covered, including skinny, mom, straight, relaxed jeans and more to choose from. This pair of flared jeans are a bargain at just £75.
Tall jeans
LTS Tall Light Blue Washed BEA Wide Leg Jeans – 36″ Leg, £49.99, Long Tall Sally – buy now
If you're tall, you've probably heard of Long Tall Sally. The brand has been designing clothing exclusively for women who are 5″8 and above since 1976 and today offers sizing from a UK 8 to 28. This light wash pair of wide leg jeans are giving Parisian chic!
Tall Mom jean in bleach, £46, Topshop – buy now
Topshop's in-store Tall section was always a life-saver for tall women, so imagine the heartbreak when they went into administration and closed all their stores in February 2021. You might not be able to shop the brand in-stores anymore, but you can still shop the brand's offerings on ASOS – and yes, they still offer tall options.
Tall slim mom jean in black, £43, River Island – buy now
River Island is another great high street brand that caters to women over 5″8. This pair of classic black mom jeans are a classic wardrobe staple that will see you through the winter and beyond, and at £43, they're affordable too.
Boyfriend Ankle Grazer Jeans, £39.50, M&S – buy now
You can always trust M&S to offer the best clothing for every body. If you're looking for a comfy pair of jeans, may I introduce you to the brand's casual boyfriend ankle glazer jeans? These come in a variety of washes, and up to a size 20 for tall women.
Petite jeans
The Petite Perfect Vintage Wide-Leg Jean, £122, Madewell – buy now
Madewell offers a great selection of jeans for women who are 5″3 and under, and this wide-leg pair are a bestseller. Team them with a chunky knit and boots in winter, or a white tee and oversized blazer for warmer days.
Hourglass Wide Leg Jeans, £48, Next – buy now
Did you know that Next has over 100 pairs of petite jeans to choose from? As well as their own brand, you can get jeans from brands like Reiss, Lipsy and Gap on their website, and they all cater to petite frames.
Petite silver foil baggy jeans in mid blue, £56, Topshop at ASOS – buy now
Because not all petite women want plain jeans! While many brands offer simple styles, ASOS is a treasure-trove for women who want more from their denim, with exciting styles from petite-friendly brands like ASOS Petite, Topshop, Bershka, New Look and more available to purchase on there. This Topshop pair look just like Ganni.
READ MORE: Save Your Time Searching — We've Found the Best Jeans on ASOS
High street denim
Straight-Leg Ankle-Length Jeans, £69, COS – buy now
If you have less than £100 to spend on a pair of jeans, you can get some really decent pairs from the high street. COS is one of my favourite brands full stop and their jeans are really decent too. Many of their styles are loose-fitting, creating an effortless appearance. I love these straight-leg jeans, which sit between some of their skinny jeans and baggiest styles.
Wide Cut Jeans, £75, & Other Stories – buy now
We all know how gorgeous & Other Stories' clothes are, and their jeans are no different. Look out for their sales, when you can get their bestselling jeans for half price.
CLOUD Low Loose Jeans, £97, Arket – buy now
Last but not least, we have Arket. The H&M-owned brand doesn't have hundreds of styles, instead opting for a few designs in a variety of colours. This pair of loose jeans come in six different washes!