Last Updated on March 24, 2022
If you're obsessed with Euphoria and the characters' style, you've come to the right place. I've been obsessing over the outfits for two seasons now, and I've found so many outfits that look exactly like Maddy's.
We already did a deep dive on how to emulate Cassie's feminine and sweet style, and now it's her best friend Maddy's turn.
READ MORE: How to Dress Like Cassie From Euphoria
Let's forget her on-again off-again relationship with troublesome boyfriend Nate Jacobs and instead, look closer at her unique and fierce style.
Maddy, played by Alexa Demie, has a very different approach when it comes to fashion than her friend Cassie. Maddy is much less sweet and baby doll-like and rather showcases a more edgy, vampy look.
While the whole cast of Euphoria has epic wardrobes, Maddy is probably the frontrunner in the fashion and beauty stakes in my opinion. From her dramatic winged eyeliner, to her iconic bodycon dresses, she knows how to make a statement.
In the second season, Maddy's wardrobe moves away from the baby pinks and purples we first saw her wear, and she opts instead for darker hues, such as greys and black.
Heidi Bivens, the journalist-turned-stylist-turned-costume designer for Euphoria, noted that this was in line with what the character Maddy was dealing with in season two. No spoilers here.
The costume team worked with Marc Jacobs to create many of Maddy's custom looks, so it's no surprise they're incredible. Maddy's birthday outfit was custom made by Marc Jacobs (and I'm sharing where you can buy it below).
Maddy's make up is also intrinsic to her look. It's all about a dramatic eye, while jewels and gems are key to her make up looks too.
READ MORE: 36 of the Best Bargains to Snap Up in the Sales, From Zara, H&M, Arket, COS and More
If you're looking to emulate Maddy's style, keep scrolling to see where you can buy her looks.
We've even found two of the exact dresses Maddy wore in Euphoria – keep your eyes peeled for Maddy's birthday dress and her navy floral mini! Obsessed is an understatement.
Wear Next may receive a small commission if you click a link from one of our articles onto a retail website and make a purchase.
For fashion advice and chit-chat, join our Facebook group What To Wear Next or follow us on Instagram.
Shop Maddy's Best Euphoria Looks
Maddy's Pink & Blue Contrast Co-Ord
Button Up Crop Fluffy Knit Cardigan & Skirt Set, £17.99, Shein – buy now
Maddy's Double Denim
Zipper Front Pocket Patched Denim Crop Tank Top, £15, Shein – buy now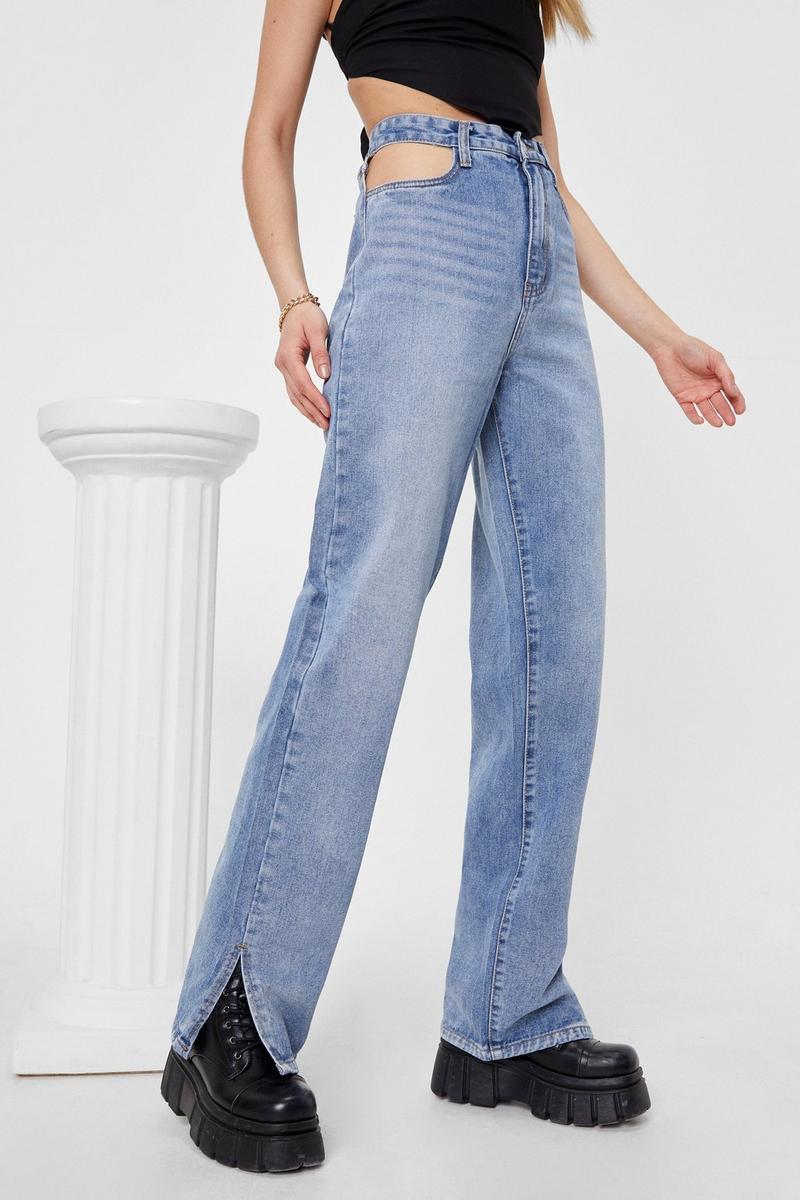 Out Of Pocket Slit Hem Jeans, £11, Nasty Gal – buy now
READ MORE: Your 2022 Wardrobe Needs This Top
Maddy's Little Black Dress
Dayani Mini Dress In Black, £35, Motel Rocks – buy now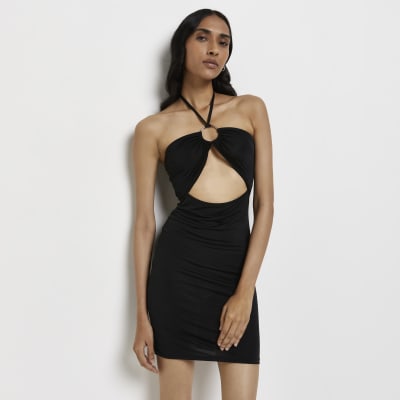 Black Halter Neck Bodycon Mini, £32, River Island – buy now
Long Black Velvet Opera Gloves, £9, Amazon – buy now
Maddy's White Crop Top & Blue Beret
White Button Up Crop Top, £12, PrettyLittleThing – buy now
Wool Beret, £23, & Other Stories – buy now
Maddy's Long Sleeve Green Playsuit
Seam Detail Long Sleeve Bodycon Midi Dress, £29, Nasty Gal – buy now
High Neck Mini Jumper Dress, £20, Zalando – buy now
READ MORE: 8 Chic Outfits to Recreate in April
Maddy's Black Cardigan With Fur Trim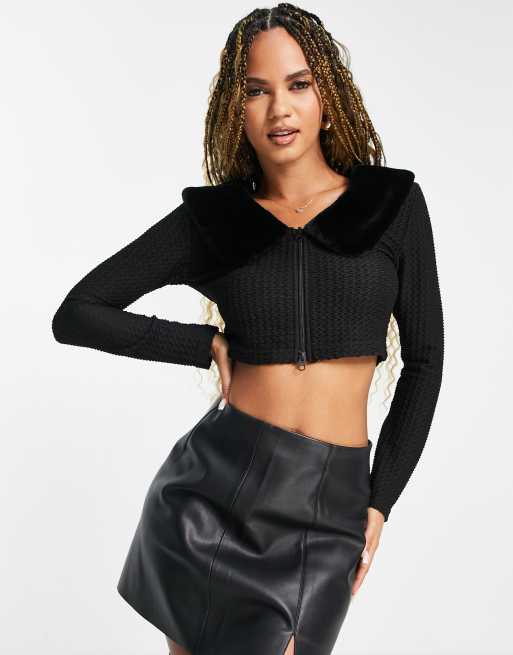 Faux Fur Collar Cardigan In Black, £28, ASOS – buy now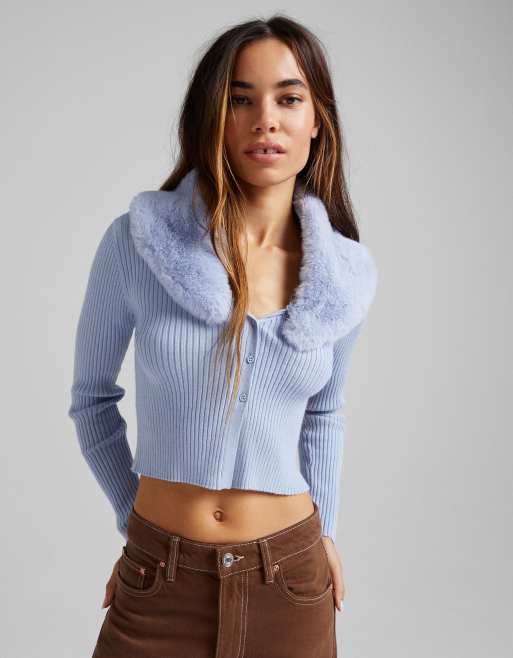 Fur Collar Detail Cardigan In Blue, £17, ASOS – buy now
Maddy's Navy Floral Mini Dress
Ginger Dress, £‌200, Miaou – buy now
Maddy's Birthday Dress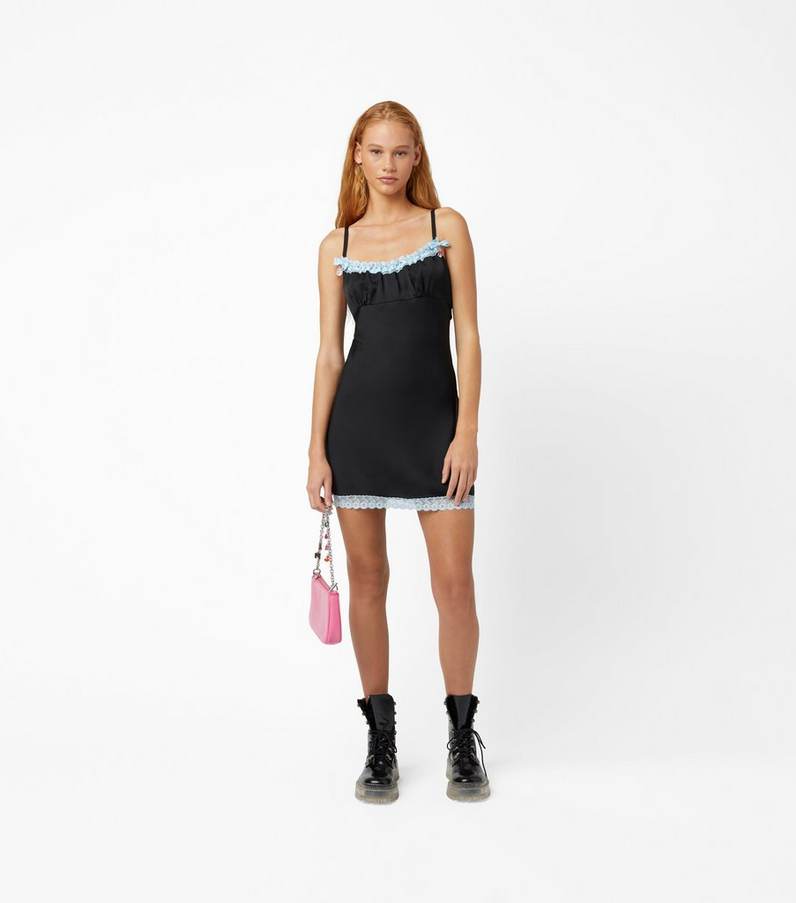 Devon Slip Dress, £230, Marc Jacobs – buy now