I'm sure you don't need reminding that 90s fashion is well and truly back – but there's one trend that I'm thrilled to see back and that's Vivienne Westwood's iconic pearl necklace.
In case you don't remember, Vivienne Westwood released a choker in the 90s made out of faux pearls and a crystal orb.
READ MORE: 13 of the Best Resin Rings to Shop Now
The necklace has a unique design that mixed a royal symbol and the rings of Saturn, which made it pretty iconic at the time.
I'm not the only one who loves the piece of jewellery. Stars Dua Lipa, Bella Hadid and even RuPaul's Drag Race star Bimini Bon Boulash have been spotted wearing the Westwood necklace recently, while it's growing in popularity on TikTok too.
There's been a 55% month-on-month increase in searches for the style, according to Lyst. Page views for Westwood's pearl jewellery have reportedly also increased 32%.
The trend isn't going anytime soon, so if you want to hop on it, I'm right there with you.
The Westwood piece is available to buy right now — so grab it while you still can.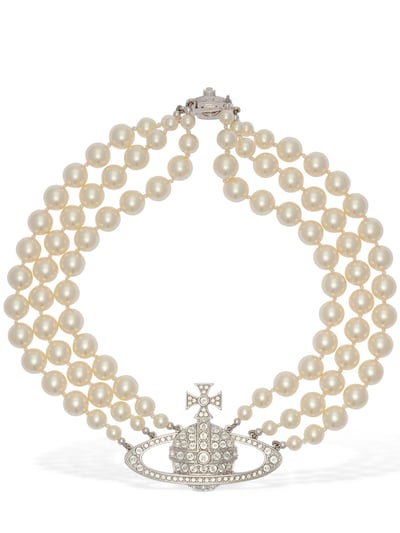 Three Row Bas Relief Faux-Pearl Orb Choker, £340, Vivienne Westwood – buy now
It also comes in a single string of pearls.
Mini Bas Relief Choker, £120, Vivienne Westwood – buy now
However if the original pearl necklace doesn't fit your budget, there are some pieces from the high street and independent retailers that look just as lovely – or if you want to splurge and get something a little bit pricier than the original one, there's an option for that too.
You don't have to go through the trouble of locating all these because I've found them for you. Here are 11 pearl necklaces inspired by Vivienne Westwood's with a piece to suit every budget.
READ MORE: As SATC Makes Its Return, Here's Where to Buy the Best Personalised Name Necklaces
Wear Next may receive a small commission if you click a link from one of our articles onto a retail website and make a purchase.
For fashion advice and chit-chat, join our Facebook group What To Wear Next or follow us on Instagram.
Buy now
Gespout Pearl Necklace, £4.99, Amazon – buy now
Gold Look Orb Mock Pearl Necklace, £8, Missguided – buy now
Real Freshwater Pearl Necklace, £16, Urban Outfitters – buy now
Baroque Pearl Choker Necklace, £29, Not on the High Street – buy now
Saturn Pearl Necklace, now £8.81, Light in the Box – buy now
Collier Gold Orb Pearl Choker, £25.45, Etsy – buy now
Tiny Pearl Necklace, £80, Mejuri – buy now
Choker Necklace in Graduating Faux Pearls, £6, ASOS – buy now
Baroque Pearl Claw T-Bar Necklace, £175, Missoma – buy now
Curve Triple Row Pearl Choker Necklace with Cross in Gold Tone, £5.60, ASOS – buy now
Layered Faux Pearl Design Choker, £2.99, Shein – buy now