Last Updated on June 1, 2023
It's no secret that aqua-related trends are on the rise.
We've had the understated coastal grandma aesthetic of 2022 (think stripes, linen and cosy knits), but now's the turn of her stylish and slightly sassy granddaughter. Enter: mermaidcore
The popularity of this trend, however, is hardly surprising given the excitement around the release of Disney's Little Mermaid this month. This long-awaited live-action remake (starring Halle Bailey as Ariel) has helped #mermaidcore amass over 220 million views on TikTok.
So if ever there's a time to jump aboard the trend of the summer, it's now.
What is mermaidcore?
It's essentially what it says on the tin, embracing mermaidcore (or the mermaid aesthetic) involves dressing and styling yourself like a mermaid. Obviously, mermaids are mythological creatures meaning there's serious room for interpretation with aesthetic.
You've got the bold and bright side of this trend which encompasses a shimmering colour palette full of silvers, blues, greens and purples. On the other side, you've got the more muted and wearable part of the mermaidcore colour palette which favours pastels, creams and golds.
What is mermaidcore makeup, hair and nails?
When it comes to mermaidcore makeup, it's all about bringing those shimmering ocean hues onto the eyelid for instant drama, along with a sparkling white shade in the inner corner of your eyes.
To keep the attention on your eyes, this trend suggests opting for fresh and dewy skin, fluffy brows and a clear gloss.
With hair, there's a lot of room for personal style. While traditionally mermaid's hair has been associated with long, wavy tresses, the 2023 interpretation varies from undone with lots of seashell and pearl accessories to slicked back for more of a 'wet look'.
And for a fully cohesive moment, opting for a nail colour in the same shade as your eyeshadow will give you that extra layer of mermaid magic.
Wear Next may receive a small commission if you click a link from one of our articles onto a retail website and make a purchase.
Shop mermaidcore makeup
Illamasqua Iconic Chromes in Captivating, Look Fantastic, £11 – buy now
Natasha Denona Mini Pastel Palette, Look Fantastic, £24 – buy now
Mermade Hair PRO Pink 32mm Waver, Look Fantastic, £41.40 – buy now
Rimmel 60 Seconds Super Shine Nail Polish 721 Siren, Boots, £3.99 – buy now
What is mermaidcore fashion?
When you think of mermaidcore fashion, your mind might conjure up images of shell bras and fishnet tights, but there's also a softer, more delicate side to it.
We're seeing details such as shells, pearls, scalloped edges, sea glass, ruffles, crochet, tulle and sequins all making a splash in the fashion world.
Then as for mermaid style silhouettes, long and flowy seems to be the name of the game, with fluted sleeves, sheer items and asymmetric skirts making their way from the runway to the high street.
In short, I'm obsessed!
Shop mermaidcore fashion
Short Seashell Necklace, & Other Stories, £55 – buy now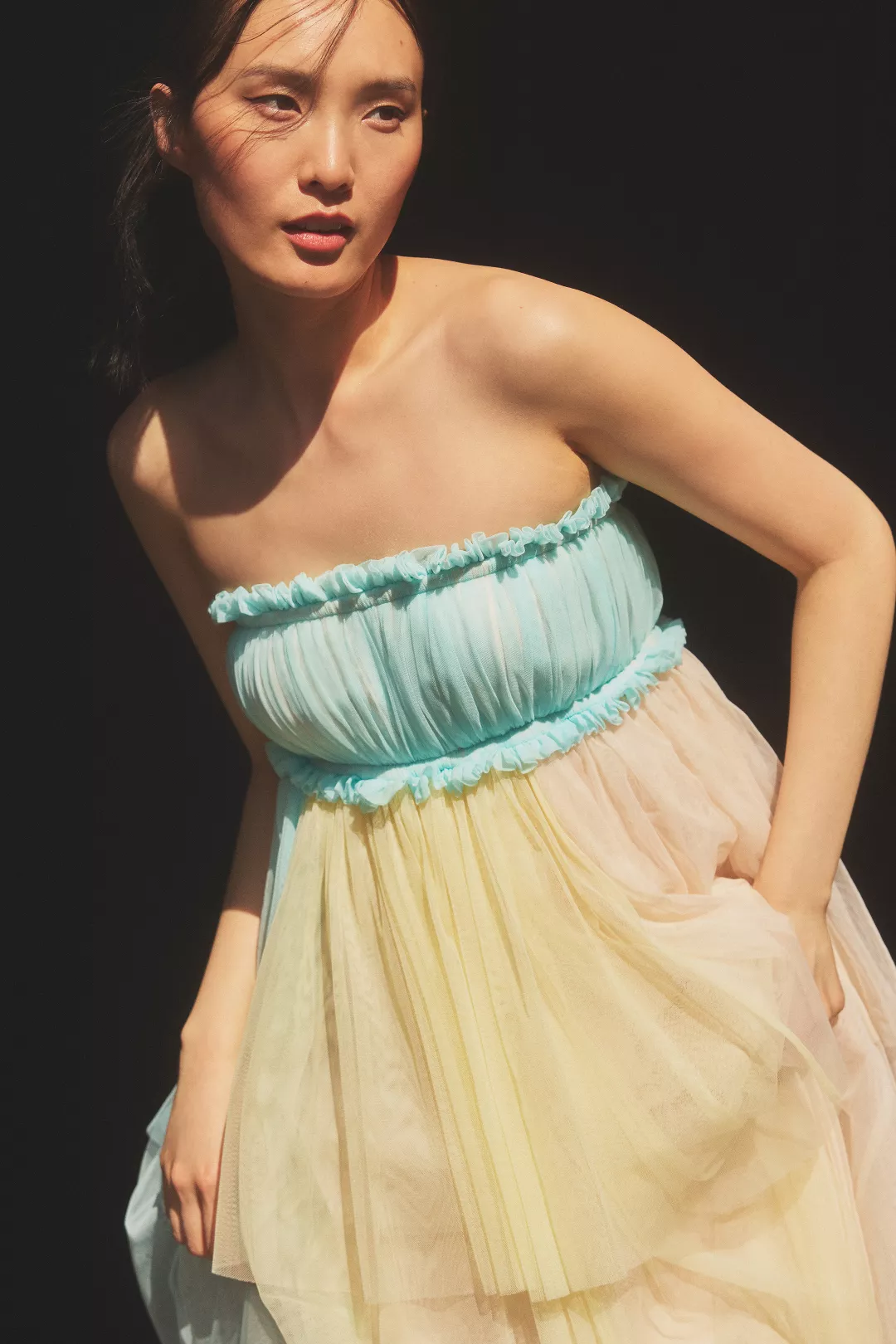 Sleeveless Tiered Midi Dress, £148, Pernille Rosenkilde for Anthropologie – buy now
One shoulder mesh maxi dress, £49, NA-KD X Josefine HJ – buy now
Natalia Sequin Mini Skirt, £79, Hush – buy now
Strapless Ruffle Top, Anthropologie £70 – buy now
Santa Luz Maxi, Free People, £88 – buy now
Chevron Crochet Knitted Long Sleeve Mini Dress, Nobody's Child, £65 – buy now
After some more cute crochet inspo? Check out our article: 19 Crochet Dresses You Can Wear Anywhere This Summer
Cream Beaded Shoulder Clutch Bag, Oliver Bonas, £69.50 – buy now
Mirrored Disc Crop Top, Karen Millen, £53.40 – buy now
Lupe Ice Blue Metallic Trousers, Amy Lynn, £75 – buy now
Neutral Real Shell Drop Earrings, Next, £12 – buy now
Dionne Pink Stripe Cardigan, Kitri, £125 – buy now