Last Updated on November 17, 2023
Intrigued by what M&S' Fresh Mandarin perfume smells like? If you've seen the affordable fragrance on the M&S website, it's worth doing a little bit of research before making a purchase. After all, perfumes are very personal and what might appeal to one person could smell sickly sweet to another. You don't want to find yourself stuck with yet another beauty product sitting on your vanity that you don't actually use.
Fresh Mandarin offers an intriguing scent, distinct yet understated. It's a personal favourite of mine, especially for those days when I need a quick mood uplift. You can probably guess that it smells like mandarin, but is it sweet, floral or woody? And what other smells are in there?
Below, I'll share everything you need to know about the high street perfume. Next, check out these incredible perfumes that are perfect for autumn winter and the iconic perfumes that smell exactly like chocolate.
Wear Next may receive a small commission if you click a link from one of our articles on a retail website and make a purchase.
What does M&S Fresh Mandarin perfume smell like?
M&S' Fresh Mandarin is a citrus, floral and woody fragrance that's not too sweet. It doesn't just smell like mandarin; this perfume has base notes of amber, vanilla and sandalwood, heart notes of jasmine, rose, tonka bean and ylang ylang and top notes of cassis and orange flower, as well as mandarin. It's playful and uplifting, perfect for adding a little brightness to your day. It works well as an every day fragrance, particularly in spring or summer.
Which M&S perfume smells like Chanel No.5?
If you love the timeless Chanel No.5, M&S's Velvet Amber Eau de Toilette might be your perfect match. This fragrance is like the sophisticated sister to the brand's previous Velvet Rose and has been praised for capturing that high-end essence we all adore in Chanel's iconic perfume without stretching the budget. As you probably know already, M&S' perfumes are very affordable.
Shop Fresh Mandarin by M&S
You can buy Fresh Mandarin for just £6 for 30ml or £10 for 100ml, making it one of the most affordable scents on the high street.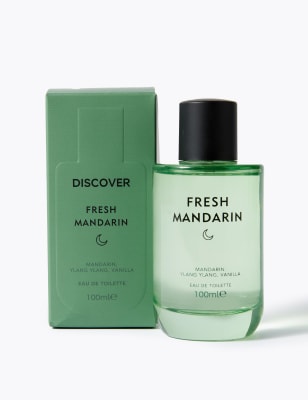 Fresh Mandarin 100ml, £10, M&S – buy now