Last Updated on March 8, 2023
Remember when we didn't need to go into the office – or wear bras? Those were the days!
Whether it's the underwire digging in, straps falling down or skin hanging over the band, there are so many different ways our bras can feel uncomfortable.
READ MORE: Confused About How Often You Should Wash Your Bra? Here's the Definitive Answer
But if, like me, you struggle to find underwear that doesn't give you grief, you could well be wearing the wrong bra size.
You're not alone. A survey by underwear brand Triumph in 2008 found that 80% of women were wearing the wrong bra size. That's 8 out of 10 of us, so it's no wonder we don't feel great in our bras.
Finding out your bra size shouldn't be guess work. We enlisted the help of Curvy Kate's very own Bra Whisperer Katie Weir to give us the lowdown on how to tell if we're wearing the wrong size.
After over 10 years of working in the lingerie industry, Katie has learnt to tell a person's bra size just by looking at them – but don't try it at home. The rest of us have a lot to learn.
"You should get a bra fitting every six months," she says. "This can be quite a costly activity, but after the year we've just been through, we've seen how much our bodies can change.
"We've actually taken the time to look in the mirror and look at our bodies and how they have changed, rather than just living at this rapid pace of life where we don't noticed."
Curvy Kate, which offers lingerie from sizes D-K, offers virtual bra fittings, which are all done by eye based on the fit of your current bra.
So what are the telltale signs you're wearing the wrong size?
"It shouldn't really feel like you're wearing a bra," Katie says. "It should feel like you're getting a hug and that something is holding you, but it shouldn't be digging in."
If you're still unsure whether or not you're wearing the wrong size, keep reading.
Here are some specific signs your bra doesn't fit like it should.
Wear Next may receive a small commission if you click a link from one of our articles onto a retail website and make a purchase.
READ MORE: We Tried Out 5 Different Types of Period Pants – These Were the Best of the Bunch
The back band is rising
"If you've ever seen someone wearing a tank top in summer and their bra is poking out at the back, creating a U-shape, that's a sign their back band is actually too big," Katie says.
"80% of the support of a bra comes from the back band, so you want it to be firm to your body," she continues. "If it rises up or it's too loose, it's not doing anything to lift your breasts."
Your shoulder straps are digging in
"Your shoulder straps aren't there to hold your boobs," Katie says.
"If your shoulder straps are digging in and giving you dips in your shoulders, it's a sign your bra is too big in the back."
The underwire is causing you pain
"This is the most common complaint," Katie says.
"If your underwire digs into your armpit, leaves marks or bruises you, it's a sign that your cup is too small."
She adds that the "underwire should reach right around and encapsulate all of your breast tissue, which is why putting on your bra properly using the scoop and swoop method is key."
The method in question should be used every time you put your bra on. You simply scoop all your breast tissue from the side into your bra for more support. You can see Katie demonstrating below.
It's floating in the middle
The centre underwire, where the underwires from either cups meet, is known as the gore.
"Is the gore between your boobs?" Katie asks.
"If it's floating and isn't tacked to your breast bone, it's an indication that your bra is too small in the cup."
Shop bras
Feeling inspired to invest in some better-fitting lingerie? Here's our edit of lingerie for every size.
Lifestyle Plunge Bra Black, £28, Curvy Kate – buy now (available in sizes D-K)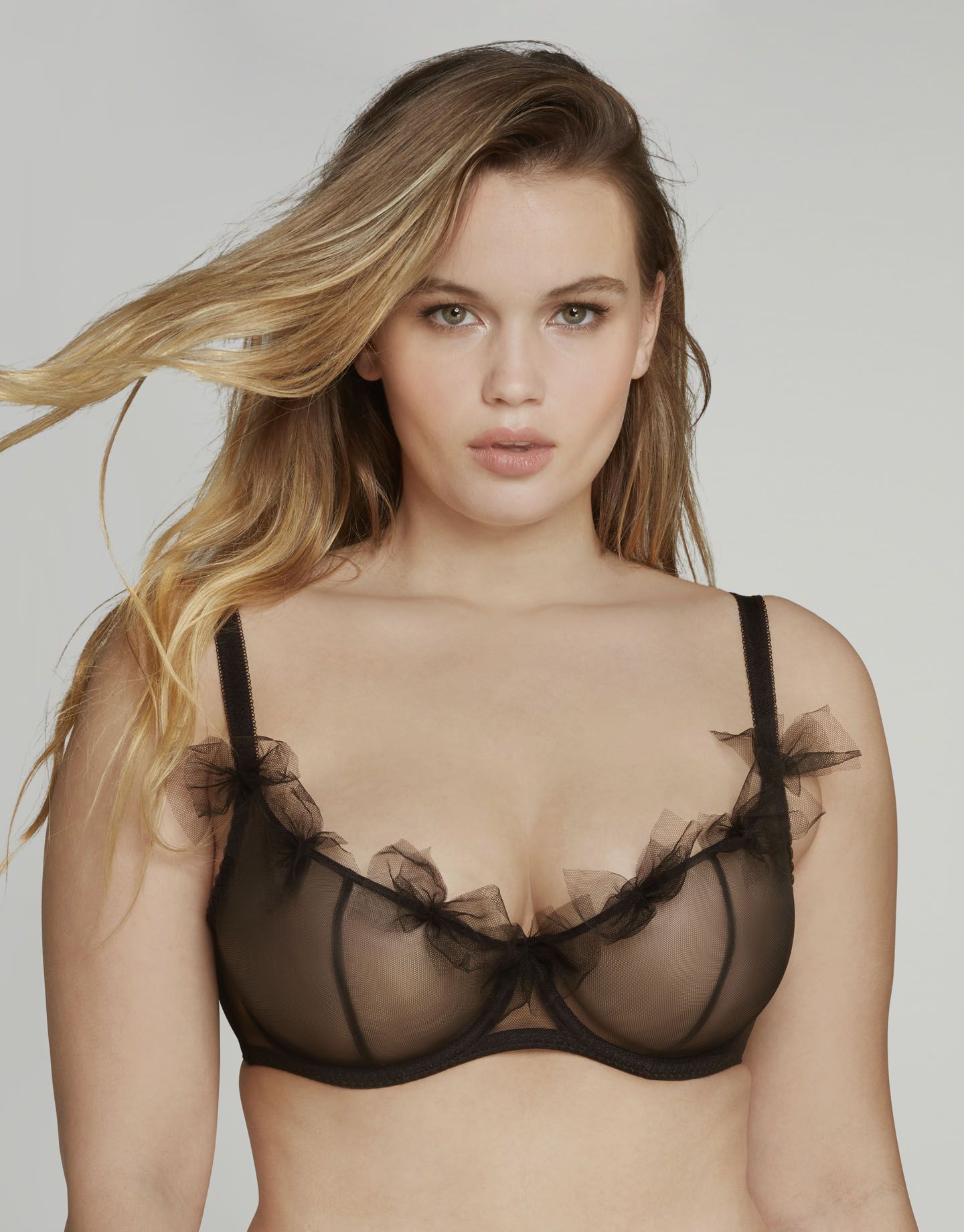 Plunge Underwired Bra, £75, Agent Provocateur – buy now
Colette Bra, £39, Bluebella – buy now (available in sizes A-DD)
Savage Not Sorry Lightly Lined Lace Balconette Bra, £65, Savage x Fenty – buy now
TENCEL™ Lite Bralette, £55, Organic Basics – buy now (up to size XL)