Last Updated on September 25, 2023
Wondering how to walk in heels? Here, I'm sharing six handy tricks to make walking in skyscraper heels way easier. Why does something so beautiful cause so much agony? My mum is one of those people who always wears heels, whether she's going for a coffee with friends or an important meeting. She set the bar high when it comes to footwear, but I've spent my life wondering how on earth she does it.
I'm less of a heel wearer myself, but I certainly have a few pairs. They're all utterly beautiful, but the only problem is the pain that rears its ugly head when I wear them. Not one to let anything stop me from wearing what I want, I did some research to discover the tips and tricks stars and heel lovers use to get around in theirs. These changed my life, so if you've been pondering over how to walk in heels, keep scrolling.
Next, read about how to recycle your old shoes (and get paid for it).
Wear Next may receive a small commission if you click a link from one of our articles onto a retail website and make a purchase.
READ MORE: Where to Buy the Best Nude Underwear For All Skin Tones
Walk heel to toe
You've probably heard this one before, but always walk heel to toe rather than the other way around. This is how we naturally walk when we wear flat shoes, so doing this in heels will make you look much more natural rather than that awkward walk we often see people wearing ill-fitting heels do. Make sure you're also leaning back and not slouching, as this will look really unnatural.
Start small
If you're not used to walking in heels, look for a smaller heel to try first – none of this platform heels business (yet). Mid and block heels are my particular favourites, as they're easy to walk in and don't hurt my feet. Wedges are a good option too, as these offer more support (and they're one of 2023's trending footwear styles). Practise makes perfect, so keep going and eventually you can graduate to higher heels.
Find a comfy pair
You might think all heels are meant to feel like agony, but that's not the case. It sounds obvious, but you need to ensure your heels fit. Try before you buy and make sure that your heels don't feel too tight. If you're shopping online, make sure you wear the shoes for at least 30 minutes at home so you give them a proper try-out before making a decision to keep or return.
If you're wearing leather or suede heels or boots and they feel a little tight on the sides, it's not too much of an issue as they'll stretch with wear and mould to your feet, but if you can feel your toes at the end of the shoe, they're too small.
Practise makes perfect
Practise walking around in your heels at home before leaving the house. This is something I always do anyway to break new shoes so I'm not caught short with a painful blister when I have a whole day of walking to do. If you discover they're ridiculously uncomfortable, you're still able to return them.
When it comes to heels, it becomes even more important to practise walking in them and not just to wear them in. Just like anything, the more accustomed you get to walking on high heights, the easier it will become.
Take it slow
Don't rush! Take it easy and take smaller steps first. Walking in heels is a bit like cycling. You should always look forward rather than at your feet. Not only will you avoid walking into anyone and having a painful fall, but you'll look way more confident in your skyscrapers.
Preparation is key
If all else fails and you end up with painful feet, make sure you're prepared. There are so many products available to ease your feet in heels now, including gel cushions, blister plasters and insoles. It's also worth carrying a pair of ballet flats if you have space in your bag to wear at the end of the night. There's no point wearing heels for longer than you need to, as not only will it cause you pain, but it will cause them to wear more quicky too.
Here are a selection of handy products that make wearing heels 100% more comfy.
Scholl Party Feet Ball of Foot Gel Cushions, from £5.50, Amazon – buy now
Compeed Anti-Blister Stick, from £4.50, Amazon – buy now
Compeed Blister Hydrocolloid Plasters, £4.50, Boots – buy now
Shop comfy heels
They exist, I promise! If you're looking for high heels that are less ow, more wow, I recommend mules, block heels, Mary-Janes and boots as a great place to start.
Mary Jane Gold Metallic Leather Flared Heeled Shoes, £95, Oliver Bonas – buy now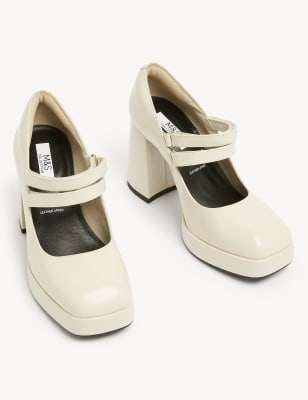 Leather Patent Platform Court Shoes, £59, M&S Collection – buy now
Hudson premium leather heeled western boot in lime, £90, Topshop – buy now
Metallic bow shoe, £59.99, Mango – buy now
Hoxton chunky mid platforms sandals in black, £28, ASOS DESIGN – buy now