Last Updated on July 20, 2023
Looking for the best Barbie collabs of 2023? I'm sharing all the best ones right here. From Zara to ASOS and even Crocs, it feels like every brand on the planet is collaborating with the Barbie brand. Unless you've been living under a rock, you'll know that Greta Gerwig's new movie Barbie is coming to cinemas in a matter of days. Featuring Margot Robbie and Ryan Gosling, the 2023 film has sparked Barbiecore mania and a number of exciting collaborative collections.
As we wait with bated breath to watch the movie, we've seen Robbie touring the world with an incredible Barbie-inspired wardrobe to boot. It's not all pink (although there's plenty of it); she dressed as the Orginal Barbie doll in Sydney earlier this month in a black and white striped Hervé Léger bandage mini dress, black heels and a high pony tail. For the Los Angeles premiere, she dressed as 1960's "Solo in the Spotlight" Barbie in a sequin black custom Schiaparelli gown.
As we know though, pink plays a huge part in Barbie's wardrobe both in the movie and on the doll. Many collabs have used pink as their main colour theme. So without further ado, let's take a closer look at all the collections available to shop right now, including Tangle Teezer, GAP, Boohoo, ASOS, NYX, ALDO and Crocs. If you want to Barbify your entire life, you really can.
Wear Next may receive a small commission if you click a link from one of our articles onto a retail website and make a purchase.
Barbie x Zara
Barbie™ the Movie © Warner Bros. Strapless Dress, £79.99 – buy now
Zara has collaborated with Barbie on a capsule collection of both womenswear and menswear, featuring everything from dresses, handbags, shoes, jewellery and even swimwear. It's not all hot pink (although there's plenty of that); you can expect Western-inspired Barbie pieces like denim jumpsuits, cowboy hats and bandanas, but ultra-feminine Barbie-branded pieces too.
Check out the full Zara x Barbie collection next, and if you're wondering whether your favourite pieces will come back into stock, here's our handy guide.
Barbie x Kipling
Barbie Ayda Small Shoulder Bag (left), £78 – buy now
Barbie Bina Medium Shoulder Bag, £88 – buy now
Kipling has collaborated with Barbie on a collection of pink bags and keychains. Many of their iconic styles have been updated in the bold hue including their tote, backpack and bum bags. All of them are available to shop right now.
Barbie x OPI
Barbie x OPI Nail Lacquer, £14.90 – buy now
OPI has created 9 pretty pink, metallic and pastel nail lacquers in partnership with Barbie. As you'd expect, the majority of them are pink but there's also yellow and blue polishes available. The collection launched on July 1, but it's still available to shop on Amazon.
Barbie x Mermade
Barbie™ Wavy Kit, £78 – buy now
Looking for mermaid waves? Create them with this pretty pink styling tool from the Barbie x Mermade collection. There's also a Blowout Kit for voluminous hair, and they're both still available.
Barbie x ASOS

ASOS DESIGN Barbie denim jacket in pink, £48 – buy now
ASOS DESIGN Barbie dad jeans in pink, £42 – buy now
ASOS has also joined forces with Barbie on a capsule collection of just 11 pieces, including this denim two-piece with Barbie faces all over. There's also a selection of Barbie logo tees and even socks, but unlike Zara, this has a much more casual vibe. If you're wondering how to return anything, check out our guide to ASOS returns next.
Barbie x Boohoo
Barbie Moto Micro Mini Skirt, £12 – buy now
If you want to grab any Boohoo x Barbie pieces, you better be quick. There's only a handful of items left in this affordable collaboration, starting at just £8. There's so much loungewear to choose from, and everything features the iconic Barbie logo.
Barbie x ALDO
Barbie slingbacks, £110 – buy now
ALDO has dropped a selection of diamante-embellished, pink and heart-embellished high heels, bags and jewellery pieces. A few items have sold out, but shoe lovers still have time to make the most of this cute collab. Run, don't walk.
Crocs
Next, we have Barbie x Crocs. The collection sold out almost instantly in the US, but they're set to land in the UK on July 24th so you have plenty of time to work out which pairs you're going to get first. Read more about Barbie x Crocs and how to get your hands on it this week.
Barbie x Tangle Teezer
Tangle Teezer The Ultimate Detangler Brush – Pink Barbie™, £13 – buy now
Doesn't this hair brush remind you of the miniature hair styling tool that came with your favourite Barbie? Only this one is life size. Tangle Teezer has also teamed up with Barbie to create a little and large detangling tool and at just £13, it's a bargain.
Barbie x GAP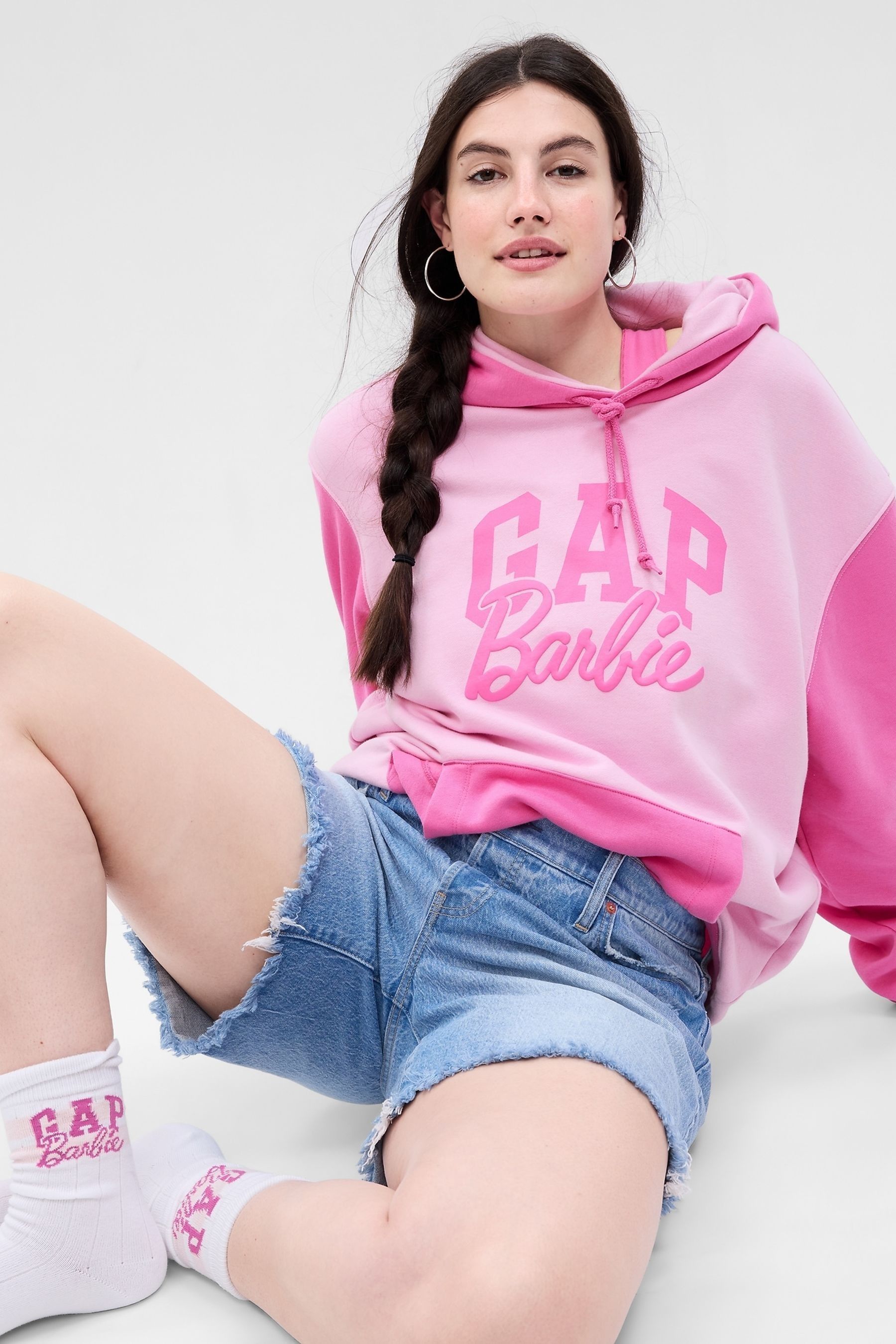 Barbie Adult Arch Logo Hoodie, £65 – buy now
GAP x Barbie has been around for a little while, with both womenswear and kidswear available. In the collab you can expect hoodies, socks, dresses, tanks and denim jackets. If you want to get a piece, you better be quick as this one's almost sold out.
Barbie x Cotton On
Barbie Hoodie, £40 – buy now
One of the few size inclusive Barbie collaborations, Cotton:On has a selection of hoodies, sweatshirts, tanks, denim skirts and more. Unfortunately plus sizes aren't available in the UK, but in Australia and the US certain pieces go up to size 5XL.
Barbie x NYX
NYX Pmu Barbie On The Go -It's A Barbie Party!, £12 – buy now
Prefer make up? NYX has teamed up with Barbie on a selection of limited edition products, including the cutest flip phone mirror. There's also Barbie butter lip gloss, make up palettes, false lashes and lip cream.