Last Updated on September 13, 2023
Itching to buy a pair of cargo pants but clueless about how to style them? I can help you with that. With neck scarves, ballet flats, waistcoats, low-waisted jeans and cargo pants trending, it almost feels like we're back in the early noughties again. For those of us who survived the fashion the first time around, it can feel pretty triggering to see it making a comeback. Some of these trends are easier to wear than others! If you've been wondering whether or not to jump on board the Y2K trend, may I recommend cargos?
While they're not for everyone, I think it's safe to say that cargo trousers are here to stay. So how do you wear them? Think of them as a replacement of your denim jeans. You can wear them with basically anything, whether it's a chunky knit, a casual tee, an oversized jacket or a simple white vest. Don't overthink it! When it comes to your footwear of choice, anything goes. Some of my favourite cargo pants looks include a pair of killer heels, but casual sneakers work so well too.
I've done my research to find some incredible inspo. If you need some inspiration on how to make cargos work for you, look no further. Next, take a look at the best camel coats that will never go out of style, the biggest trends for AW23 and the most exciting sample sales happening this month in London.
Wear Next may receive a small commission if you click a link from one of our articles onto a retail website and make a purchase.
What are cargo pants? 
Cargo pants are loose trousers characterised by their large utility pockets and often made from quick-drying synthetic or cotton-synthetic blends. Initially worn as a form of military workwear by soldiers during WWII, cargo pants with wide pockets are what paratroopers used to put essential items like ammo, maps, and bandages. The cargo pockets can be found on the sides of the legs at thigh level, making it easier to grab and store the items when needed.
Are cargo trousers in style?
In short, yes. Cargo pants have been around for decades but are making a resurgence thanks to Y2K fashion making a comeback. Cargo trousers today look more chic, refined, and are often made from high-quality materials. 
How to wear cargo trousers
With the help of some of our favourite influencers, we're showing you how to wear your cargos.
With a tee
Don't overthink it. Make like @the_oluwaseun and team your cargos with a casual tee and low heels. Top it off with a minimal handbag, lashings of jewellery and some shades.
Football Tiro 23 t-shirt in black, £23, adidas – buy now
Uniform wear Baggy Trousers, £80, This Is Us – buy now
Filigree rubber mules, £270, Y/Project x Melissa – buy now
With sneakers and an oversized jacket
One of the simplest ways to style cargo trousers is with sneakers. For a relaxed but considered look, pair your cargos with an oversized leather jacket, knit and sneakers, particularly during the colder months.
Leather biker jacket, £329.99, H&M – buy now
A-Line Funnel-Neck Top, £75, Cos – buy now
Organic cotton-blend cargo pants, £195, Ganni – buy now
Handball Spezial gum sole trainers in blue and peach, £85, adidas Originals – buy now
With a corset top
Bring back the 90s by teaming your cargos with a corset top and heels, like Ellie Delphine. Play with proportions, opting for oversized cargos to highlight your tiny waist.
Square neck denim corset with logo embossing co-ord, £48, Jaded London – buy now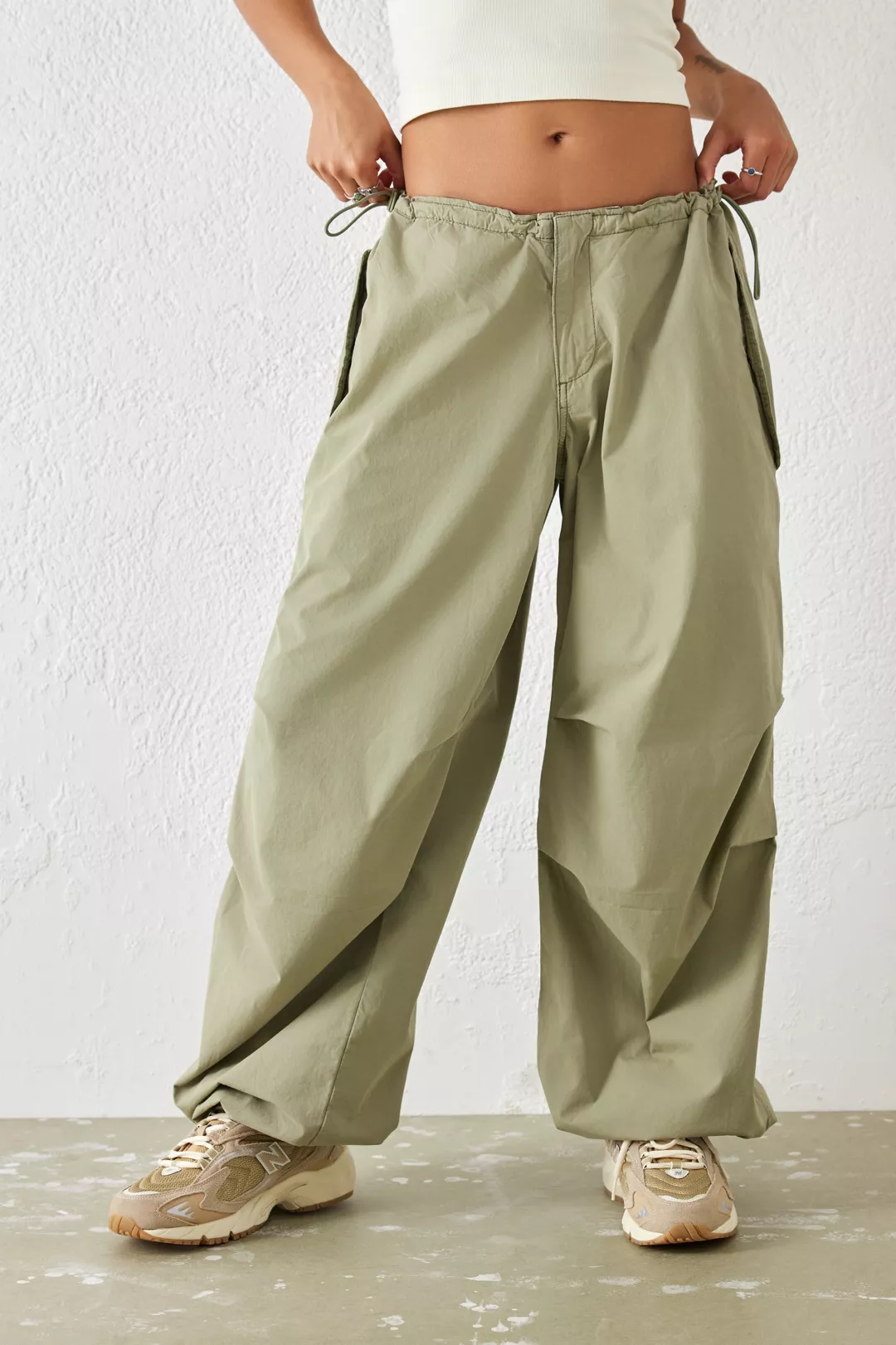 Sage Lightweight Baggy Tech Pants, £48, iets frans… – buy now
Quilted Heeled Sandals, £45.99, Zara – buy now
Oversized cat-eye acetate sunglasses, £260, Loewe Eyewear – buy now
With a denim jacket
Prefer neutral shades? Pick a pair of cargos in a more earthy colour and team them with a white vest, casual trainers and a denim jacket. Emili Sindlev shows us how it's done.
Denim Jacket, £119, Arket – buy now
Annie Boatneck Sleeveless top, £16, Weekday – buy now
Wide-leg cargo trousers, £49.99, Oysho – buy now
Samba OG, £88.99, adidas Originals – buy now
With heels and a contrasting bag
Cargos don't always need to be casual. Team yours with heels to contrast the look, as well as a pop of colour in the form of a stylish accessory. We love this bright orange bag, worn with a pair of neutral cargos and a simple white top.
Maesa tailored fresco cargo trousers, £190, The Frankie Shop – buy now
Metallic Mid-Heel Mules with Rhinestones, £45.99, Zara – buy now
Le Bisou calf hair shoulder bag, £555, Jacquemus – buy now