Last Updated on October 22, 2021
It might feel a little early to be thinking about the festive season, but Christmas is edging closer every day.
For many of us who love comfy style, we've got one thing on our minds. Forget presents, mulled wine or mince pies, we're just excited about cosy Christmas pyjamas.
READ MORE: These 70s-Inspired Shoes Are Everywhere
I'm not talking novelty pyjamas. No shade if you love them, but there are lots of options that are chic, sleek, and can be worn all throughout winter, rather than just for Christmas itself.
If you're worried that they won't be festive enough, fear not. We're partial to holiday prints and colours, but I've found a selection that are a little more streamlined this year.
After so many months being in comfy clothes and loungewear, it's time to elevate our wardrobes a little. I'm still all for comfort, but I'm so ready to embrace extravagance – even at home, because why not?
There are so many fun pieces on the market right now, some of which you can even pass off as a chic outfit. Sleeper, we're looking at you!
For my fellow minimalists who want Christmas pyjamas with just the right amount of flair, their red PJs with feather hems are perfect (and they come in green too).
Plus, one of their UK stockists Coggles is offering 10% off exclusively for Wear Next readers when you sign up to our newsletter.
For maximum luxury, opt for long-lasting silk sets to keep you cosy. There are so many styles I've fallen head over heels for from Desmond & Dempsey, Boden and Karen Mabon.
If you're on a budget, ASOS and Boux Avenue have some pairs that are just as cosy.
READ MORE: This Maximalist Top Will Get You So Many Compliments
For fashion advice and chit-chat, join our Facebook group What To Wear Next or follow us on Instagram.
Wear Next may receive a small commission if you click a link from one of our articles onto a retail website and make a purchase.
WN's Christmas Pyjamas Edit
Soleia Leopard Print, £150, Desmond & Dempsey – buy now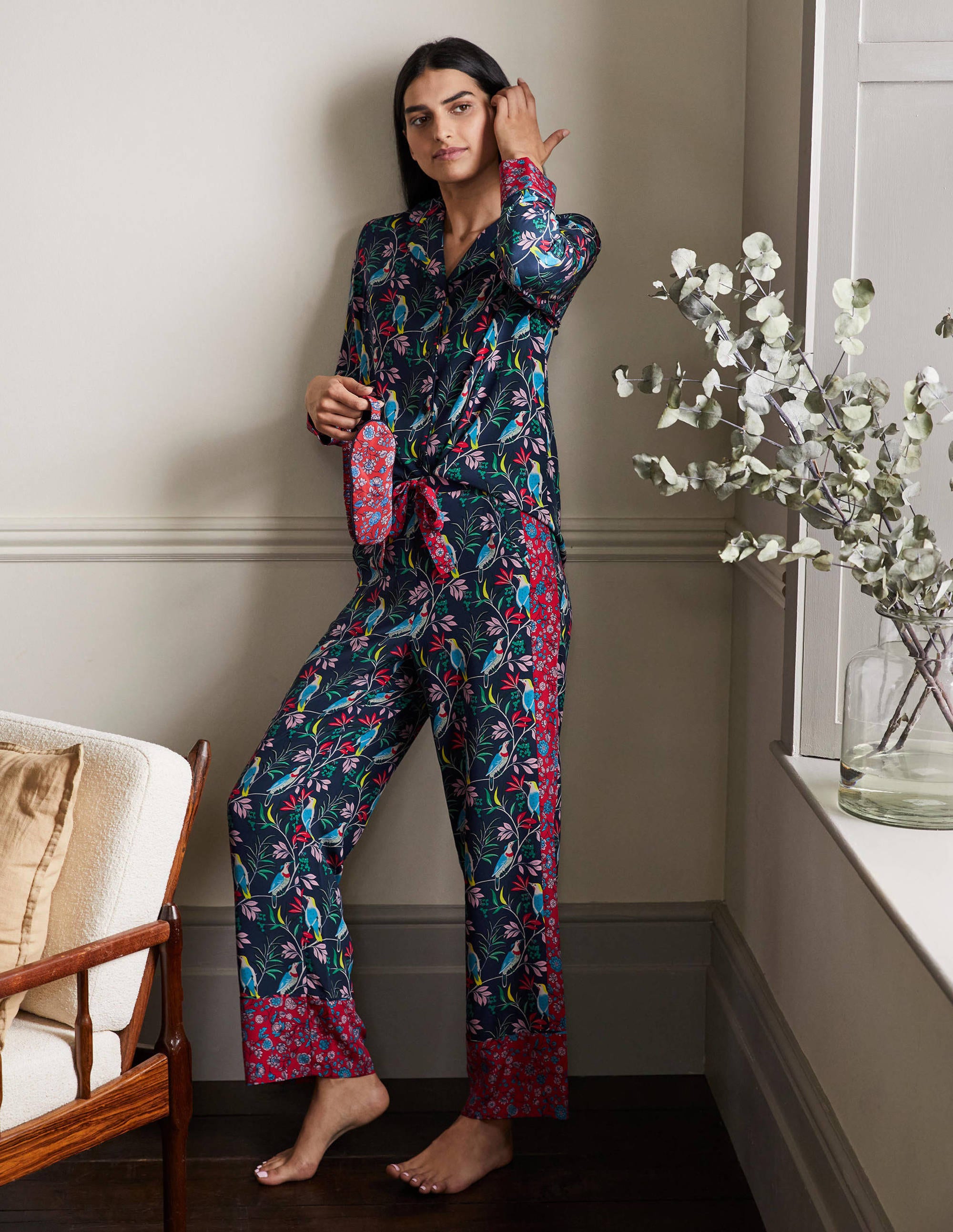 Silk Pyjama Set, £198, Boden – buy now
Cotton Printed Flannel Long PJ Set, £24, Victoria's Secret – buy now
Red and Pink Gingham Pyjamas in a Bag, £30, Boux Avenue – buy now
Women's Party Pyjama Set with Feathers, £220, Sleeper at Coggles – buy now
Agatha Christie Pyjama Trousers Set, £145, Karen Mabon at Anthropologie – buy now
Vanessa Cosy Bottoms, £35, Boden – buy now
Cyberjammies Check Pant & Top Set, £48, Next – buy now
Joy Flannel Pyjamas, £59, Hush – buy now
Mix & Match Astrology Set, from £16, ASOS DESIGN – buy now
Marina Checked Cotton Flannel Pajama Set, £169.54, Sleepy Jones at Net-A-Porter – buy now
Moonlight Classic Foil Pyjama Set, £38, Chelsea Peers – buy now
Party Pajamas Set with Feathers in Mint, $290, Sleeper – buy now