Last Updated on September 29, 2022
When you think of 90s fashion, what comes to mind?
For some, it's Princess Diana's iconic oversized sweatshirt and cycling shorts combo. For others, it's Cher Horowitz and Dionne Davenport in check two-pieces.
READ MORE: Embrace 90s Style With These Chic Leather Trench Coats
For me? It has to be the leather blazer.
Back then many stars embraced them (Gwyneth Paltrow, Reese Witherspoon and Winona Ryder, to name a few), helping to make them one of the most iconic pieces of the decade.
In 2022, they're still very much a staple in A-listers (and their stylist's) wardrobes; Kylie Jenner, Emily Ratajkowski, Bella Hadid, Hailey Bieber, Kim Kardashian and Kaia Gerber have all been pictured wearing leather blazers in recent years.
As we enter autumn, it's possibly our only chance to wear them as when the cold weather really hits, we'll be firmly wrapped up in puffer coats (or the new kid on the block, bomber jackets).
I've been doing some research into what's available on the high street, a preferable option if you'd rather wear vegan leather. H&M, Pull & Bear, ASOS and Stradivarius all have leather-look blazers available for under £50.
Thanks to an assortment of faux leather blazer options, they're also affordable. Here are a few from H&M, Reformation, Stradivarius, and more.
If you're looking for one to keep in your wardrobe for years to come, I'm also a big fan of Reformation and The Frankie Shop's slightly more expensive options. The latter brand has a buttery leather beige blazer that I'm dreaming of.
But less talk, more action. Here are the best leather blazers you can buy now. We're updating this article regularly, to check back soon for even more options.
READ MORE: 9 of the coolest leather trench coats in stores now
Wear Next may receive a small commission if you click a link from one of our articles onto a retail website and make a purchase.
For fashion advice and general chit-chat, join our Facebook group What To Wear Next or follow us on Instagram.
Shop Leather & Leather-Look Blazers
Single-breasted blazer, £39.99, H&M- Buy Now
Veda Bowery Leather Blazer, £435, Reformation – Buy Now
Faux Leather Blazer, £39.99, Stradivarius – Buy Now
Faux Leather Blazer With A Pocket, £39.99, Pull & Bear – Buy Now
Maxi Oversized PU Blazer, £66.95, NA-KD – Buy Now
Olympia faux-leather blazer, £280, The Frankie Shop – Buy Now
Ariza faux-leather blazer, £795, Nanushka – Buy Now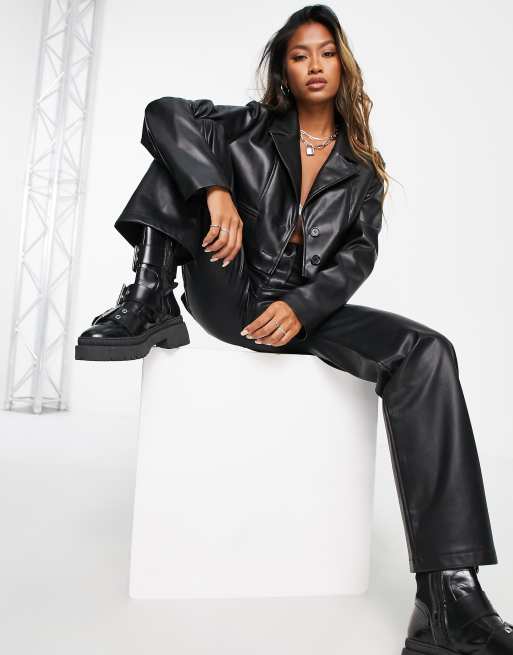 Faux leather cropped blazer jacket in black, £57, Topshop – Buy Now
COLLUSION PU wadded blazer in green, £52.99, ASOS – Buy Now