As we all know, bodies come in all different shapes and sizes – but there are a few well-known body types, such as the hourglass, apple or pear-shaped figures.
These shapes are well-known, although there are plenty more body type theories today, such as the Kibbe. But if you've identified yourself as pear-shaped and want to know which dresses will help you to feel your best, I can help.
READ MORE: If You Thought This Dress Brand Was Over, Think Again
A small, slender upper body with wider hips characterises the pear-shaped figure. Experts say that dresses that are fitted at the waist and flare out at the bottom look great on this shape, while dresses with a high waistline will lengthen your body.
By this logic, fit and flare, A-line and V-neck dresses look great, but there are so many more I've noticed pear-shaped women look incredible in.
If looking at other bodies helps you to identify what yours is, you might want to know which celebrities share this figure. You're in great company; Beyoncé, Rihanna, Kim Kardashian, J-Lo and Eva Longoria are all pear-shaped.
We're not here to tell you how to dress; it goes without saying that you should wear whatever makes you feel like you, regardless of fit, colour, shape or length. Take our advice and make it your own, but never stop embracing your own personal stype.
Ready to get stuck in? Here are some of the best dresses perfect for pear-shaped body types.
Fit & Flare Dresses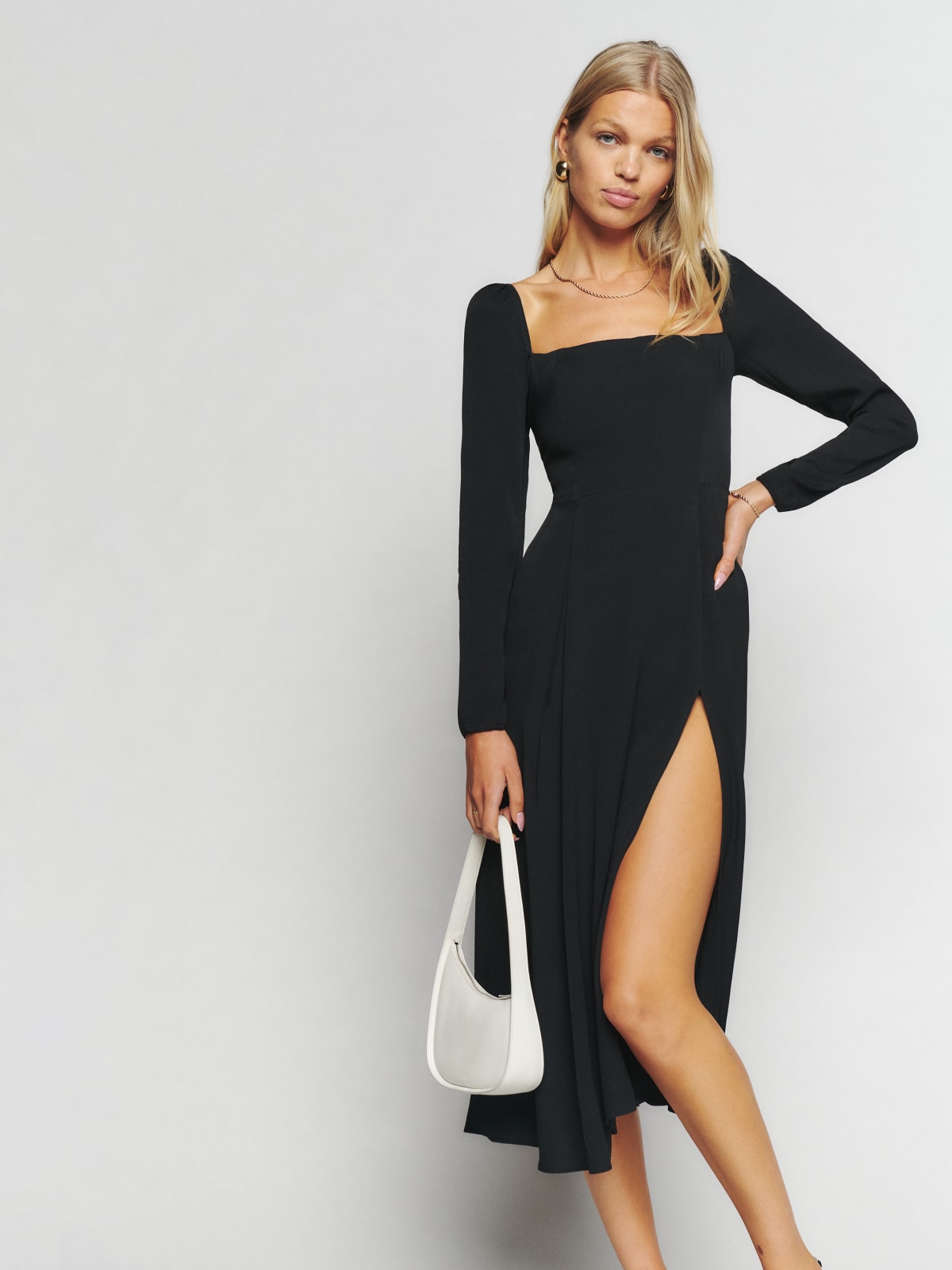 Sigmund Dress, £278, Reformation – buy now
Wells Square-Neck Cotton-Blend Dress, £255, Staud – buy now
Fit and flare dresses lengthen and smooth the hips without clinging to them, something I personally hate as a pear-shaped woman. The skirt is flared out at the hips, which helps to create balance.
READ MORE: 17 Killer Zara Dresses On My Wishlist Right Now
A-Line Dresses
Slim-Fit Corset-Style A-Line Dress, £99, Cos – buy now
Faux Leather Volume Sleeve Mini A Line Dress, now £15, Warehouse – buy now
A-line dresses, like fit and flare, have a fuller skirt that lifts the fabric from the hips.
It emphasises your narrow waist and shoulders that are typical of pear-shaped bodies, while the skirt skims the hip and thigh area.
Off The Shoulder
Off-the-shoulder ribbed dress, £19.99, H&M – buy now
You look great in off-the-shoulder dresses, as it's very likely your upper body is narrow.
These create the illusion of broader shoulders, which balances out your body.
READ MORE: 23 Christmas Party Dresses to Ensure You Dazzle This Festive Season
Blazer Dresses
Blazer Dress, £59.99, Zara – buy now
Feather Trim Blazer Dress, now £74.50, Warehouse – buy now
A blazer dress is another great option; it offers structure, while shoulder pads help to balance out the shape.
READ MORE: All the Best Plus Size Dresses in H&M Right Now
V-Neck & Wrap Dresses
Black Floral V Neck midi dress, now £21, Monki – buy now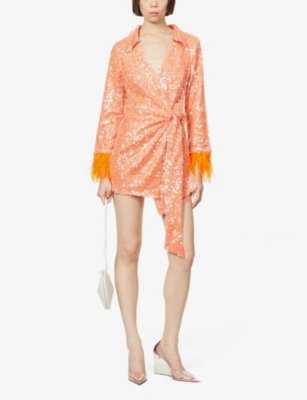 Sequin-Embellished Wrap-Over Mini Dress, £99, Amy Lynn – buy now
Not everyone can pull of a plunging v-neck dress, but you look incredible in these.
The neckline draws attention to your face and creates space in your top half, effectively balancing out the narrow shoulders of a pear-shaped body.