Is the balaclava, the snood-like fashion accessory that you would more often find on the slopes or being used in combat, turning out to be the surprise trend of the season?
From Givenchy's knitted devil horns balaclava to the late Virgil Abloh's checkerboard style, the balaclava has made an unapologetic presence on the runway recently.
READ MORE: Call Off the Search – I've Found the Best Affordable Bridesmaids Dresses on the High Street
You may also remember seeing the balaclava feature heavily at the Miu Miu's show at Paris Fashion week last March.
Since then, the balaclava can be found in recent collections of most all major fashion designers including Stella McCartney, Balmain and Moschino, before trickling down to the high street to stores such as Zara, H&M and Other Stories.
The balaclava historically got its name from the Ukrainian town of Balaclava, where in 1854, British and Irish troops were sent to fight during the Crimean war.
The soldiers arrived in their summer uniforms to freezing conditions. When the British women learned of the lack of supplies, they knitted full-face hats to keep their men warm and so the balaclava was born.
At the time of writing this article, there are 140.2 million videos attached to the hashtag #balaclava on TikTok and 266,000 hashtags on Instagram of people wearing the accessory.
So why exactly is the balaclava trending now? According to the global search platform Lyst, the balaclava's rise in popularity is due to Kim Kardashian's headline-grabbing Balenciaga Met Gala outfit, which comprised a full-face covering, after which searches for balaclavas soared.
Another theory is that it's due to Gen Z's two favourite hobbies – TikTok and knitting, with countless video's on the platform detailing how to knit the perfect balaclava.
Whatever the reason, this trend has come at a very fitting time. Since the start of the pandemic, we've become far more comfortable with face coverings – so whether you go for the full balaclava or it's slightly more wearable cousin the knitted hood, it's both on trend and practical in our mask mandated world.
Here's our edit of the best balaclavas on the high street.
READ MORE: I've Looked Through H&M's Entire New In Section – These Are the Pieces You Need to See
Wear Next may receive a small commission if you click a link from one of our articles onto a retail website and make a purchase.
For fashion advice and chit-chat, join our Facebook group What To Wear Next or follow us on Instagram.
Shop the best balaclavas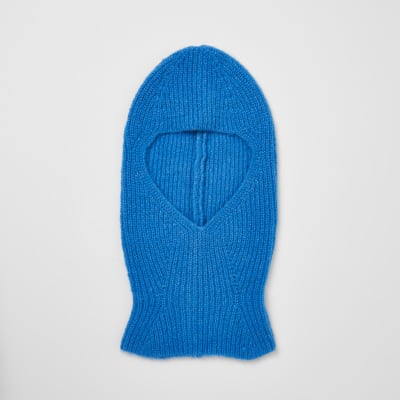 Blue knitted balaclava, £18, River Island – buy now
Intarsia wool balaclava, £295, Stella McCartney – buy now
Harmony Hood, £18, Weekday – buy now
Fitted Cashmere Hood, £59, ARKET – buy now
COLLUSION Unisex spacedye balaclava, £12.99, ASOS – buy now
Crochet virgin wool hat, £420, Miu Miu at MyTheresa – buy now
Topshop Knitted Balaclava in Beige, £18, ASOS – buy now
Knitted balaclava hat, £17.99, Mango – buy now
Wool Blend Knitted Hood, £40, & Other Stories – buy now
Recycled polyester balaclava in lilac, £18, Monki – buy now
Pauline Balaclava, £225, Shrimps – buy now