Last Updated on February 23, 2023
I'm waiting for the weather to cooperate because I'm ready for hot girl summer. Most of my days are spent scrolling through Instagram for swimsuit ideas, and one thing I can't stop seeing are high-leg swimsuits.
Sure, it's technically still winter, but it's never too early to be thinking about summer. My mind is already on the beach, and I'm ready to lounge at the pool wearing a cute swimsuit.
READ MORE: The 70s is Defining Our Sunglasses This Summer – These Pairs Win My Vote
The high-rise design may look uncomfortable at first, however high-leg swimsuits can be surprisingly easy to pull off. They make your legs will appear longer, which is great news if you're planning to take awesome beach photos.
I took it upon myself to find some cute options. I've found so many from NA-KD, Nasty Gal, H&M and many more.
Wear Next may receive a small commission if you click a link from one of our articles onto a retail website and make a purchase.
Are high-leg swimsuits in style for 2023?
The high-leg swimsuits that were popular in the 80s have been back for some time now. One scroll through Instagram last year, and you'll notice that a lot of celebrities have already embraced the high-rise style.
From Millie Bobby Brown's tropical two-piece to Dua Lipa's monokini, whether it's one-piece swimsuits or bikinis, the high-leg cut is poised to rule the beaches this season.
And who can blame them? High-leg swimsuits sit above the hip and snugly hug your body, offering a comfortable fit that flatters every body type. These swimsuits elongate the legs and accentuate the waistline, creating a flattering and sexy silhouette.
What swimsuits are in style for SS23?
This summer's swimsuit trends are giving nostalgic tacky styles a modern makeover that gives them a timeless feel. Sure, florals can seem like a granny aesthetic, but swimsuits are having a cottage-core moment with ruffled styles and dainty floral one-pieces.
If you think tropical patterns are a little cheesy, don't worry, there are cute, whimsical fruit prints that give an Amalfi Coast vibe. Mermaidcore is also a big thing right now, Bella Hadid even rocked a tiny black bikini adorned with mini seashells back in January.
READ MORE: Swimsuits You Can Actually Swim in Without Any Accidents
High-leg swimsuits were a staple of the 80s, but they're not the only ones making a big comeback this 2023. If you've grown up watching Baywatch or at least know the iconic sporty one-piece looks, expect a lot of people wearing the classic red one-piece styles and athletic bikinis.
Not everyone wants to slow-mo run on the beach, so you can also opt for cropped long-sleeves, zip rash guards, and surf-ready one-piece swimsuits.
Shop high-leg swimsuits
High-leg cut-out swimsuit, £24.99, H&M – buy now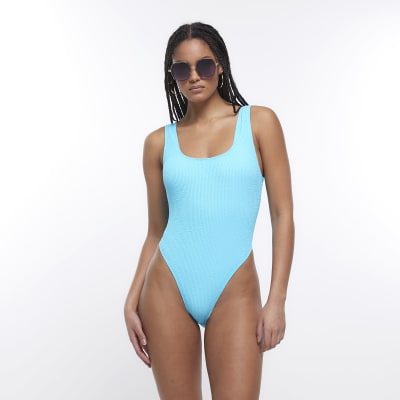 Blue Textured Swimsuit, £33, River Island – buy now
Sol Searcher – One-Piece Swimsuit for Women, £22.49, Billabong – buy now
Bandeau swimsuit, £24.99, H&M – buy now
Amber Printed One-Piece Swimsuit, £148, Free People – buy now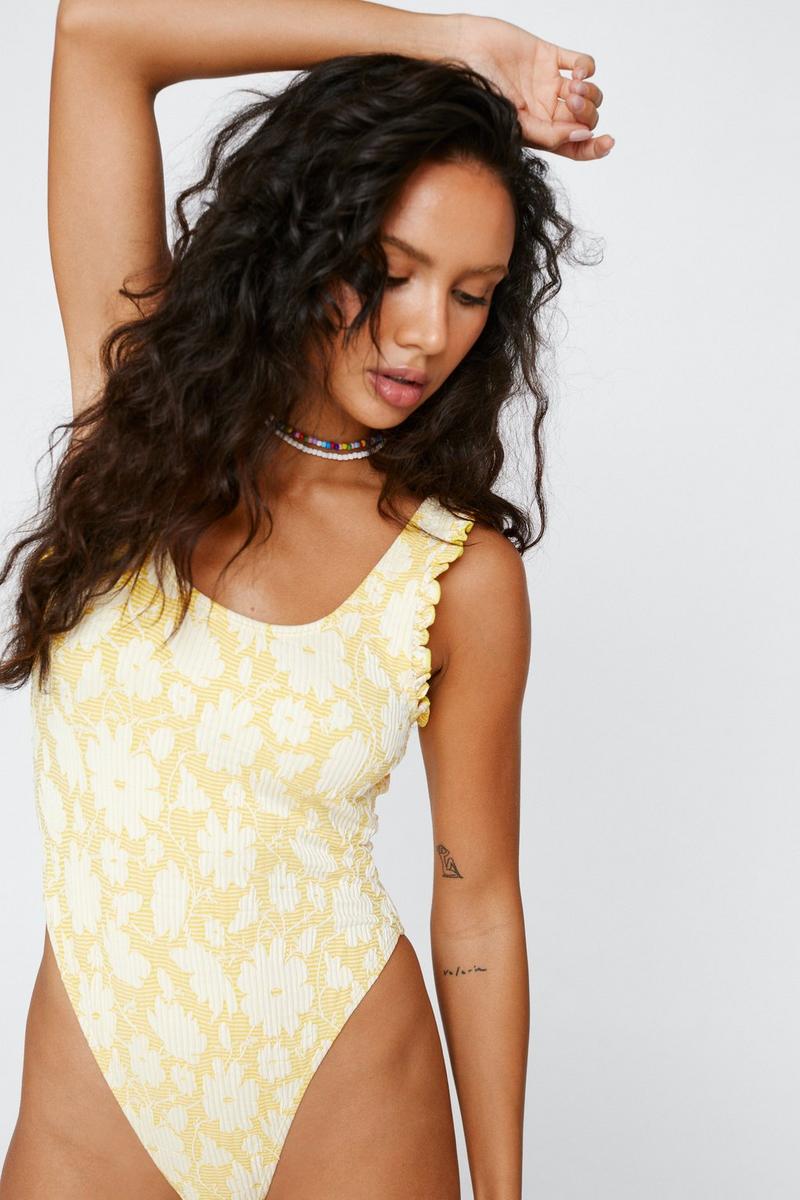 Textured Floral Ruffle Tie Back Swimsuit, £24, Nasty Gal – buy now
Reclaimed Vintage inspired Plus swimsuit in black and orange floral, £27.99, ASOS – buy now
ONEONE Ophelia One-Piece Swimsuit, £148, Free People – buy now
Black cut out halter swimsuit, £35, Monki – buy now
Bandeau Cut Out Swimsuit, £19.95, NA-KD – buy now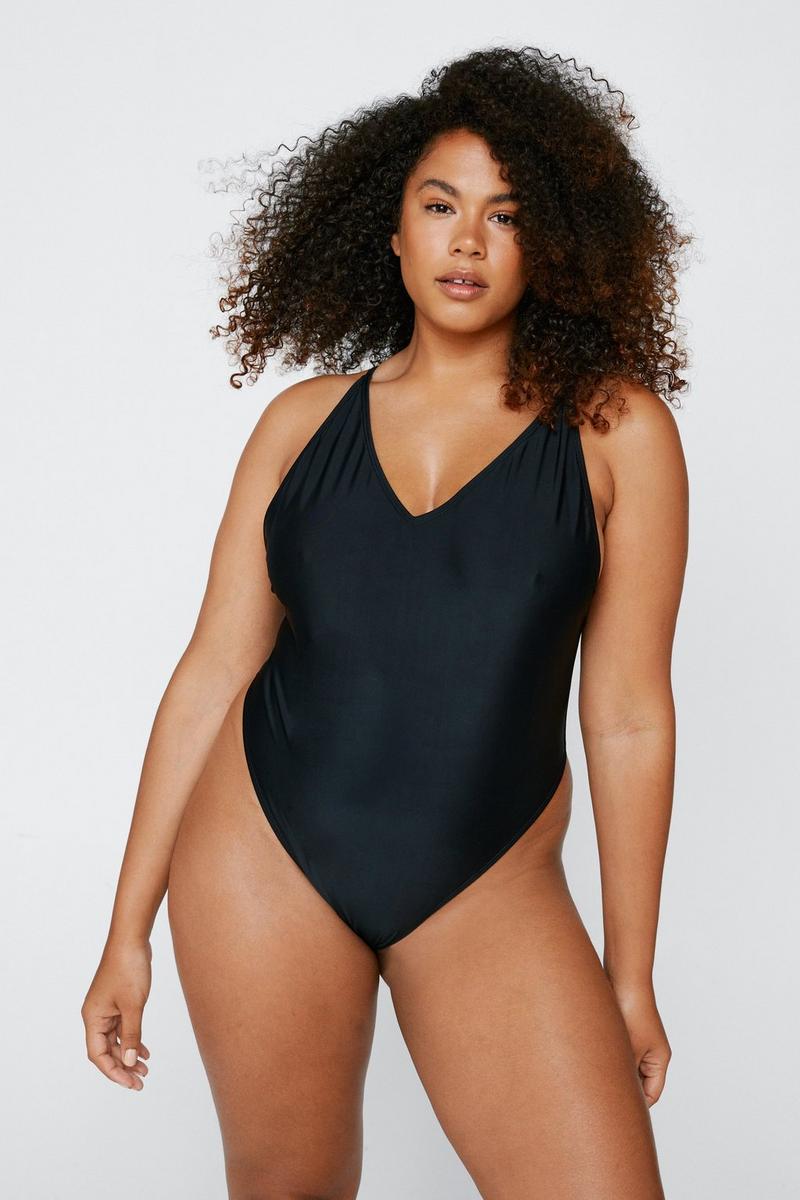 Plus Size Recycled Scoop Back High Leg Swimsuit, £19.50, Nasty Gal – buy now
Crinkle low back swimsuit in khaki, £30, ASOS DESIGN – buy now
Draped High Leg Bandeau Swimsuit, £29.95, NA-KD – buy now