Last Updated on February 27, 2023
With all the nostalgic fashion trends this 2023, nothing screams vintage more than the striped swimsuit. All you need to do is Google "1950s swimsuits," and you'll see a lot of photos of women wearing striped two-piece high-waist bikinis.
Swimsuit trends of 2023 seem to be following the same vibe. According to Who What Wear, striped swimsuits are just one of the emerging swimsuit trends that we will be seeing a lot of this June.
READ MORE: I Looked Through Thousands of ASOS' Dresses – These 19 Really Stood Out
And even though it's not yet summer, it's never too early to start planning out your beach-ready wardrobe. I already have a few swimsuit inspirations on my Pinterest board.
If you're not into the 1950s aesthetic or find stripes unflattering, there are other striped swimwear options out there. You can go for a classic nautical look with navy and white stripes, or mix it up with bold neon stripes for a more modern vibe.
Maybe you just need to look for the right cut or style. If you're looking for a flirty, feminine look, consider a ruffled striped swimsuit. The ruffles add a playful touch to the classic stripes, and they're perfect for accentuating your curves.
Or you can go for a high-leg cut striped bikini, which is both flattering and fun. A high-leg swimsuit accentuates your legs and makes them look longer.
So whether you're headed to the beach or just lounging by the pool, there are so many styles to choose from. From a classic one-piece or a bold two-piece bikini, there's a striped swimsuit for your hot girl summer moment.
Scroll down to check out our edit, from H&M, ASOS, NA-KD, and more.
READ MORE: This Swimwear Looks Just Like Hunza G (For a Fraction of the Price)
Wear Next may receive a small commission if you click a link from one of our articles onto a retail website and make a purchase.
Shop striped swimsuits
Cut out swimsuit in striped towelling, £34, Peek & Beau Fuller Bust – buy now
Accessorize stripe with belt detail swimsuit in black white, £39, ASOS – buy now
Shaping swimsuit, £29.99, H&M – buy now
Padded-cup swimsuit, £24.99, H&M – buy now
Bandeau Swimsuit, £29.95, NA-KD – buy now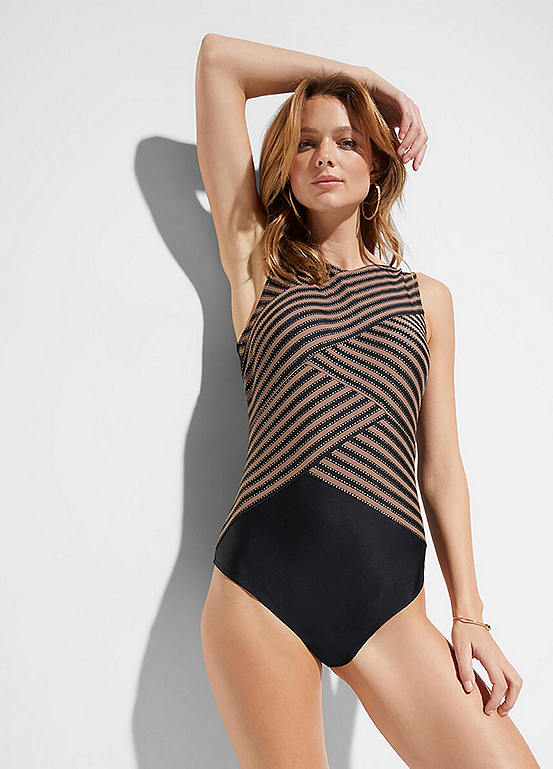 Black Stripe Striped Shaper Swimsuit, £42.99, Bon Prix – buy now
Black & White Striped Shaper Bandeau Swimsuit, £34.99, bpc selection – buy now
Non Wired Padded Halter Neck Swimsuit, now £22.40, Mix And Match – buy now
Sports Halterneck Swimsuit, now £32, Simply Be – buy now
Crinkle Plunge Swimsuit With Scrunchie, now £27, Mix and Match – buy now
One-Piece Swimsuit, £168, Cleonie Melaka – buy now
Tangerine Stripe One-Piece, £168, Zulu & Zephyr – buy now
Stripe Panelled Control Swimsuit, £45, Pour Moi – buy now
Plunge Tummy Control Swimsuit, £39, Next – buy now