Last Updated on November 13, 2023
Looking for the best striped T-shirts on the high street? While it shouldn't be a mean feat to discover a decent striped tee, it's not always easy to find exactly what you're looking for. Not all breton striped T-shirts are created equal. They've got to be affordable, good quality and perhaps most importantly of all, have a relaxed fit.
We all have our own style staples, but I truly believe that everyone should have at least one striped shirt in their wardrobe. I know, I know – it's nothing you haven't heard before, but I think it needs repeating. And while the pattern doesn't change, the style actually comes in different looks. Yes, striped t-shirts can be nautical, minimalist, maximalist, grunge or preppy. The colours and cuts make a big difference.
In terms of what to wear them with, I've seen many clashing theirs with other prints and patterns. Tie-dye, florals, checkerboard — the classic pattern pairs well with all of these. In fact, you can see it as a neutral.
There's something special about finding that perfect striped T-shirt. It's like the fashion equivalent of a crisp morning in early spring — refreshing and full of promise. My friends and I often muse over our latest finds, and we all agree — when you find a striped tee that fits just right, feels heavenly, and holds up wash after wash, it's like striking gold.
This year's stripes are bold, they're classic, and they're incredibly well-made. They're the kind of tees you'll reach for over and over, the ones that will hold their own alongside the trend-led pieces of the moment.
If this has convinced you to add a new shirt to your styling arsenal, I've found the best ones to pick up right now. I've found options that promise quality and a fashion-forward edge, proving that the high street really can rival any boutique find.
Next, check out these incredible party flats for 2023 and discover where to buy the best pre-loved designer handbags.
Wear Next may receive a small commission if you click a link from one of our articles on a retail website and make a purchase.
The Clean Cut T-shirt, £25, COS
The Clean Cut T-shirt in Navy/White, £25, COS – buy now
The Clean Cut T-Shirt is all about low-key style that works hard for your wardrobe. In Breton stripes and made from a sturdy cotton jersey, it's the kind of tee you can throw on with jeans or tuck into a skirt. No fuss, no frills – just that neat fit that feels right every time.
Pure Cotton Striped Everyday Fit T-Shirt, £8.50, M&S
Pure Cotton Striped Everyday Fit T-Shirt, £8.50, M&S – buy now
Striped shirts are the unsung heroes of easy style. And this one's made with cotton that cares — thanks to M&S's support of the Better Cotton Initiative. It's the kind of shirt you reach for on busy mornings, knowing it'll look just as good on a casual Friday.
Striped Cotton T-shirt, £19.99, Mango
Striped Cotton T-shirt, £19.99, Mango – buy now
Classic, straight, and entirely cotton, this is the T-shirt that plays well with every piece in your wardrobe. Its rounded neck and short sleeves make it a go-to for comfort, while the crisp stripes keep it sharp. An ideal choice for those days when looking good should be the easiest thing on your to-do list.
Striped Boxy T-Shirt, now £31, Hush
Striped Boxy T-Shirt, now £31, Hush – buy now
Stripes are having a big moment, and this boxy T-shirt from Hush is a standout. Made from pure cotton for maximum comfort, it features bold, contrasting stripes that add a punch to any casual ensemble. It's the tee you'll want to reach for on laid-back days, perfect for pairing with your favourite denim.
Basic T-shirt With Asymmetric Hem, £8.99, Zara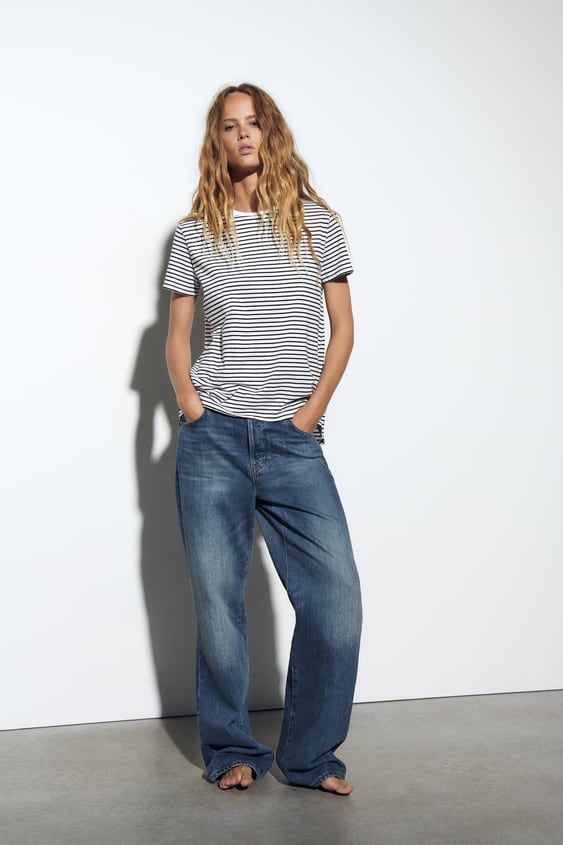 Basic T-shirt With Asymmetric Hem, £8.99, Zara – buy now
Step up your tee game with this regular fit piece with a unique twist and asymmetric hem. It's all the comfort you expect, plus a dash of flair for good measure.
Relaxed T-Shirt, £19, & Other Stories
Relaxed T-Shirt in Striped Black and White, £19, & Other Stories – buy now
Ease into your day with this short-sleeved T-shirt that defines relaxed comfort. With a soft round neckline and a loose fit, it's made entirely from organic cotton, giving you that breathable feel and eco-friendly edge. This tee is a staple that feels good in every sense.
Crew-Neck T-shirt, £17, Arket
Crew-Neck T-shirt, £17, Arket – buy now
This T-shirt is a cut above the rest with its long-staple cotton for a smoother feel. The regular fit and ribbed crew neck make it a comfortable and stylish staple, and if you prefer grey marl, the colour is a great fit too.
Linen T-shirt, £17.99, H&M
Linen T-shirt, £17.99, H&M – buy now
And finally, this airy linen jersey tee is all about laid-back style with its loose fit and rounded neckline. With dropped shoulders for a relaxed feel, it's your go-to for staying cool while looking effortlessly chic.