Obsessed with Chanel's dad sandals but can't afford to shell out over £2,000? You've come to the right place.
We've had our eyes firmly fixed on the designer's beautiful dad sandals for longer than we can remember – but like many, we're on a tight budget, so we've found nine pairs of affordable Chanel sandals dupes you can find on the high street instead.
From black leather sandals from ASOS and Arket, to denim styles from Kurt Geiger, there are plenty here to tickle your fancy – and these dupes look so similar, nobody will be able to tell the difference.
READ MORE: 9 pairs of high-street loafers that look like Prada (but won't break the bank)
Buy now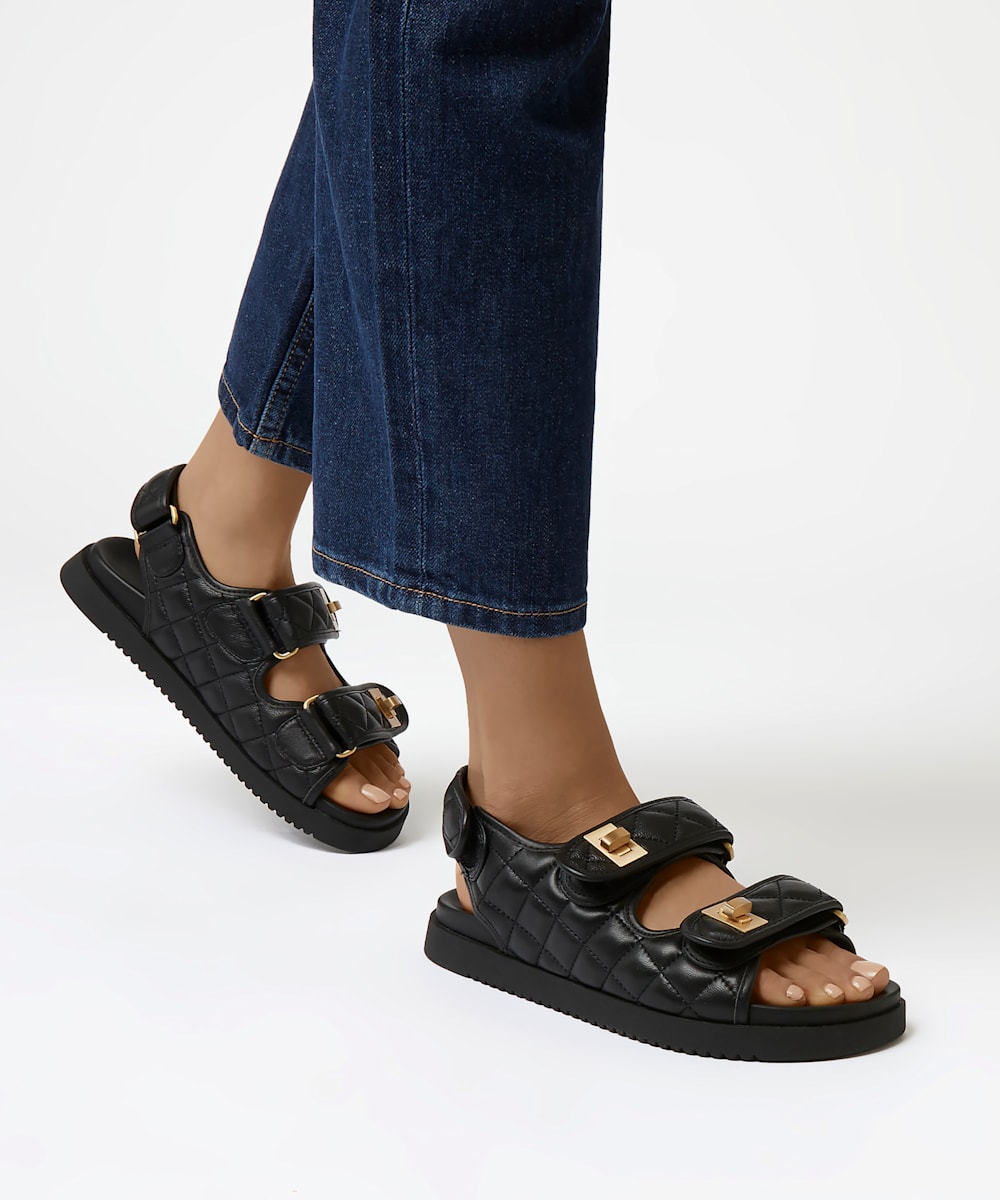 Lockstockk sandals, £110, Dune – buy now
There are so many incredible Chanel dupes on the market, but this pair from Dune really stand out – so much so, they had a waiting list last summer and now they're back in a variety of new designs. If you want a piece of the pie for summer 2021, order now to avoid disappointment.
Orson Sandals, £139, Kurt Geiger – buy now
Another gorgeous pair of Chanel lookalikes, this black leather pair are classy and comfortable. Like the brand's bags, these come with Kurt Geiger's signature bird embellishment.
Wide Fit Factually Sporty Sandals, £18, ASOS DESIGN – buy now
For those on a tighter budget, this pair of sporty sandals fit the bill perfectly. They're stylish, smart and at under £20, you can't go wrong.
READ MORE: Where to buy sustainable and stylish shoes
Chunky Leather Sandals, £150, Arket – buy now
We're well and truly obsessed with Arket – and just one look at these sandals explains why. While Chanel's dad sandals are quilted, Arket have added their own touch with croc leather instead and the results speak for themselves.
Quilted Strap Sandals, £49.99, Mango – buy now
You can always trust Mango when it comes to shoes. This pair of quilted sandals are simple and classic, and they also come in denim.
Hook-Loop Tweed Sandal, £132, Alohas – buy now
If you're a fan of tweed and bouclé, opt for this pair from Alohas instead. They're chic and timeless, making for the perfect addition to your summer wardrobe.
Orson Sandals, £139, Kurt Geiger – buy now
For those who love denim, Kurt Geiger have a pair of Chanel lookalikes in dark blue too. These offer a more casual look, but they're still chic.
READ MORE: Fisherman sandals are set to be the shoes of the summer – here are 9 pairs we love
ASRA Sojo Quilted Grandad Sandals, £65, ASOS – buy now
Sustainable footwear brand ASRA have done it again, adding contrast stitched quilting and arrow hardware to these chunky black sandals.
Carmen Chunky Grandad Sandals, £24.99, Public Desire – buy now
Add a touch of tweed to your outfit with Public Desire's grandad sandals. They're under £25 but look remarkably like Chanel. We're sold!
Denim Cotton Sandals, £49.99, Mango – buy now
When it comes to summer footwear, comfort is key. These denim cotton sandals are not only super chic, but they won't give you blisters.
Hyped Quilted Leather Flat Dad Sandal, now £14.99, EGO – buy now
If you're ever looking for designer dupes, EGO is the place to go. Not only are they super affordable, but they're almost identical to the real deal. We love these quilted dad sandals (and we recommend checking out their neon mules that look exactly like The Attico's too).
Quilted Velcro Sandal, £40.95, NA-KD – buy now
Another front runner for the best Chanel dupes on the market are these velcro flats from NA-KD. These would look perfect teamed with a summer dress.
Hyped Quilted Leather Flat Dad Sandal, now £14.99, EGO – buy now
If you prefer the look of white sandals, you're in luck. EGO's quilted dad sandals also come in the neutral colour, which brightens up your outfit instantly.
Factually Sporty Sandals, now £14.40, ASOS Design – buy now
Love the look of dad sandals but want a pair with a bit more colour? Opt for red and white tweed from ASOS.
Quilted Strap Sandals, £49.99, Mango – buy now
On the other end of the spectrum, we have a pair of beautiful beige quilted sandals from Mango. We'll be wearing these to complement our tan this summer.
For fashion advice and general chit-chat, join our Facebook group What To Wear Next or follow us on Instagram.
READ MORE: If you invest in one pair of shoes in 2021, make it these
READ MORE: The sandals that will be trending this spring (and where to buy them now)
Wear Next may receive a small commission if you click a link from one of our articles onto a retail website and make a purchase.