Last Updated on March 16, 2023
Corduroy has this timeless appeal, whether it's pants or a jacket. There's something about this piece of ribbed fabric that can instantly give any look a retro feel.
They're also an excellent option for winter, particularly in the UK, where the fabric's insulating properties make it well-suited for consistently cooler temperatures. A corduroy jacket is perfect for layering and adding a textured element to any outfit.
READ MORE: PSA: Sydney Sweeney Has Launchied a Swimwear Collection
One of the most popular ways to wear corduroy is through pants. They pair well with a simple t-shirt or blouse and can easily be dressed up or down.
Corduroy is not just limited to clothing, either. Accessories such as hats, bags, and shoes are all made from this textured fabric.
So, if you've been a fan of this ribbed fabric for a while but are a little hesitant about wearing it this year, don't worry. Scroll down to check out if we're saying hello or goodbye to corduroy this year.
Wear Next may receive a small commission if you click a link from one of our articles onto a retail website and make a purchase.
Is corduroy still in style?
Corduroy pieces are definitely in style, especially during the fall and winter. So, don't expect a lot of people to wear thick ribbed fabric during summer.
The popularity of corduroy surged during the 1970s, with its working-class origins linking the fabric to the anti-establishment movement of the time. It's taken a few years to make a comeback, but it's been featured in collections during the 2022 fall-winter fashion week.
READ MORE: I've Found 10 Dresses That Look Just Like Rixo (But Won't Break The Bank)
Whether you're going for a casual look or a more dressed-up vibe, corduroy can easily be incorporated into your wardrobe rotation. It pairs well with other textured fabrics, such as denim or wool.
For a cosy and stylish look, try layering a corduroy jacket over a wool jumper or pairing corduroy pants with a denim shirt. Mixing textures adds interest to your outfit and can help balance out the heaviness of corduroy.
Corduroy is not just limited to pants and jackets; you can also find corduroy dresses, skirts, and even jumpsuits. Experimenting with different silhouettes can add variety to your wardrobe and help you find the perfect corduroy piece that fits your personal style.
What are the trends for 2023?
Whether you love them or not, a lot of Y2K staples are making a big comeback this year, from cargo pants to low-rise jeans. The trends of the early 2000s are becoming popular once again, including the futuristic monochrome look.
The fashion trends for 2023 are focused on bold outfits featuring designs inspired by lingerie, lower waistlines, exaggerated silhouettes, and sparkly pieces. This season, you can expect to see summer sequins, pastel-coloured dresses, shimmering long skirts, and maximalist jackets.
READ MORE: 5 Swimwear Trends You'll Be Converted to by Summer
Whether you prefer a subtle approach or are eager to embrace the see-through dress trend, lingerie-inspired designs are definitely a trend to keep an eye on.
Lingerie-inspired garments are also going to be a popular choice this year, especially for spring and summer. A lot of designers featured many waist-cinching corsets, and baby doll night dresses, such as Dolce & Gabbana, Saint Laurent, and Prada.
Buy now
Check out our favourite corduroy pieces you can shop for right now.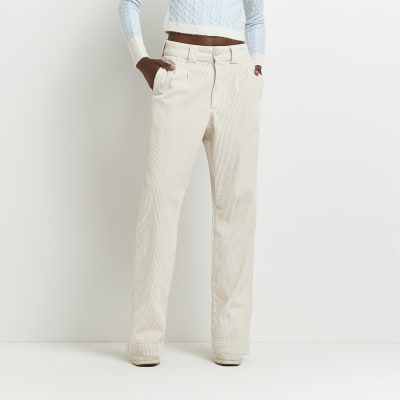 Cream Wide Leg Trousers, now £20, River Island – buy now
Piet Mini Skirt, £18, Weekday – buy now
Polo style sweater, £29.99, Mango – buy now
Oversized corduroy overshirt, £24.99, H&M – buy now
Pin Cord Trousers, now £15, Weekday – buy now
Belted Jumpsuit, now £85, & Other Stories – buy now
Trousers with elastic waist, £29.99, Mango – buy now
Slim-fit double-breaster blazer, now £54, COS – buy now
Corduroy cargo trousers, £24.99, H&M – buy now
Flared trousers, £79, Arket – buy now
Dark green shirt, £40, Monki – buy now
Mini Skirt, now £27, & Other Stories – buy now
Midi shirt dress, now £40, COS – buy now
Burnt orange high waisted trousers, £35, Monki – buy now
Cord oversized mini shirt dress in patchwork, £46, ASOS – buy now