If you're active on social media, you'll have found it hard to avoid seeing Loewe's basket bag lately.
The woven tote was one of 2020's summer it bags, and if its recent reappearance on our Instagram feeds are anything to go by, it isn't going anywhere fast.
Anyone who's anyone has their hands on this bag – namely, influencers Monikh, Camille Charriere, Francesca Saffari and many, many more, cementing itself as one of summer's most coveted bags.
The designer tote makes for the perfect spring accessory as it combines practicality with style. It's timeless so you'll be able to hold onto it for a lifetime, and despite appearing as a firm cottagecore favourite on first glance, it's also one of the most versatile bags we've seen.
READ MORE: If you buy one pair of sunglasses this summer, make it these
Small Leather-trimmed Basket Tote, £350, Loewe – buy now
If however spending upwards of £300 on a bag isn't possible for you, there's plenty more where that came from.
The high street is chockablock full of basket bags that look almost identical to Loewe's, meaning you too can get the long-lasting bag without spending hundreds.
With offerings from all the high street heroes, including H&M, Zara, Mango, we've found the best on the market. Best of all? They start from just £17.99.
READ MORE: 9 pairs of affordable sandals that look exactly like Gucci's rubber slides
Buy now
Double Strap Mini Basket Bag, £35.99, Mango – buy now
Complete with removable strap, this affordable straw bag would look so chic with a spring dress.
Basket Bag With Leather Details, £99.95, Massimo Dutti – buy now
Trust Massimo Dutti to offer one of the most perfect basket bags on the high street. We can't wait to wear this for picnics in the park.
Jonna Straw Bag, £34.59, Gina Tricot – buy now
This straw bag looks almost identical to Loewe's original, but at under £35, it's much more affordable for those on a budget.
Jute Basket Bag, £35.99, Mango – buy now
For those who prefer practical hold-alls to teeny, tiny bags, this oversized basket tote is ideal and contains a cotton lining too.
Braided Tote Bag, £25.99, Zara – buy now
If tan isn't your thing, Zara have added a hint of black to their braided tote bag. Effortless and easy to style, you can't go wrong with this tote.
Straw Shopper, £17.99, H&M – buy now
I can't leave the house without taking half of it with me, so this straw shopper is ideal. It comes in beige and white – the choice is yours.
The Amelie Market Basket, from £25, ALBERTandELIZA at Etsy – buy now
A great place to look for authentic and handmade bags is Etsy. These Amelie Market basket bags come in a variety of sizes, and they're all handmade.
Chiltern Straw Bag, £120, Jigsaw – buy now
Have you ever seen such a perfect beach bag? This straw bag, which features tan details similar to Loewe's basket bag, will look perfect with a shirt or beach dress.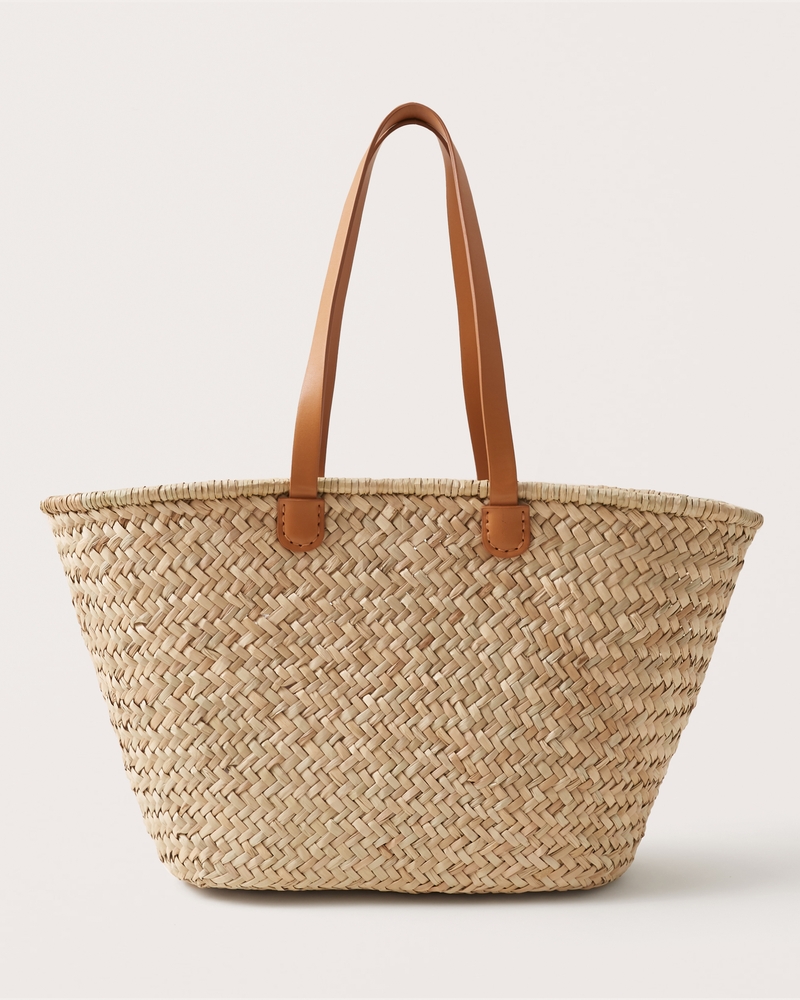 Carryall Straw Tote Bag, £65, Abercrombie & Fitch – buy now
We'd never have thought Abercrombie & Fitch would be filling our summer wardrobes, but we can't help but love this oversized straw tote.
Woven Straw Leather Trim Tote Bag, £55, & Other Stories – buy now
& Other Stories is always our go-to for every day pieces that stand the test of time. While their prices are usually relatively high for a high street retailer, this woven tote bag will only set you back £55.
For fashion advice and general chit-chat, join our Facebook group What To Wear Next or follow us on Instagram.
READ MORE: You won't believe where this Burberry-lookalike trench coat is from (and it's only £90!)
READ MORE: Are Crocs really back in fashion?
Wear Next may receive a small commission if you click a link from one of our articles onto a retail website and make a purchase.