If you're on Instagram, you'll have found it hard to avoid seeing Loewe's basket bag this summer.
The woven tote was one of 2020's summer it bags, and if its recent reappearance on our Instagram feeds are anything to go by, it isn't going anywhere fast.
READ MORE: 5 Jacket Trends To Sit Up and Take Notice of For AW22
Anyone who's anyone has their hands on this bag – including influencers Monikh, Camille Charriere, Francesca Saffari and many, many more, cementing it as one of this year's most coveted bags yet again.
The designer tote makes for the perfect spring accessory as it combines practicality with style.
It's timeless so you'll be able to hold onto it for a lifetime, and despite appearing as a firm cottagecore favourite on first glance, it's also surprisingly versatile.
If however spending upwards of £300 on a bag isn't possible for you, there's plenty more where that came from.
Small Leather-trimmed Basket Tote, £375, Loewe – buy now
The high street is chockablock full of basket bags that look almost identical to Loewe's, meaning you too can get the long-lasting bag without spending hundreds.
With offerings from all the high street heroes, including H&M, Zara, Mango, we've found the best on the market.
Best of all? They start from just £18.
READ MORE: 9 pairs of affordable sandals that look exactly like Gucci's rubber slides
For fashion advice and general chit-chat, join our Facebook group What To Wear Next or follow us on Instagram.
Wear Next may receive a small commission if you click a link from one of our articles onto a retail website and make a purchase.
WN's Basket Bags Edit
Natural Basket Bag, £75, Etsy – buy now
Etsy has lots of basket bag options, but this one's pretty close to the original. The best part is instead of the brand's logo, you get to put your name's initial.
Raffia tote bag, £79.99, Mango – buy now
Trust Mango to offer one of the most perfect basket bags on the high street. We can't wait to wear this for picnics in the park.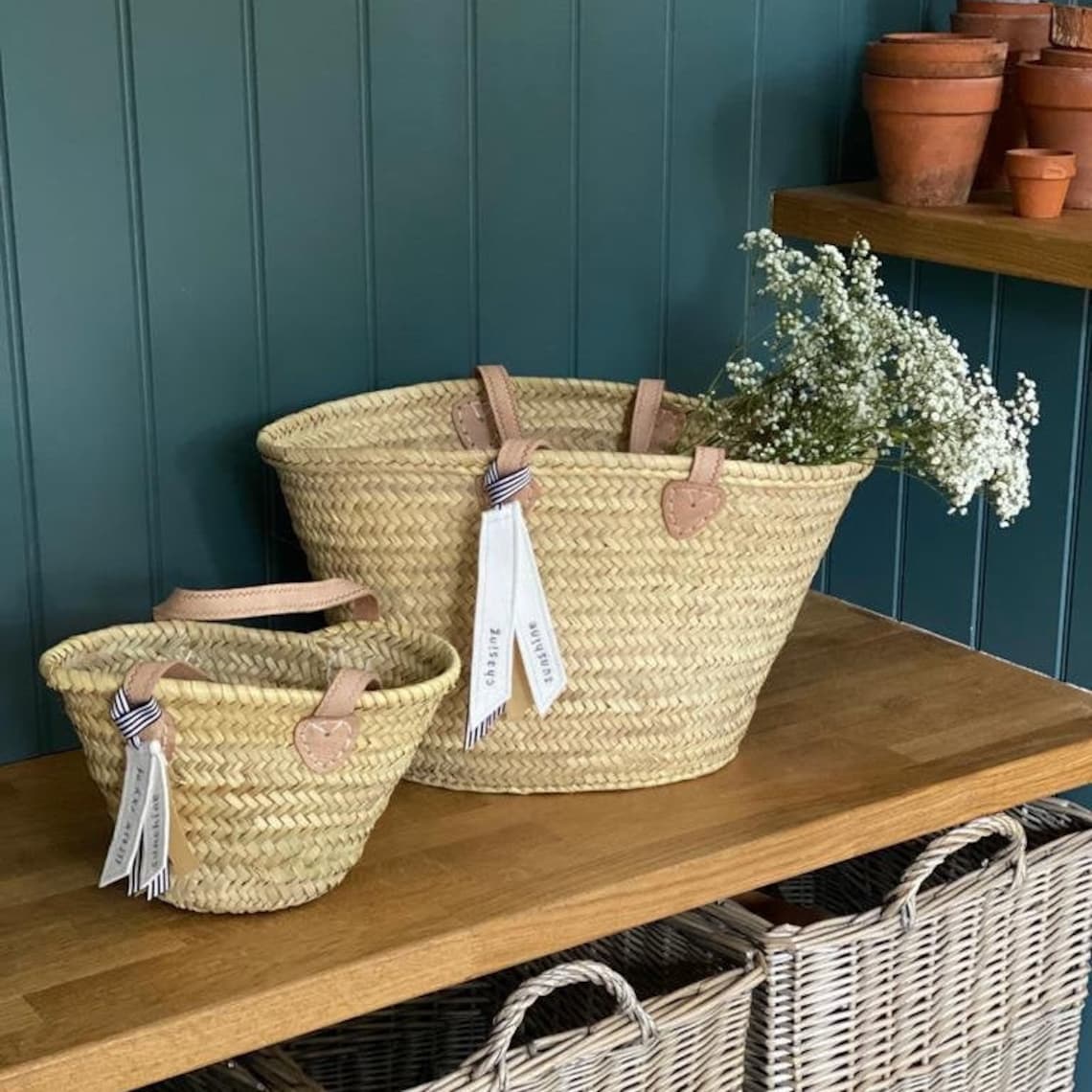 The Amelie Market Basket, from £18, ALBERTandELIZA at Etsy – buy now
A great place to look for authentic and handmade bags is Etsy. These Amelie Market basket bags come in a variety of sizes, and they're all handmade.
George woven basket bag, £135, Muuñ – buy now
If you're looking to spend a little more, try Muuñ.
The brand has crafted this woven basket bag from handwoven elephant grass, ensuring long-lasting and great quality.
Mini cross body bag with orange patch, £22, South Beach – buy now
Add a pop of colour to the look with this affordable mini bag from South Beach – the perfect beach accompaniment.
Pocket Detail Beach Bag, £33.57, NA-KD – buy now
Add your own stamp on the Loewe look with this pink version from NA-KD, which also comes in yellow.
Pocket Detail Beach Bag, £33.57, NA-KD – buy now
Straw Bag Woven Tote, £44.97, Amazon – buy now
Make the most of Amazon's ultra-fast delivery with this Loewe lookalike bag.