Last Updated on January 24, 2022
Have you noticed mushrooms dotted around everywhere right now?
I'm not talking on your plate, although there's nothing wrong with that. I've started seeing the twee motif all over jewellery, sweatshirts, knits, PJs, even socks!
READ MORE: Autumn Winter 2021 – 2022: The Key Trends You Need to Know
Luckily, it's not just us. Global search platform Lyst included the cottagecore-inspired motif in their trend predictions for 2022, putting it down to Stella McCartney's SS22 collection that features fungi.
Over the past three months, they report that interest in pieces containing the keyword "mushroom" have increased by 37%.
As well as McCartney, mushrooms have also been championed by designers including Marni, Sportsmax, JW Anderson and Alexa Chung. If it's good enough for the it-girl herself, it's good enough for us.
The high street has caught on quickly, with brands including Monki, ASOS and Urban Outfitters offering iterations of the mushroom trend too – and chances are, you've seen that Zara jumper all over Instagram.
Sadly the blue and green knit with a huge red mushroom from the high street brand has now sold out, but there's plenty more where that came from.
It doesn't have to be as bold as that either. You can add a touch of twee in the form of a single mushroom earring, or a patch on an oversized denim jacket.
READ MORE: 14 Key Trends For Spring Summer 2022 You Need to Know About
Wear Next may receive a small commission if you click a link from one of our articles onto a retail website and make a purchase.
Shop the mushroom trend
Convinced? Here's a selection of pieces featuring fungi you can buy now.
Make Your Magic gold-tone pearl necklace, £115, Martha Calvo at Net-a-Porter – buy now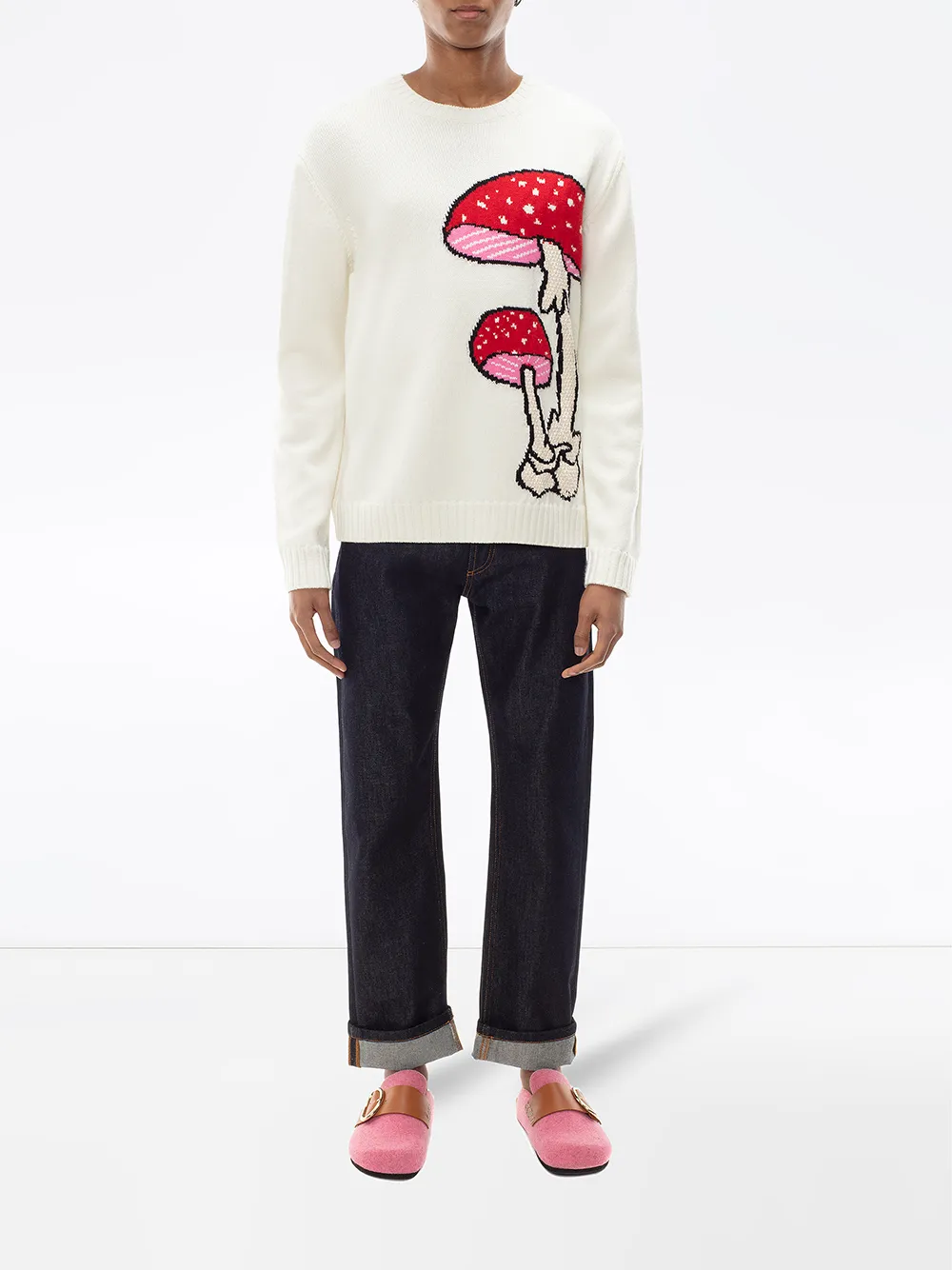 Mushroom crew neck jumper, now £644, JW Anderson – buy now
UO Good Mood Knit Jumper, £52, Urban Outfitters – buy now
Mushroom Iron on Patch, £2.50, Etsy – buy now
Mushroom species T-shirt, £19, Minga London – buy now
Socks, £4, ASOS – buy now
READ MORE: I Can Never Find Lingerie I Like, But I'm 100% Sold on These Beautiful Sets
Knitted Vest, £15.99, ASOS – buy now
Poppy Gingham Mushroom Print Maxi Dress, £170, By Megan Crosby – buy now
Mushroom hoop earrings, £6, Monki – buy now
TONICO mushroom sweater, £245, Sportmax – buy now
Single mushroom hoop earring, £97, Eshvi – buy now
Mushroom embroidered sweatshirt, now £135, Mira Mikati – buy now