Last Updated on September 17, 2023
Shopping for the best petite jeans for women with shorter frames can be tricky, but 30 women under 5'4 gave us some intel about where to shop for well-fitting denim. We all know that shopping for jeans can be a minefield, but for petite women it's even harder. So much goes into finding the perfect pair of jeans, from choosing between low and high-rise cuts, looking at where the pockets sit, picking the style that suits you the best and even the wash of the denim. However the process can be twice as difficult and time-consuming for petite women, as many stores fail to offer shorter lengths.
Marisse Gaskell, a yoga teacher from London, explains that at 5'1, the choice of places she can shop for denim is small. She says, "I've always found it difficult to find jeans that fit me. I've always been put off going to stores like Zara, because the jeans are always way too long. Even when I search online, I don't find many, and when I do they're not always in the styles I like."
Fortunately it's not all bad news. There are still plenty of stores that offer good quality and affordable jeans for petite women, and after surveying 30 women which are their favourite high-street stores to buy from, there were a few stores that came up again and again. Here, we look at some of their favourites.
Next, get some outfit inspo with 5 Ways to Wear Jeans With Sneakers and 7 Fashion Girl-Approved Ways to Wear Jeans With Boots.
Wear Next may receive a small commission if you click a link from one of our articles onto a retail website and make a purchase.
Levi's
724™ High Rise Straight Jeans, £100, Levi's – buy now
When it comes to good pairs of jeans, Levi's has been a crowd-favorite brand for over a century. Apart from delivering quality pieces that stand the test of time, most of their products never seem to go out of style. As for the best petite jeans, the 724 are worth every penny. It's not only a high-rise that would give the illusion of longer legs, but it also has a slim fit and straight leg detail that complements women with shorter features. In addition, they also offer complementary tailoring in a variety of stores.
Marks & Spencer
High Waisted Flared Jeans, £10.99, M&S – buy now
When you think of denim, M&S might not be the first place you think of – but it was another store that came up again and again when we asked petite women for their recommendations. Katy, a plus-size woman, admitted M&S was the only place she'd found success in her search for petite denim, while Tij said her pair of jeans from the high-street favourite were still holding up well after six months of wear.
Topshop
Petite Jamie Jeans in bleach, now £36, Topshop – buy now
Topshop was the most recommended store for petite jeans, with nine women mentioning the brand. The retailer went into administration a few years ago, but fear not! ASOS has since taken over Topshop and now sells petite jeans from the brand on its website. One of Topshop's most popular styles are the Jamie Jeans, a high-rise super stretchy skinny jean that has a perfect amount of stretch, making it easier to move around. One thing that's great about these jeans is that they don't lose stretch after wearing them.
Gap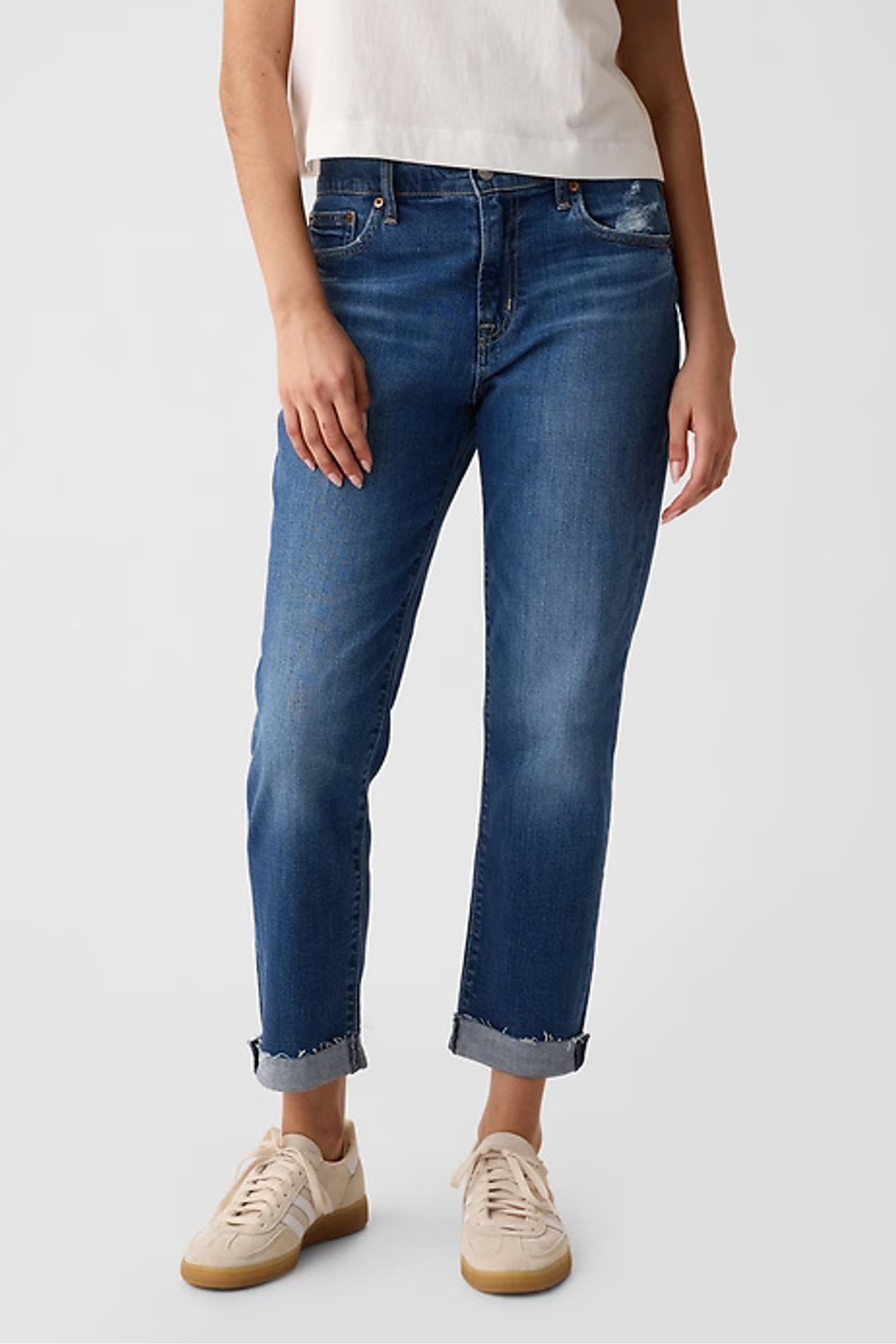 Mid Rise Girlfriend Jeans, £65, GAP – buy now
GAP has slipped under the radar in recent years, but when it comes to jeans, the team behind the brand really know their stuff. While not every style on offer from GAP come in petite, it does offer a variety to choose from, and one of the women surveyed said, "At 5'2, it's not easy to find good jeans but GAP has always served me well. For instance, the mid-rise girlfriend jeans have a slimmer and tapered design compared to the boyfriend jeans. It is also cropped to the ankle, making you look as if you are 5'6 tall."
ASOS
Petite flared jeans, £30, ASOS Design – buy now
We all know how easy it is to shop on ASOS, which is just one of the reasons petite women love buying their jeans there. Sarah said, "I am 5'3 and often have to go for 26″ legs as I like them to crop just above the ankle, so it's always tricky to find jeans. ASOS is good because they often have 26/28 leg options when you filter jeans by petite."
Unlike many stores, ASOS offer hundreds of styles of jeans in petite – including printed and colourful pairs. Whatever you're looking for, you'll be spoiled for choice. Another option is the petite flared jeans, which have a slimmer design on the legs and wide leg detail at the bottom.
Stradivarius
Petite Slim Mom Jean With Stretch, £23, Stradivarius – buy now
Did you know that Stradivarius also caters to shorter-framed women through their petite jeans selection? If you are under 5'4, I recommend going for a form-fitting silhouette like slim-fit pants since this fit will make you look even taller. Always choose denim that sits on the ankle, but make sure that it is not too cropped. As a bonus, opt for jeans with stretch for added comfort.