We all know that shopping for jeans can be a minefield, but for petite women it's even harder.
So much goes into finding the perfect pair of jeans, from choosing between low and high-rise cuts, looking at where the pockets sit, picking the style that suits you the best and even the wash of the denim.
However the process can be twice as difficult and time-consuming for petite women, as many stores fail to offer shorter lengths.
READ MORE: Here's your first look at Arket's sustainable Patchwork Denim collection
Marisse Gaskell, a yoga teacher from London, explains that at 5'1, the choice of places she can shop for denim is small.
She says, 'I've always found it difficult to find jeans that fit me. I've always been put off going to stores like Zara, because the jeans are always way too long.
'Even when I search online, I don't find many, and when I do they're not always in the styles I like.'
Fortunately it's not all bad news. There are still plenty of stores that offer good quality and affordable jeans for petite women, and after surveying 30 women which are their favourite high-street stores to buy from, there were a few stores that came up again and again.
Here, we look at some of their favourites.
Levi's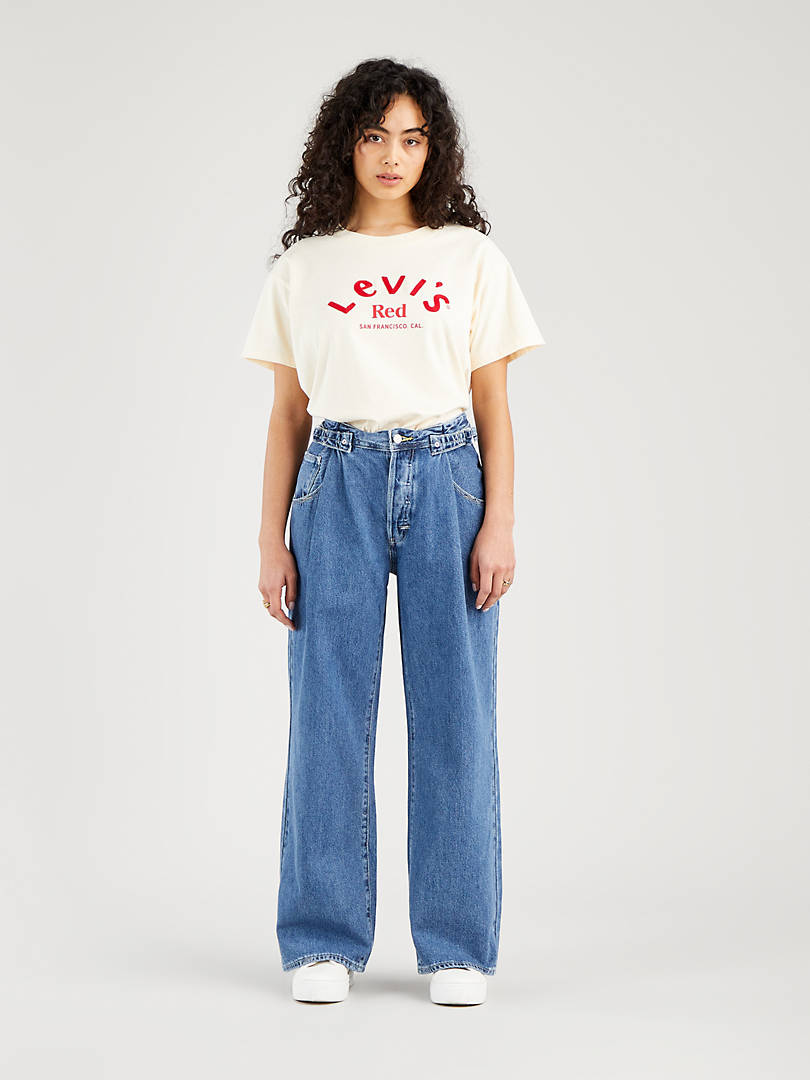 RED™ Low Loose Work Pants, £180, Levi's® – buy now
Levi's are one of our favourite places to shop sustainable denim, so it's a relief to hear they also offer a good pair of petite jeans too.
The denim brand offers leg lengths from 26 – 36 inches, with waist sizes from 23 – 34 inches – and they also offer complementary tailoring in a variety of stores.
Marks & Spencer
High Waisted Flared Jeans, £29.50, M&S – buy now
When you think of denim, M&S might not be the first place you think of – but it was another store that came up again and again when we asked petite women for their recommendations.
Katy, a plus-size woman, admitted M&S was the only place she'd found success in her search for petite denim, while Tij said her pair of jeans from the high-street favourite were still holding up well after six months of wear.
Topshop
Mom Jeans, £40, Topshop – buy now
Topshop was the most recommended store for petite jeans, with nine women mentioning the brand.
The retailer recently went into administration, but fear not! ASOS has since taken over Topshop and now sell petite jeans from the brand on its website.
Eilish said of the brand, 'I love an ankle grazer look and find Topshop goes short enough for this.'
READ MORE: Ganni x Levi's is back for another sustainable denim collection – here's what to buy now
Gap
Mid Rise Boyfriend Jeans, now £25.99, GAP – buy now
GAP has slipped under the radar in recent years, but when it comes to jeans, the team behind the brand really know their stuff.
While not every style on offer from GAP come in petite, it does offer a variety to choose from, and one of the women surveyed said, 'At 5'2, it's not easy to find good jeans but GAP has always served me well.'
ASOS
High Rise Farleigh Mom Jeans, £32, ASOS Design Petite – buy now
We all know how easy it is to shop on ASOS, which is just one of the reasons petite women love buying their jeans there.
Sarah said, 'I am 5'3 and often have to go for 26″ legs as I like them to crop just above the ankle, so it's always tricky to find jeans. ASOS is good because they often have 26/28 leg options when you filter jeans by petite.'
Unlike many stores, ASOS offer hundreds of styles of jeans in petite – including printed and colourful pairs. Whatever you're looking for, you'll be spoiled for choice.
For fashion advice and general chit-chat, join our Facebook group What To Wear Next or follow us on Instagram.
READ MORE: This denim staple is over, apparently
READ MORE: How often should you wash jeans?
Wear Next may receive a small commission if you click a link from one of our articles onto a retail website and make a purchase.