Last Updated on October 4, 2021
We've had gingham, plaid and of course florals, but checkerboard is without a doubt the print of 2021.
While it used to be synonymous with 'emo' fashion, it's come a long way since the noughties.
READ MORE: These Bags Were Everywhere at Fashion Week
Now there are so many iterations of the microtrend and they don't just come in plain old black and white, although there's absolutely nothing wrong with monochrome.
From Zara's selection of checkerboard pieces for autumn, to STAND's infamous faux fur coat and now KITRI's take on the print in the form of a pink dress, there's a version to suit every style.
So how will you be wearing it this season?
Here's how influencers are wearing checkerboard and 15 of the best printed pieces out there, with trousers, dresses and tops from KITRI Studio, ASOS, Wray NYC and more.
How to wear checkerboard
Jessica Rose Lambregts wears the print from head-to-toe.
I'm adding colour to these monochrome checkerboard trousers from Zara.
Imani Randolph adopts two trends in one with this monochrome ensemble.
Clash your prints like Sara Waiste.
For fashion advice and general chit-chat, join our Facebook group What To Wear Next.
Wear Next may receive a small commission if you click a link from one of our articles onto a retail website and make a purchase.
Buy now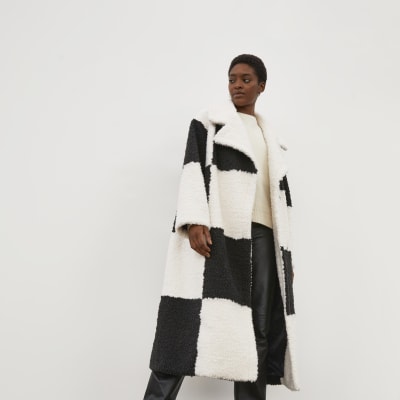 Black & White RI Studio Borg Coat, £140, River Island – buy now
COLLUSION Unisex Knitted Tank in checkerboard, £20, ASOS – buy now
Check Flowy Shirt, £35.99, Mango – buy now
Checkerboard Knit Dress, £47.20, Warehouse – buy now
Checker Dress, £175, KITRI Studio – buy now
Team with knee-high boots to update the trend for autumn.
Chequered Print Trousers, £27.99, Zara – buy now
NEW Girl ORDER Ribbed Pink & Green Check Polo Shirt, £24, Urban Outfitters
Print Socks, £4, Monki – buy now
Faux Fur Jacket, £549, Stand Studio at Farfetch – buy now
Polly Vegan Checkerboard Knee High Heeled Boots, £60, Monki – buy now
These boots sold out on Monki's website, but if you're quick, you'll still be able to buy them on ASOS.
Flounce Checkerboard Dress, £141.88, Wray NYC – buy now
Pink Checker Dress, £165, Kitri Studio at Coggles – buy now
Psstt…Coggles is offering 10% off for Wear Next readers using code CGWN21.
Curve Cversized Shirt, now £20.25, New Girl Order – buy now (up to size 26)
Turtleneck Long-sleeved T-shirt, £29.99, Mango – buy now
Checkered Sequin Mini Dress, £135, & Other Stories – buy now
Check Print Sweater, £90, Uterqüe – buy now
For those of you feeling thrifty, we leave you with this brilliant video from @abbyontheinternet, who shows you how to create your very own version from a pair of old jeans.
Follow Daisy on Instagram @daisyoliviaj