Metallic shoes are the unsung heroes of our wardrobes, honestly, I've said it before and will say it again: they go with everything.
I absolutely love them.
Currently, I own one pair of metallic shoes – a pair of silver knee-high cowboy boots. Now, you might be wondering why, if I love them so much, why do I only own one pair. Well, simply because they go with everything.
Seriously.
Long floaty dresses in the summer, LBD in the winter, jeans, checked trousers, mini skirts, midi skirts…you name it; having another pair would be pointless when I'd be reaching for these cowboys anyway. 
Much like wearing metallic trousers which are totally in vogue right now, the best way to get the most out of your metallic shoes is to treat them like you would any other pair of shoes. 
We tend to shy away from wearing metallics with everyday looks and save them for special occasions (or when things are getting a bit festive) but I would argue they look great 24/7, 365 days a year. 
If you think I'm waiting for Santa before I let my feet sparkle then you can think again – I'll wait for no man to dictate how I'm going to dress. 
For more from Lindsey, follow her on Instagram and check out her interiors website house-house-house.com.
Wear Next may receive a small commission if you click a link from one of our articles onto a retail website and make a purchase.
Can you wear metallic shoes during the day?
You can certainly wear metallic shoes during the day, I like my outfits to do all the talking so I wear mine day-to-day, but equally, they're a great way to jazz up a plain outfit; they look awesome with jeans and a white tee as well as smart trousers and a shirt.
Personally, I find them easier to wear when they're not so 'fresh out the box' – they look less try hard – so don't mind a few scuffs, it just adds character. 
How do you wear metallic gold shoes?
Metallic gold shoes are a great addition to any wardrobe, however, they can be more difficult to style than silver. Due to the strong yellow undertones, gold can look more garish.
Therefore, I'd avoid styling them with too much yellow or orange (the whole thing could get a little too bright) and opt for contrasting colours instead. Grey, blue and – as Sam Sparrow knows – black clothing are a great match for gold shoes. 
How do you wear silver metallic shoes?
You can (and you should!) have a lot of fun with silver metallic shoes.
During the day, pair them with jeans or dresses to spice up a simple look and during the evening, pair them with dark and rich tones for a nice contrast and something a bit special.
The main thing to remember is, as a neutral colour, silver is going to look great with pretty much anything so have fun and get experimenting. 
Shop metallic shoes
Leather Ballerinas, £139, Arket – buy now
Leather Kitten Heel Slingback Shoes, £59.99, Zara – buy now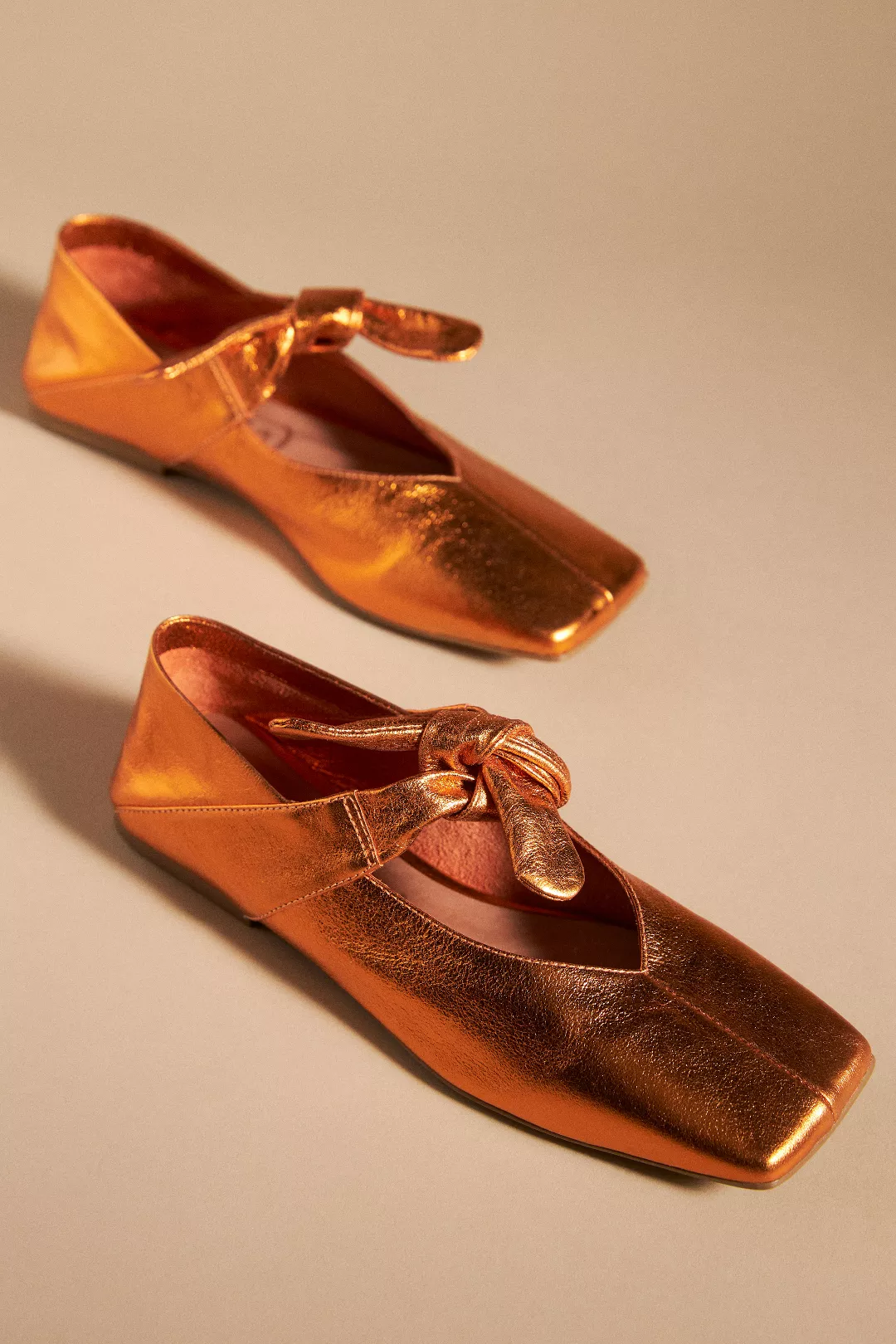 Vicenza Bow Mary Jane Flats, £120, Anthropologie – buy now
Metallic heel shoes, £49.99, Mango – buy now
Leather Metallic High-Heel Boots, £159, Zara – buy now
The Silver Cowboy Boot, £350, Annie's Ibiza X Terry De Havilland – buy now