Last Updated on July 28, 2023
Wondering what the biggest bag trends of autumn winter 2023 are set to be? While we're still enjoying summer (kind of), next season's trends are looming and if you're into arm candy, you'll love what AW23 has in store. When it comes to handbags, it's fair to say that they can't change too drastically; clutches, totes, shoulder bags and crossbody bags are iconic shapes that never, ever date, but designers have a creative way of updating them to be more modern, present and exciting.
But just because new bags are arriving all the time doesn't mean you need to adopt each and every trend. Pick those you love, and leave any that don't resonate. There's no point in buying anything you won't love for a long, long time to come.
This season, we're seeing some of the most timeless shapes making a comeback, like clutch bags and XXL totes. After a quiet few years for clutches, they're finally hitting the runways again at Versace, Saint Laurent and Miu Miu. On the other end of the spectrum, huge tote bags that carry everything apart from the kitchen sink are also returning after being spotted at Jil Sander, Balmain and JW Anderson. Then there's updated textures and colours; red is set to be one of AW23's most prominent trends, so expect it to reach your bags too.
Keep reading for all of the biggest bag trends for fall, and then read our AW23 trend report for every big trend you're about to see more of.
Wear Next may receive a small commission if you click a link from one of our articles onto a retail website and make a purchase.
Red
Red is being labelled the new 'colour of the season' by Vogue, particularly after it was a prominent feature on the AW23 runways at Fendi, Stella McCartney and Marni, to name a few. While the designer styles were beautiful, you can get this look on the high street easily. I've found a few to suit every budget, below. Wear this pop of colour with monochrome and a red lip for an instantly glamorous look.
Faux Leather Shoulder Bag, £225, Fiorucci – buy now
Small shoulder bag, £19.99, H&M – buy now
Le Cœur leather cross-body bag, £880, Alaïa – buy now
XXL
Next up, the XXL tote bag. Spotted at Coach, Jil Sander, JW Anderson and Balmain, it's a wholly more practical style than the clutch that just fits your lipstick in (but there's a place for that too!). If you can't leave the house without packing half of it, this one's for you. Charles & Keith has a beautiful, slouchy style in an array of colours, or opt for the iconic Marc Jacobs tote or JW Anderson style if you're on the hunt for a luxury style.
Tubular Slouchy Tote Bag, £99, Charles & Keith – buy now
Svea Bag Opal, £80, Stutterheim – buy now
Checked Fleece Tote Bag, £750, JW Anderson – buy now
Handle me
We also saw countless bags with top handles on the AW23 runway. Prada moved away from Y2K trends and towards a more ladylike style, and it was a similar story at Chanel, Chloé, Dior and Acne. To get the look, look for a structured bag.
Iva Boxy Top Handle Bag, now £56, Charles & Keith – buy now
Heart Minaudière, £49.99, Zara – buy now
Bisou Perle small leather shoulder bag, £515, Jacquemus – buy now
Clutch it
In my experience, you either love or hate clutch bags – but before you make up your mind, take some inspo from Saint Laurent (above). Worn with a pencil skirt, heels and aviators, it's a powerful outfit that can easily be copied on the high street. It was also seen at Miu Miu and Versace, where it was worn under the arm.
Micro Egg pearl-effect clutch bag, £430, Simone Rocha – buy now
St Marc Coated Leather Clutch Bag, £430, Marc Jacobs – buy now
Leather bag with bow design, £119.99, Mango – buy now
Pssst….This Mango bag also comes in silver.
Softly, softly
Last but not least, we have the textured bag. Arm candy in faux fur, fleece and terry was seen at A.W.A.K.E. Mode, Chloé and Givenchy, offering some much-needed cosiness to our winter accessories. A.W.A.K.E. Mode matched their yellow bag with a yellow coat (above), while Givenchy kept it sleek with an all-black ensemble and matching jet black faux fur bag – but it doesn't need to match perfectly. Let Jakke's bright blue bag add some colour to a simple outfit, or invest in Balenciaga's leopard print shoulder bag for a more long-lasting style.
Bertha Faux Fur Bag Aqua, £110, Jakke – buy now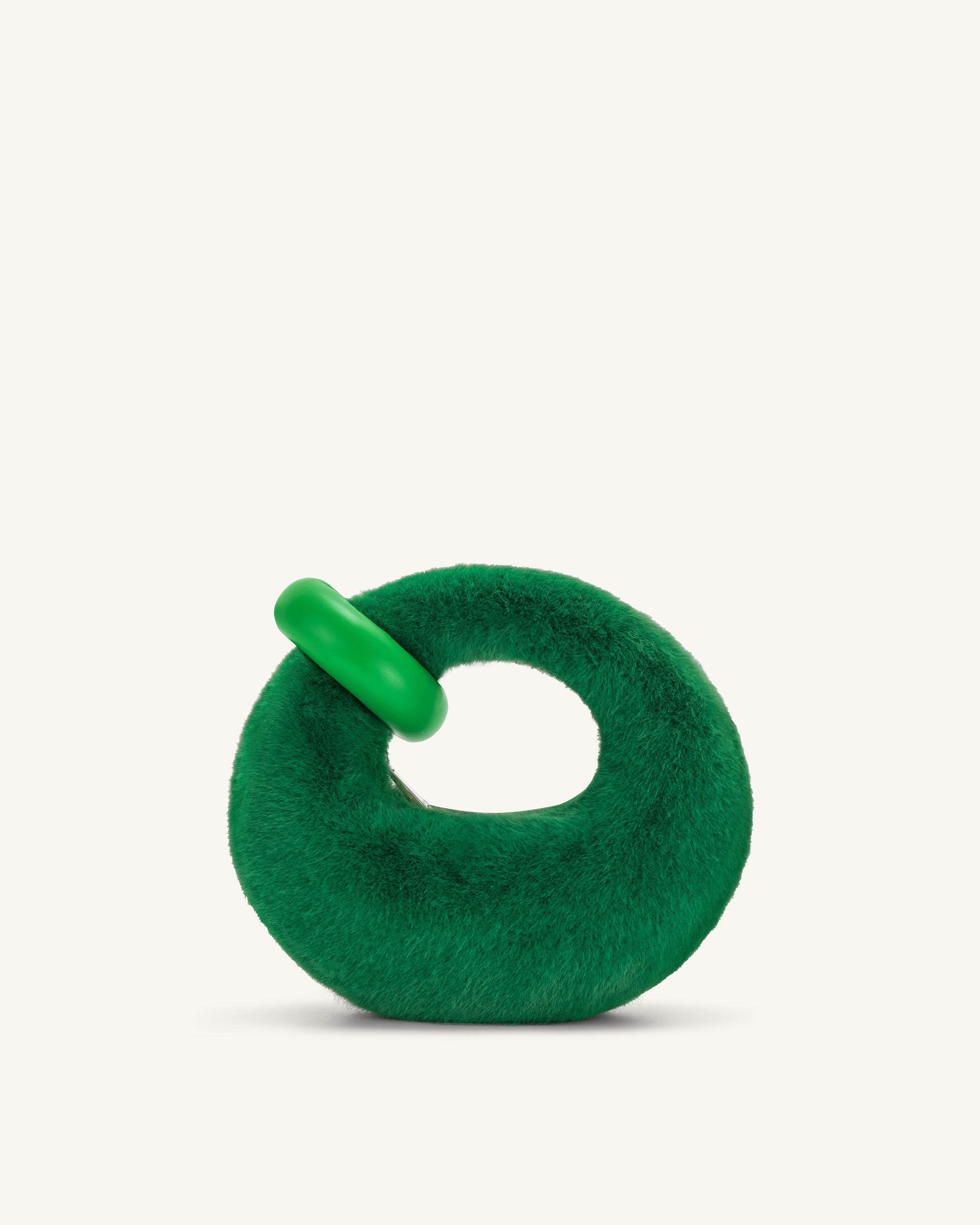 Abacus Faux Fur Mini Top Handle Bag- Grass Green, £79, JW Pei – buy now
Hourglass leopard-print faux fur shoulder bag, £1,270, Balenciaga – buy now