Last Updated on March 16, 2023
Cycling shorts have been a thing since the '80s and have fallen out of favour for a few years, but people are slowly seeing the appeal of it.
I view cycling shorts as a sporty thing and part of my gym wardrobe. So, it took me a while to see its appeal as something I can wear outside my workout routine.
READ MORE: I've Found 10 Dresses That Look Just Like Rixo (But Won't Break The Bank)
But with the right styling and a high-quality pair of cycling shorts, it is possible to make them a practical and stylish addition to my summer wardrobe rotation.
A lot of people seemed to embrace the leggings-as-pants look, so maybe this year we'll be falling for their cropped cousins.
Scroll down to learn more about cycling shorts and if they're in style this year.
Wear Next may receive a small commission if you click a link from one of our articles onto a retail website and make a purchase.
Are cycling shorts still in style in 2023?
Cycling shorts are gaining popularity, especially for the summer. But it started gaining traction during the pandemic, with everyone stuck at home and preferring comfortable clothing options.
Fashion-forward celebrities and models also love the cosy athleisure look, including Lori Harvey, Vanessa Hudgens, Gigi Hadid, Billie Eilish, and Rihanna.
READ MORE: Call Off the Search – I've Found the Best Affordable Bridesmaids Dresses on the High Street
If you're wondering how you can style cycling shorts, don't worry, it took me a while to get into it too. I realized that you can dress it up or dress it down if you want to keep the casual look.
You can pair your cycling shorts with an oversized graphic t-shirt and chunky sneakers for a sporty and chic look. If you want to dress it up, you can go with a blouse and strappy heels.
For a bold and edgy look, pair your cycling shorts with an oversized sweatshirt or hoodie and combat boots. You can accessorize with a cross-body bag or fanny pack to complete the street-style vibe.
What are the trends for spring summer 2023?
Spring Summer 2023 is all about daring outfits with lingerie-inspired designs, lower waistlines, sparkly pieces, and exaggerated silhouettes.
Be prepared to witness the emergence of summer sequins, including pastel-coloured dresses, shimmering long skirts, and maximalist jackets.
READ MORE: I'm A Stylist and This is the Only Dress I Wear in the Summer
The Y2K trend will continue to be prevalent, with the reintroduction of low-rise jeans, cargo pants and other utility-inspired designs from that era. Even the dresses over pants look is making a comeback.
Buy now
Whether you're looking for a casual or dressed-up look, cycling shorts can be styled in many ways to suit your personal style.
Check out some of our picks that will definitely become your summer favourite.
Faux Leather Biker Short, £70, Skims – buy now
Printed Seamless Cycling Shorts, £15.99, Zara – buy now
Multicoloured Active Bike Shorts, £25, Monki – buy now
Performance High Waisted Bike Short, £83, Skims – buy now
Under Armour Heatgear Bike Shorts, £31, Simply Be – buy now
Body Shape Cycling Leggings, £29.99, Zara – buy now
DryMove™ Sports Cycling Shorts, £27.99, H&M – buy now
Black High Waist Cycling Shorts, £10, River Island – buy now
Black Ribbed High Waisted Cycling Short, £14, Simply Be – buy now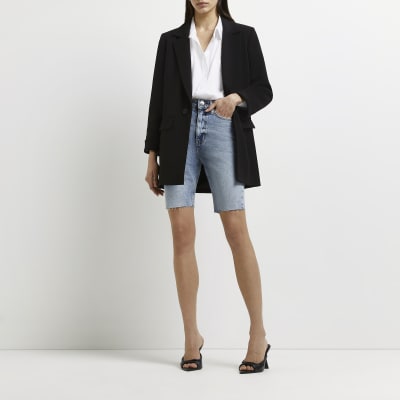 Blue Denim Bum Sculpt Cycling Shorts, now £15, River Island – buy now
Sports Cycling Shorts, £12.99, H&M – buy now
Doodle print active bike shorts, £25, Monki – buy now
Seamless Ribbed Cycling Shorts, £12.99, Bershka – buy now
ECOVERO™ High Waist Cycling Shorts, £35, & Other Stories – buy now
Seamless Ribbed Cycling Shorts, £12.99, Pull & Bear – buy now