Last Updated on August 17, 2021
Those weeks before autumn sets in are always awkward. You never know what you're going to get during the transitional period; one day it's boiling hot, the next it's freezing.
Naturally our wardrobes are impacted. If you've ever stepped out without a jacket and instantly regretted it, or covered up completely and started sweating as soon as you walk out of the door, you'll know what I'm talking about.
READ MORE: Wear Next Meets: Fashion Influencer and Vintage Queen Sara Waiste
It always takes twice as long to get ready in the morning, but there are a few key pieces I recommend adding to your wardrobe (if you don't already have them).
Not only are these pieces practical, but they're some of AW21's biggest trends (more on that here) so you'll be ahead of the curve and feeling comfortable too.
Wear Next may receive a small commission if you click a link from one of our articles onto a retail website and make a purchase.
For fashion advice and chit-chat, join our Facebook group What To Wear Next or follow us on Instagram.
READ MORE: 5 Jewellery Trends for Autumn Winter 2021, According to an Expert
Statement Tights
Plain tights aren't particularly inspiring, but this winter we're going to see our legwear get a fun update.
Colours, prints and logos will cover our legs, offering us a stylish way to keep warm during the transitional period.
Simply add them to skirts or dresses when it feels nippy out.
Checkerboard Tights, £10, ASOS DESIGN – buy now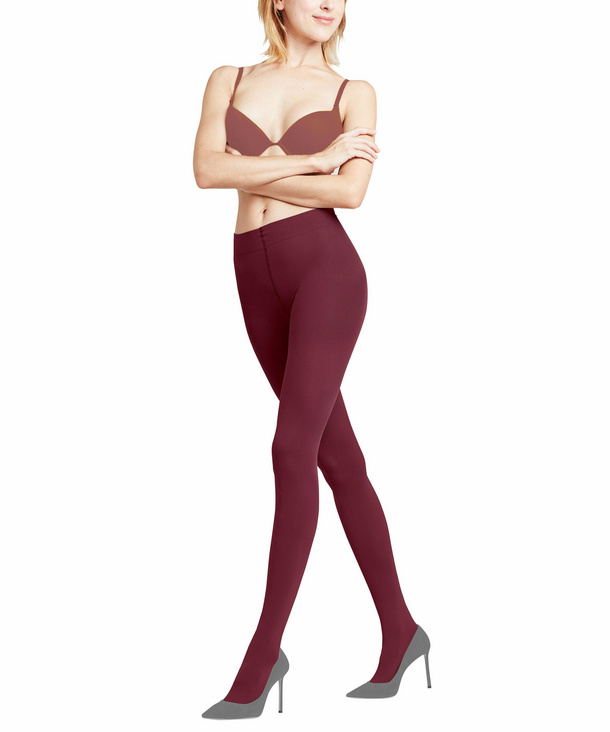 Pure Matt 50 DEN Women Tights, £21, FALKE – buy now
Second Skin Top
Second skin tops were a key piece this summer, but they'll still have their use come winter.
Whether you opt to wear yours under a dress or as a top in their own rite, second skin tops are an easy way to layer up without adding unnecessary bulk to an outfit.
Gaia Crew Neck Top Pink, £75, Kai Collective – buy now
Coastel Meadow Jersey Polo, £65, Jigsaw – buy now
Leather Blazer
In case you get too hot when you've left the house, it's always a good idea to have an outerwear piece to hand during the transitional period.
There are plenty of leather blazers on the high street right now in an array of different colours that can thrown over a dress or pair of jeans to keep you warm and take off when it gets too hot.
Oversized Leather Blazer, £290, Arket – buy now
Rumi Croco Blazer, £70, Weekday – buy now
Quilted Jacket
Quilted jackets are going no where fast. Another key trend to look out for this autumn, Zeena Shah wears her Freya Simonne puffer perfectly.
Like blazers, these are an easy-to-wear addition to an outfit and they'll see you through to winter too.
The Simonne Sherbert Floral Puffer, £245, Freya Simonne – buy now
READ MORE: This Key Detail Will Be On Every Pair of Boots This Winter
Boxy Quilted Jacket, £95, & Other Stories – buy now
Knitted Vest
If I learnt anything last winter, it's that sweater vests are one of the easiest ways to layer up, making them a must-have for transitional dressing.
Wear them alone during warmer weather or layer over dresses, tees and shirts when the chill sets in.
Checkerboard Knit Logo Vest, £175, GANNI – buy now
Crochet Top With Side Ties, £27.99, Zara – buy now
Long Dress
Midi or maxi, it doesn't matter precisely how long your dresses are during the transitional period – it's about how you wear them.
Worn over knee-high boots with a sweatshirt or simply with a pair of a sandals, they work pretty much all year round.
I recommend opting for mid-length or long sleeves if it's cold, but you can layer up with any of the aforementioned pieces to stay cosy.
Organic Floral Bow Back Dress, £95, Damson Madder – buy now
Seersucker Midi Dress, £35, Monki – buy now