Last Updated on March 21, 2023
In my humble opinion, denim jumpsuits are the easiest item on the planet to style. You literally can't go wrong.
Perhaps that's one of the reasons why they remain so popular in 2023. Every celebrity you can think of has worn one, including J-Lo, every single Kardashian/Jenner, Beyoncé, Gigi Hadid, Salma Hayek, Gwen Stefani…the list is endless.
READ MORE: The Denim Shorts to Add to Your Capsule Wardrobe
It doesn't matter how you'd define your style; these one-pieces work for everyone. But while celebrity fashion definitely informs fashion trends, I have a sneaking suspicion that comfort and ease lie at the core of this one.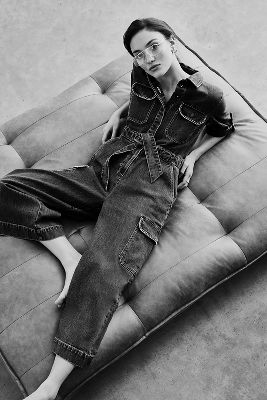 I know what you're thinking: are denim jumpsuits actually comfortable? It really depends on the cut. Find a loose-fitting one and you're laughing. Tight-fitting jumpsuits on the other hand? Not so much.
But the beauty of the jumpsuit is that, just like a dress, it takes little thought or styling. Little details make all the difference, whether that's the type of shoe (chunky boot for me), roll neck worn underneath or jewellery worn with it.
So where can you find a good one?
At this point, pretty much every high street brand has their own iteration of the denim jumpsuit so you're not short of choice. Zara, H&M, ASOS and Mango are amongst some of the best high street brands to choose from.
But let's take a look. I've found 10 of the best denim jumpsuits on the high street, below.
Wear Next may receive a small commission if you click a link from one of our articles onto a retail website and make a purchase.
READ MORE: You've Been Sleeping on This Affordable Brand's Denim Collection
Shop Denim Jumpsuits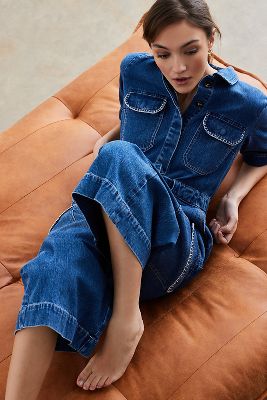 Seventy + Mochi Isobel Denim Jumpsuit, £140, Anthropologie – buy now
Long denim jumpsuit, £59.99, Mango – buy now
Organic Denim Jumpsuit, £165, Jigsaw – buy now
Oversize blue denim boiler suit, £75, Monki – buy now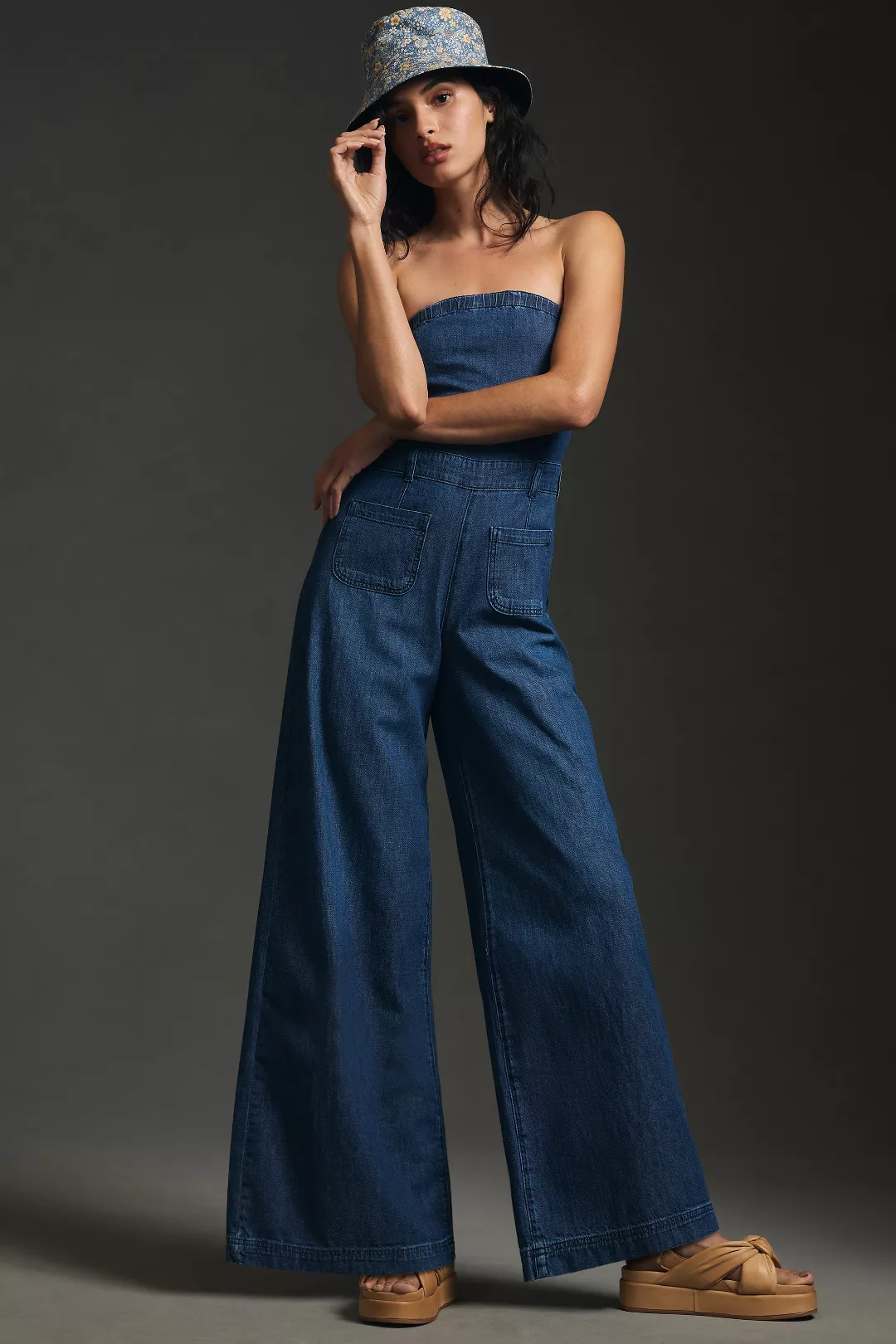 Pilcro Strapless Polished Wide-Leg Jumpsuit, £140, Anthropologie – buy now
Denim TRF coloured jumpsuit, £49.99, Zara – Buy now
Marla trouser jumpsuit, £118, Free People – Buy now
Denim boiler suit in mid blue, £60, ASOS – Buy now
Sammie denim coverall, £59.95, Free People – Buy now
Denim puff sleeve pocket front jumpsuit, £89, Warehouse – Buy now