Last Updated on March 7, 2022
After almost two years of uncertainty, cancellations and socially-distanced ceremonies, it's estimated there will be 2.5 million weddings in 2022, which will be the most weddings recorded since 1984!
Post pandemic, priorities are changing. Smaller ceremonies look like they are here to stay with many couples reconsidering what's really important to them. More and more brides are realising that a gown doesn't need to have a hefty price tag to make it aisle worthy.
High street brands have really upped their game when it comes to Bridal collections, offering more luxe pieces at far more affordable prices. Brides no longer have to spend a small fortune on a custom made dress and can instead head straight to the high street.
Buying off the rack also means you can actually try on the dress in your normal size or have it delivered in a few days and take it literally anywhere to have it easily tailored to make it the perfect fit just before the wedding. Long gone are the days of the traditional eight month lead time and having to pray you will fit into the dress on the day.
READ MORE: 5 Reasons Why I'm Recommending the H&M Membership to Everyone I Know
Wedding outfits are also changing; mini dresses, flared jump-suits, feathers and multiple outfit changes, are putting the fun back into Bridal.
Here's our edit of the best high street wedding dresses that still have that luxurious feeling you expect of a bridal gown, without costing a small fortune.
Wear Next may receive a small commission if you click a link from one of our articles onto a retail website and make a purchase.
For fashion advice and chit-chat, join our Facebook group What To Wear Next or follow us on Instagram.
READ MORE: 6 Transitional Outfit Ideas For March
ASOS
ASOS has the largest range of bridal wear on the high street, so it's a great place to start for affordable, stylish dresses to wear on your big day.
With midi, mini and maxi styles, sequins, lace and minimal slips, it's not hard to see why the range has become a solid favourite with brides.
Prices range from £27 to £435 and there are plenty of shoes, accessories and underwear to finish your look.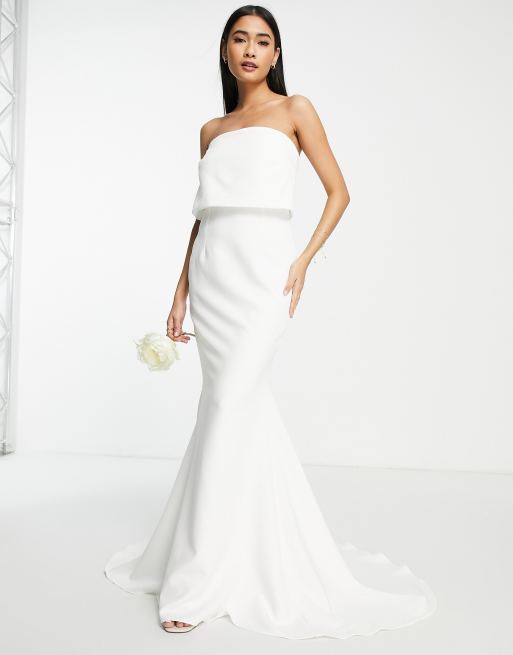 True Violet Bridal Bandeau Dress, £130, ASOS – buy now
Puff Sleeve Off The Shoulder Mini Wedding Dress, £90, ASOS – buy now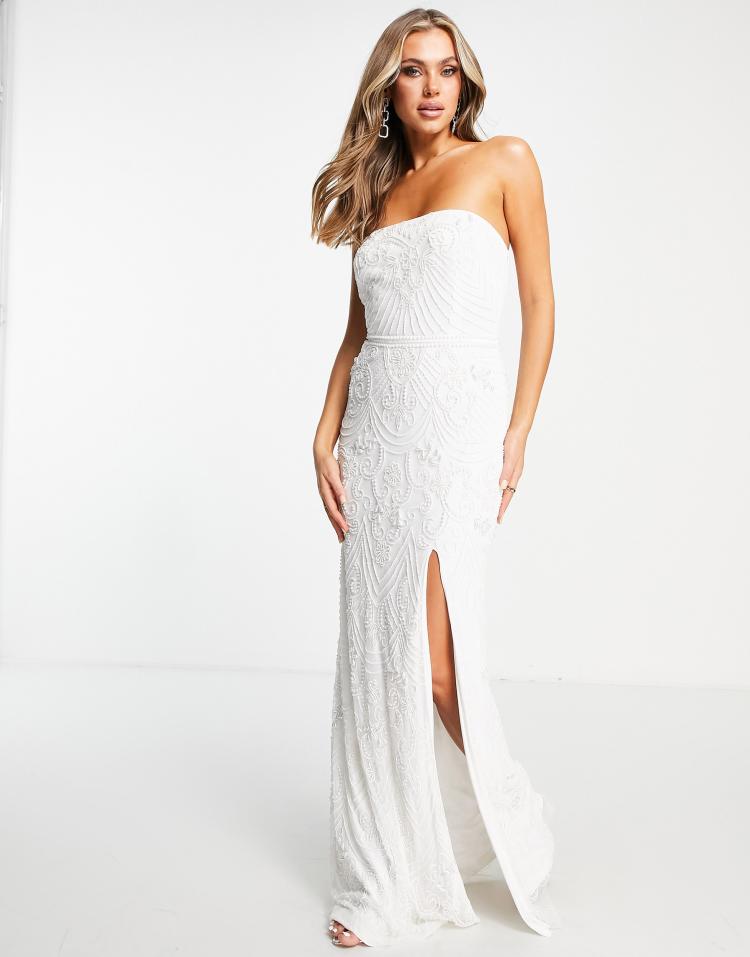 Bridal Embellished Bandeau Dress, £150, ASOS – buy now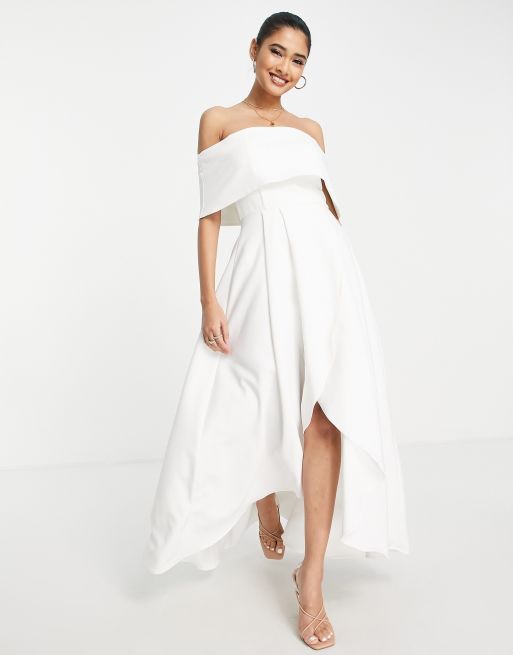 Off Shoulder Maxi Dress In Ivory, £120, ASOS – buy now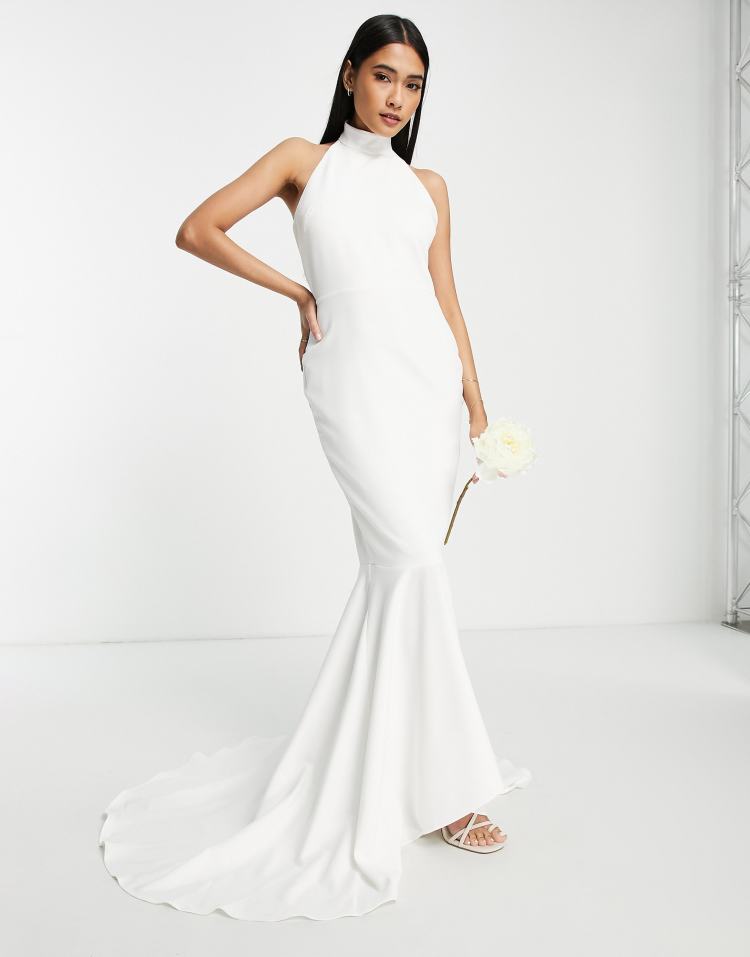 Bridal High Neck Maxi Dress, £160, ASOS – buy now
Self-Portrait
After years of successfully creating occasion dresses, Self-Portrait launched their bridal collection in 2016 for brides who want to make a statement.
The most recent collection, which includes mini cut out lace dresses, big blousy sleeves, and floor skimming gowns is everything you could want and more.
With prices range from £200 to £560, the fashion forward brand offers high-quality fabrics and styles at prices that won't break the bank.
White Jersey Cut Out Dress, £280, Self-Portrait – buy now
Guipure Lace Pleated Maxi Dress, £360, Self-Portrait – buy now
Metallic Boucle Tailored Mini Dress, £400, Self-Portrait – buy now
Chiffon Lace Trim Midi Dress, £380, Self-Portrait – buy now
Ivory Blossom Sequin Two Tier Midi Dress, £380, Self-Portrait – buy now
READ MORE: 11 New Arrivals You Need to See This Week
Coast
Coast offers a huge range of both separates and dresses to suit all brides. From tuxedo two-pieces to floor-length diamante bodice bridal gowns, whatever you're looking for, they've got you covered.
They also offer a great range for all members of the bridal party, including the bridesmaids, flower girls and guests.
With prices ranging from £37 to £839 and most styles ranging in sizes 8 to 18, it's both a very affordable and inclusive bridal range.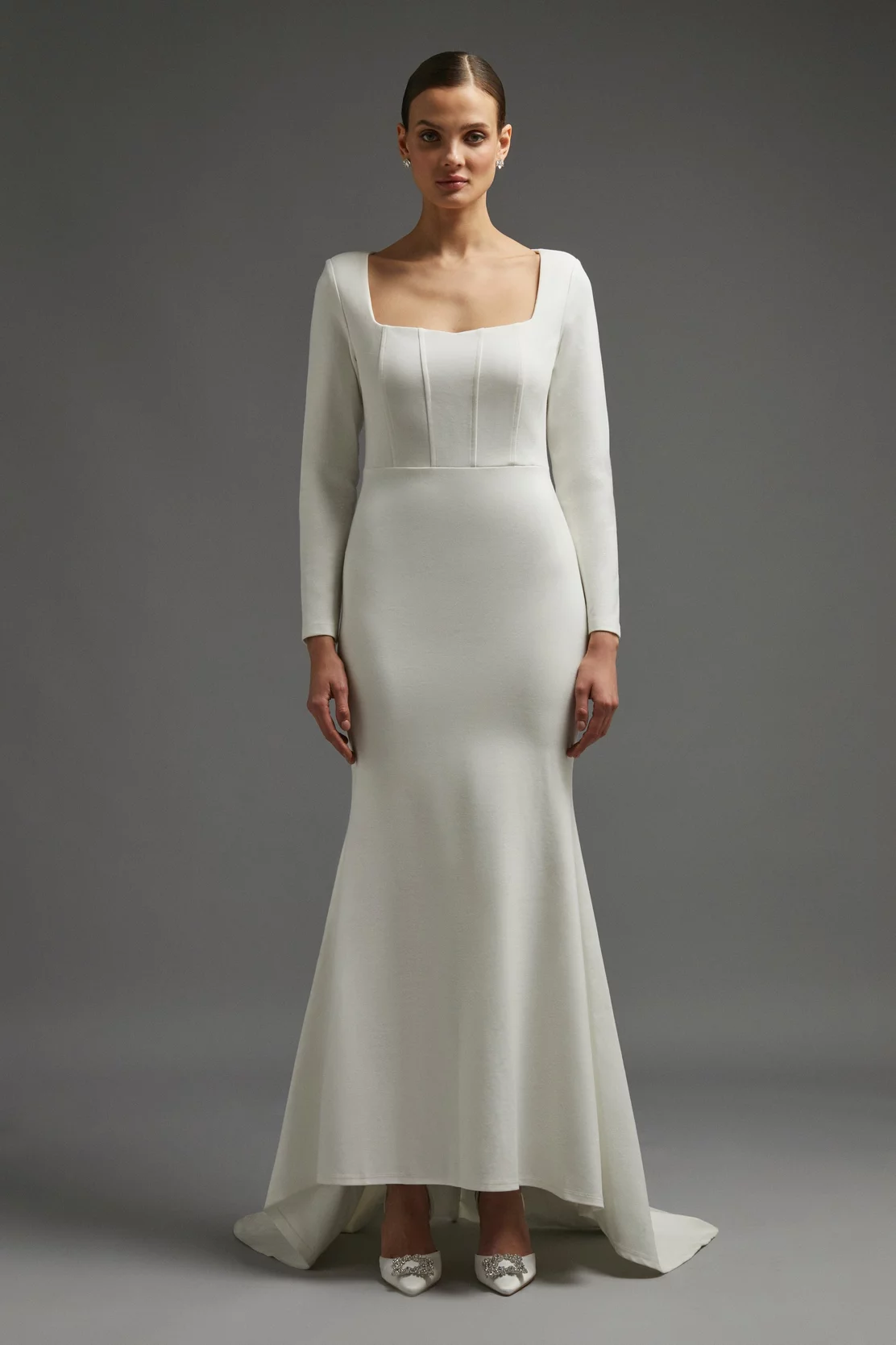 Long Sleeve Maxi Dress With Trail, £159, Coast – buy now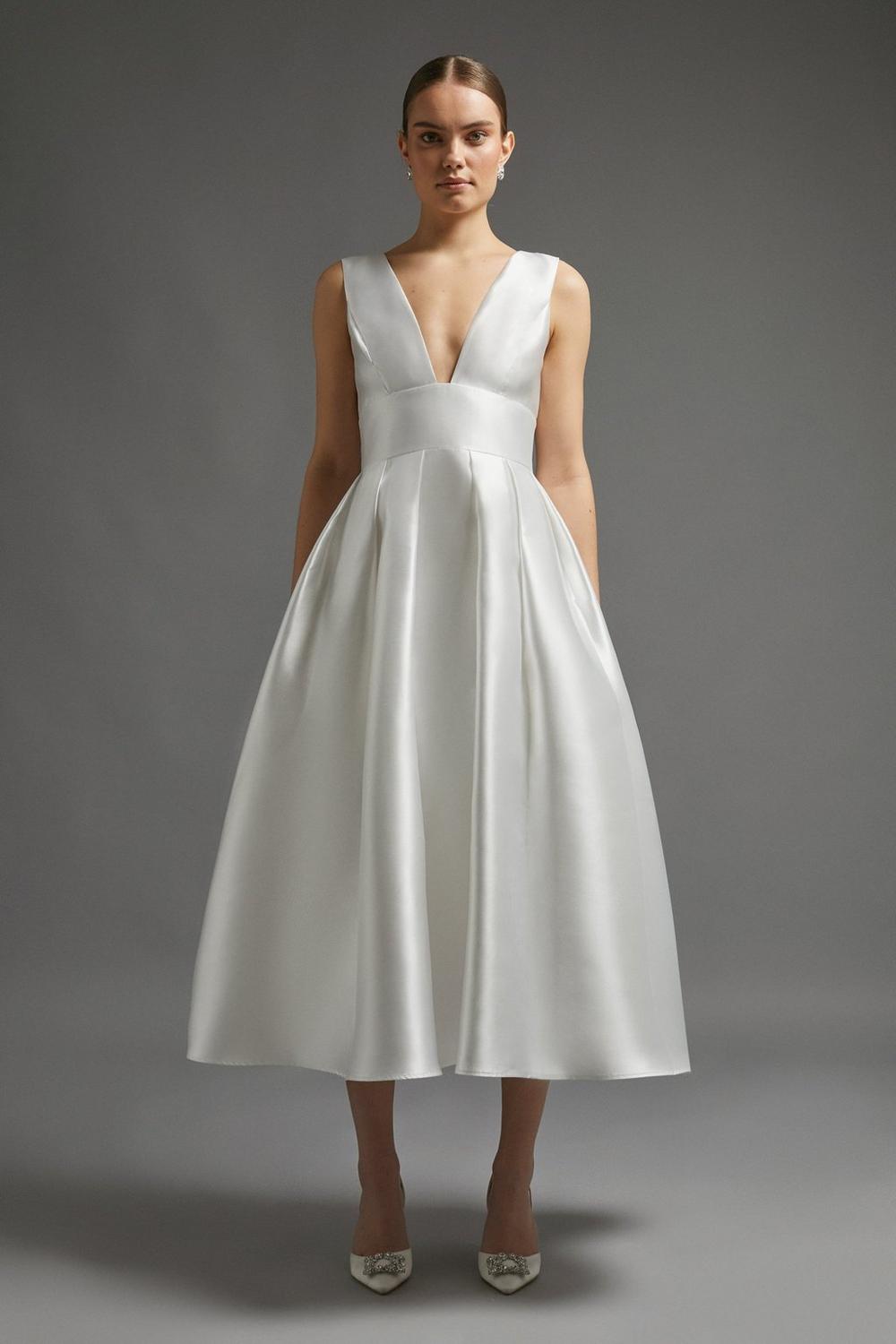 Structured Deep V Full Midi Dress, £119, Coast – buy now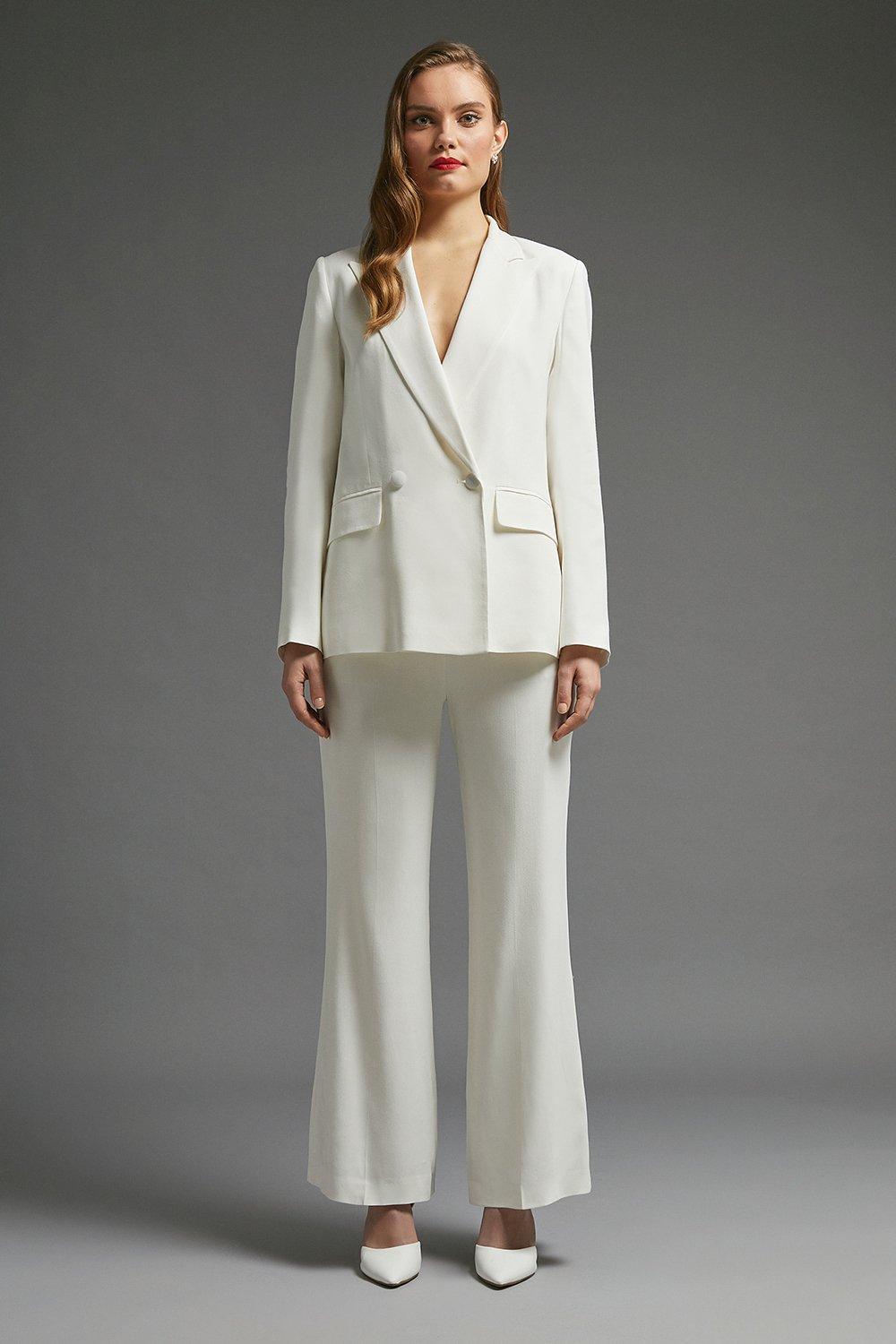 Double Breasted Blazer, £103, Coast – buy now
Satin Trouser, £103, Coast – buy now – buy now
Cut Out Lace Detail Midi Dress, £74, Coast – buy now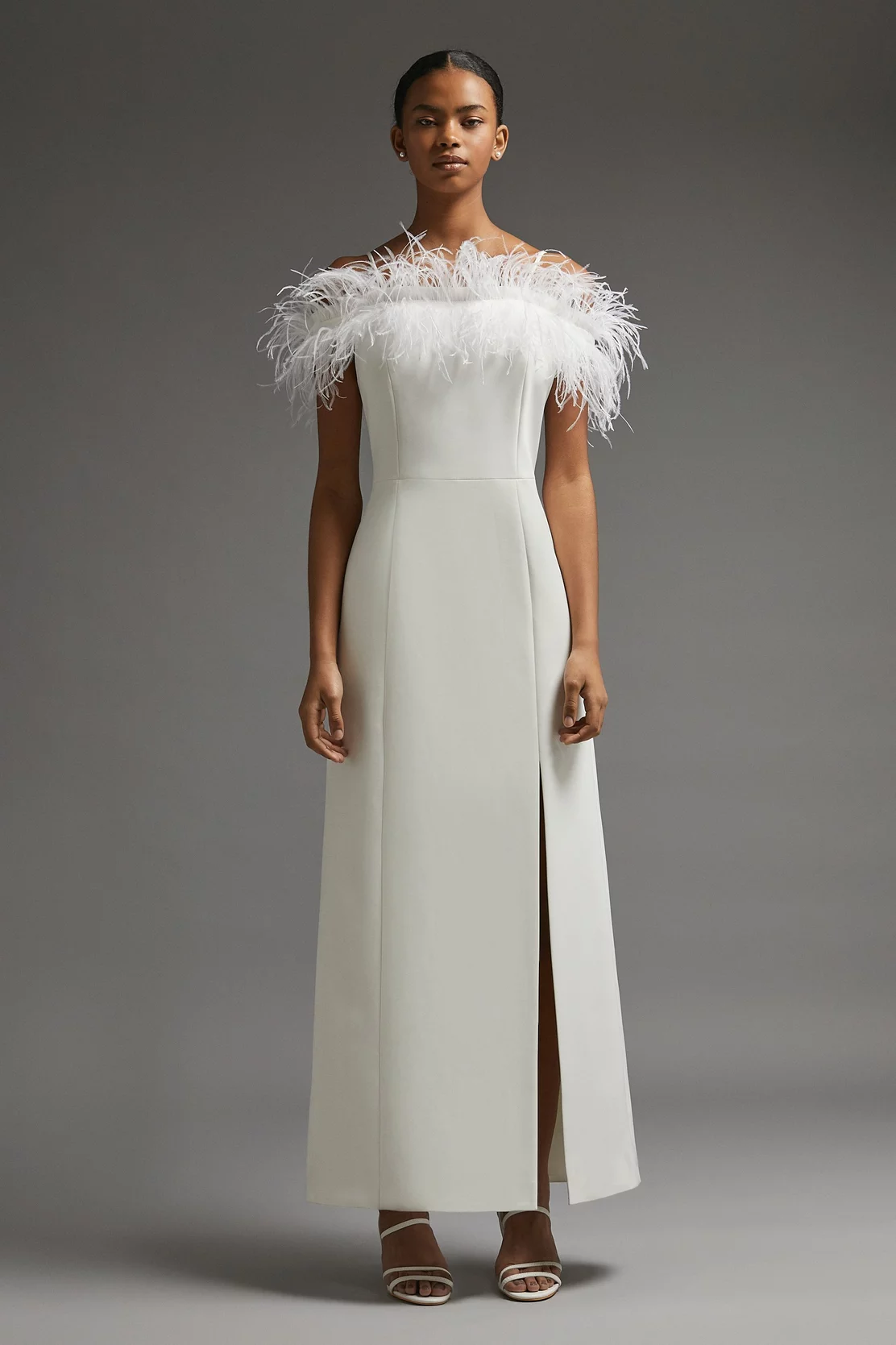 Premium Feather Bardot Maxi Dress, £207, Coast – buy now
RIXO
RIXO's second bridal collection is full of vintage inspired pieces, designed in elevated fabrics to suits all brides, whether they're opting for a more intimate ceremony or a bigger celebration.
Packed full of feather-trimmed dresses, two piece suits and silk jacquard maxi dresses complete with elegant trains, RIXO is perfect for the fashion forward bride to be.
Prices start from £75 to £1,450 and are available in UK sizes 6 to 16.
Candice, Satin Back Silk Crepe, £650, RIXO – buy now
Leanna – Satin Back Silk Crepe, £675, RIXO – buy now
Esme – Lace Ivory Bridal Dress, £825, RIXO – buy now
Adeline – Satin Back Silk Crepe Jacket, £375, RIXO – buy now
Joan – Satin Back Silk Crepe Skirt, £350, RIXO – buy now
Emilia – Ivory Tuxedo Jumpsuit, £565, RIXO – buy now
Monsoon
Monsoon is known for its beautifully crafted dresses with elegant details such as cap sleeves and hand-created embellishments.
They also offer a selection of wedding gowns in its sustainable clothing collection, S.E.W. These are all created using sustainable, recycled or responsibly sourced organic materials.
Prices range from £99 to £751, and right now you get 15% off your first order. Happy shopping!
Vera Bridal Satin Cape Maxi Dress, £299, Monsoon – buy now
Klara Embellished Bridal Dress, £349, Monsoon – buy now
Deja Square Neck Bridal Dress, £249, Monsoon – buy now
Gillian Spot Mesh Embellished Bridal Dress, £499, Monsoon – buy now
Kaley Embellished Square Neck Bridal Dress, £499, Monsoon – buy now
READ MORE: These Spring Dresses Will Freshen Up Your Wardrobe Instantly
Whistles
Whistles launched it's first bridal range in 2017 and it's gone from strength to strength ever since. With prices ranging from £159 to £649, it offers everything from stylish two-piece white suits, to elegant lace gowns and everything in between.
The St Christopher's Place store in London and the Leeds branch also offer a dedicated bridal suite where you can even try on the pieces, allowing you to get all the feels of a high end bridal boutique without the price tag.
Lina Lace Insert Wedding Dress, £499, Whistles – buy now
Cecilia Dobby Wedding Dress, £499, Whistles – buy now
Theodora Wedding Dress, £299, Whistles – buy now
Thelma Wedding Jumpsuit, £349, Whistles – buy now
Annie Wedding Trouser, £229, Whistles – buy now
Annie Wedding Blazer, £299, Whistles – buy now