Last Updated on May 2, 2023
I'm the kind of person who can't keep a secret, so after spying some of M&S' new arrivals for summer, I had to share them with you.
We've all heard of M&S. The brand has been around for over a century, but I still find myself forgetting how good it is – and not just their beautiful underwear.
If you've been sleeping on the brand too, you'll be as impressed as I am with their new pieces for SS23.
I'm currently obsessed with midi linen dresses, and it seems like I'm not the only one. With over 407 million views on Tiktok at the time of writing, it's safe to say that this style is everyone's favourite. The brand has several variations of this dress, so there's a style for everyone.
As I'm getting older, I'm becoming a huge admirer of this brand, and their commitment to sustainability has reinforced their position as a leading brand in the retail industry for me.
Having combed through the latest offerings from the British brand, I've whittled down my wishlist to 16 must-have items including stylish trousers, dresses, sandals and more.
READ MORE: In the Market For a New Dress? These Are the Only Online Stores You Need to Know About
Wear Next may receive a small commission if you click a link from one of our articles onto a retail website and make a purchase.
Shop Best M&S Pieces
Leather Buckle Flatform Sandals, £55 – buy now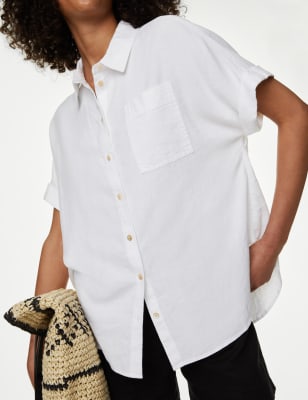 Linen Rich Collared Button Through Shirt, £35 – buy now
Textured Wide Leg Ankle Grazer Trousers, £25 – buy now
Pure Cotton Checked V-Neck Midi Tiered Dress, £39.50 – buy now
Floral V-Neck Tie Waist Midi Wrap Dress, £45 – buy now
Jersey Wide Leg Ankle Grazer Trousers, £22.50 – buy now
Linen Rich V-Neck Midi Waisted Dress, £39.50 – buy now
Cotton Rich Printed Collared Shirt, £25 – buy now
Pure Cotton Floral Midi Waisted Dress, £39.50 – buy now
Linen Rich Floral Square Neck Midi Dress, £49.50 – buy now
Pure Cotton Cuffed Parachute Trousers, £29.50 – buy now
Ribbed V-Neck Knitted Vest with Linen, £17.50 – buy now
Pure Cotton Printed Square Neck Midi Dress, £39.50 – buy now
Pure Cotton Broderie Belted Midi Shirt Dress, £59 – buy now
Linen Rich V-Neck Button Through Midi Dress, £39.50 – buy now
READ MORE: How to Follow in Margot Robbie's Footsteps and Embrace the #Barbiecore Trend
Linen Rich Floral Square Neck Midi Dress, £49.50 – buy now