Last Updated on November 16, 2021
I hate to say it, but Christmas is just around the corner. You know what that means – nope, I'm not talking about Christmas shopping – it's time to start looking for party dresses!
This season it's time to add a dose of glamour. The more extravagant, the better I say.
READ MORE: The Big AW21 Coat Edit: 66 Cool and Cosy Winter Coats We Love
After being locked up during Christmas in 2020, I'm so excited to get out there and celebrate with my friends and family.
This year, I'm not holding back – and from what I can tell, a lot of you feel the same.
Extravagant fashion is also one of the seasons biggest trends. After the two years we've all faced, it's the least we can do to cheer ourselves up.
Autumn winter is shaping up to be the most colourful seasons of the year — something you'd expect for summer and spring. But we're veering away from fashion norms these days and embracing bold and vibrant hues, patterns, textures, and more experimental cuts.
Take this as an opportunity to dress up even more than you usually do during the holidays — I know I will.
If you're like me and have'nt dressed up for a proper party since the pandemic started, looking for the best party dresses may be a bit challenging – but only because we're incredibly spoilt for choice.
We have one of the best party dress selections this year, no kidding! That includes from both designer labels and our favourite go-to high street stores, offering options for every budget.  
Rixo has a fun take on the little black dress. The Candice Confetti dress is perfect when you want to shine (literally) but keep it streamlined and classy.
For an inexpensive option, Zara's always there to help us. The holidays and velvet just go so well together, and the velvet dress with cutouts and rhinestones from Zara is the perfect example of that.
Want more of the best party dresses to wear during the holidays (and to be honest, anytime else you want)? Here are my top picks.
READ MORE: H&M Has Nailed Winter Dresses — Here Are My Favourites
For fashion advice and chit-chat, join our Facebook group What To Wear Next or follow us on Instagram.
Wear Next may receive a small commission if you click a link from one of our articles onto a retail website and make a purchase.
Buy now
Metallic One-Shoulder Mini Dress, £85, & Other Stories – buy now
Corsetry-Inspired Dress, £29.99, Zara – buy now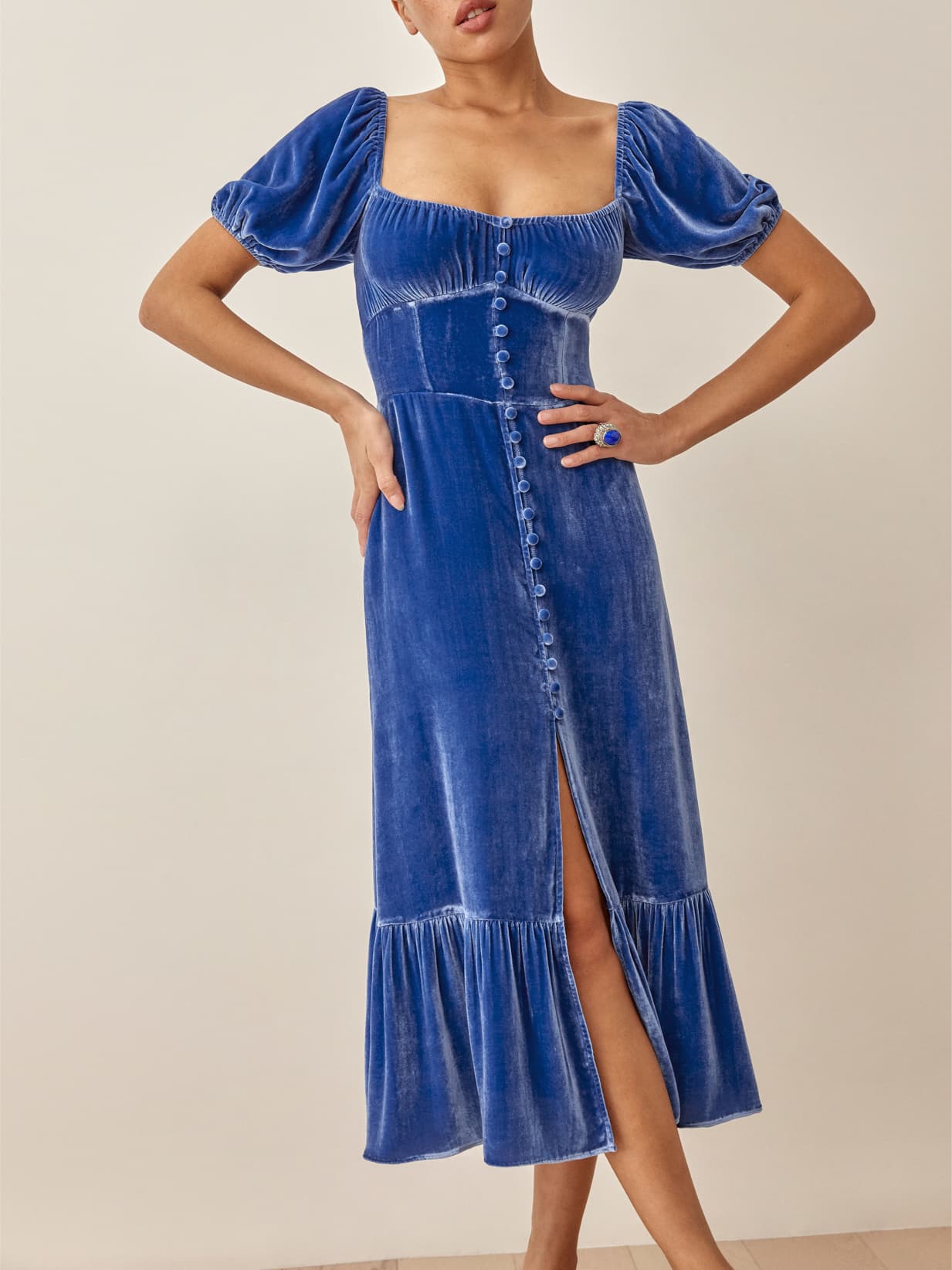 Caspian Leonie Velvet Dress, £300, Reformation – buy now
Cut-Out Back Dress, £69.99, Mango – buy now
Candice Confetti Dress, £285, Rixo – buy now
Chequered Sequin Midi Cami Dress, now £119.20, Warehouse – buy now
Shiny Jacquard Strap Dress, £205, Ganni – buy now
Fitted Sequin Mini Dress, £135, & Other Stories – buy now
Asymmetric Neckline Dress, £49.99, Mango – buy now
Velvet Dress With Rhinestones, £59.99, Zara – buy now
Draped Off-the-Shoulder Dress, £34.99, H&M – buy now
Pink Dress with Feathers, £155, Uterqüe – buy now
Paloma Dress, £195, Molby the Label- buy now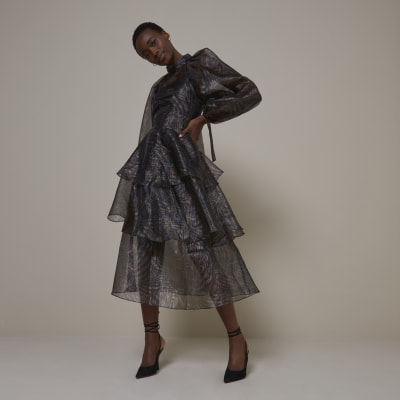 Layered Midi Dress, £110, River Island – buy now
Jacquard Babydoll Dress, £40, Monki – buy now
Multi-coloured Wavy Sequinned Dress, £125, Uterqüe – buy now
Party Dress, £39.99, H&M – buy now