Last Updated on January 24, 2023
Small-busted? Me too, and I've been searching high and low for the best bathing suits that suit us.
I don't mean to boast, but in just a few weeks I'm flying to Thailand to get some winter sun. I'm not a big fan of winter, so I prefer booking a holiday around this time of year to escape the cold and rain.
READ MORE: Small Boobs? Same – and I've Found 9 Bikinis That Really Work For Us
I've got a few weeks to prepare, and the first thing I'm looking for is a decent swimsuit. Sure, bikinis may help you get a better tan, but I need to be able to swim in the sea without panicking that my swimwear is about to fly off.
Bathing suits are my preferred swimwear of choice because I like to feel supported (despite my small boobs), so I've been doing a little bit of research into which styles look best on us flat chested people.
Wear Next may receive a small commission if you click a link from one of our articles onto a retail website and make a purchase.
READ MORE: These are the 3 Best-Selling Perfumes on the Planet
Which bathing suits look best on flat chests?
I'll start by saying that most swimsuits will look good on you if you have a flat chest.
While people with big boobs have to look out for good support in their swimwear, we don't have to worry about that quite so much.
My goal isn't necessarily to make my boobs look bigger; I'm pear-shaped, it's more to make my body look balanced. Added details like frills and ruffles can do both, creating volume around the chest. Finding swimsuits with padding is also a no-brainer.
We're also fortunate to be able to wear styles like cut-out, deep v-neck and one-shoulder swimsuits without fearing any mishaps.
READ MORE: New Year, New Shades: The Biggest Sunglasses Trends of 2023
Which necklines are flattering for flat chests?
Whether you prefer deep v-necks, off-the-shoulder or square necklines, most necklines look good on flat chests. It really depends the look you're trying to achieve, or how practical you really want the swimsuit to be.
You can wear off-the-shoulder, one-shoulder or bandeau swimsuits, although how comfortable you'll feel will depend on what you're doing in the swimsuit.
Deep V-necks give a streamlined silhouette, while gathered and wrap necklines also give the illusion of volume. I also love high-necks, as I personally find these really flattering.
Do swimsuits get bigger or smaller when wet?
When swimsuits get wet, they may appear to shrink a little as they cling onto your body but this isn't actually the case.
They tend to stretch with the weight of the water, and this stretching increases over time the more you wear the swimsuit and wash it.
So if you're wondering whether the swimsuit is a little tight, but the next size up is a little loose, I recommend going with the tighter option.
Shop swimsuits for small boobs
Now you've been briefed on bathing suits, it's time to find one you'll love. Here are the swimsuits on my holiday wish list now.
High-leg one-shoulder swimsuit, £24.99, H&M – buy now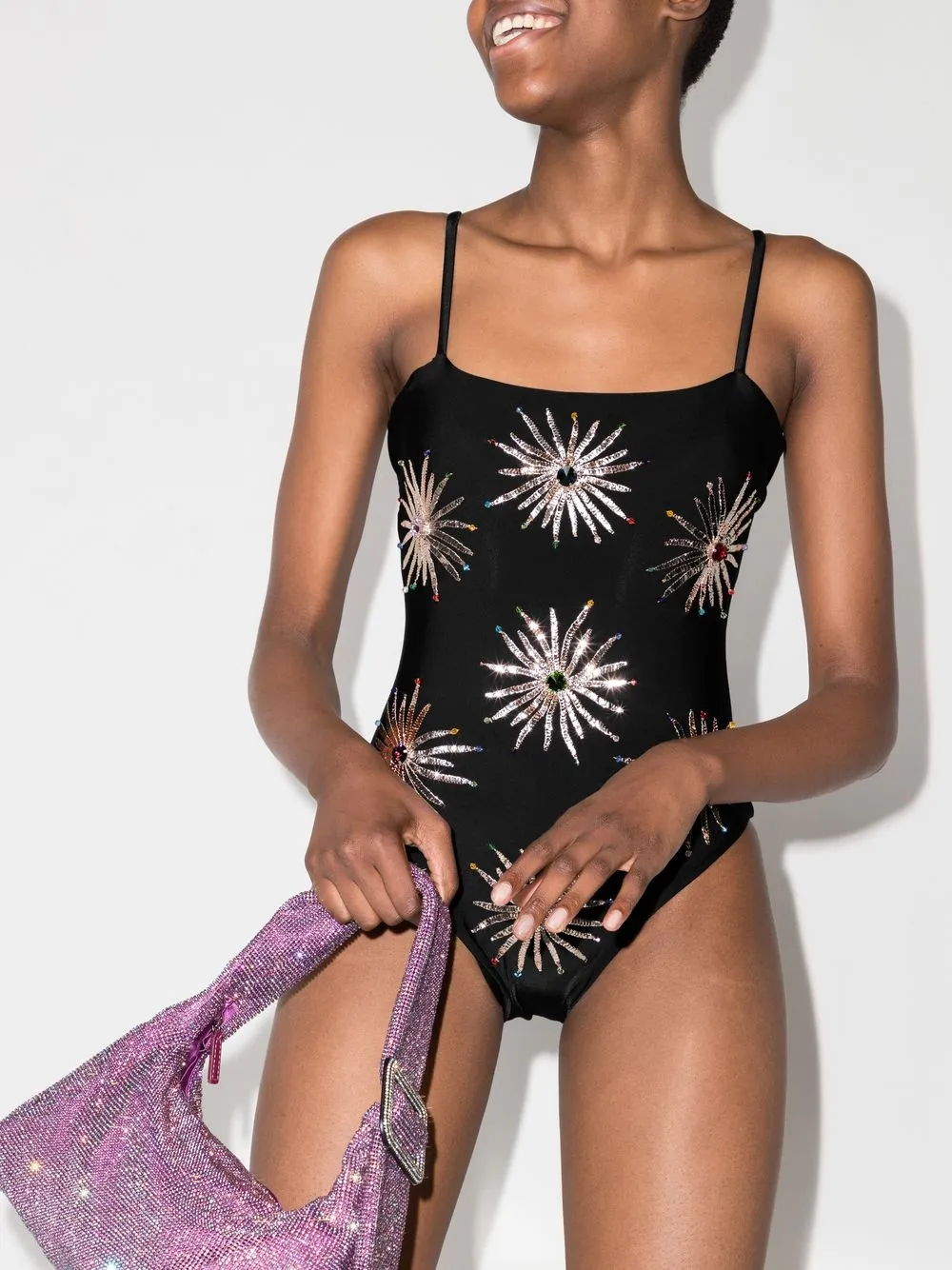 Dolly embellished one-piece swimsuit, £225, Oceanus – buy now
Black cut out halter swimsuit, £35, Monki – buy now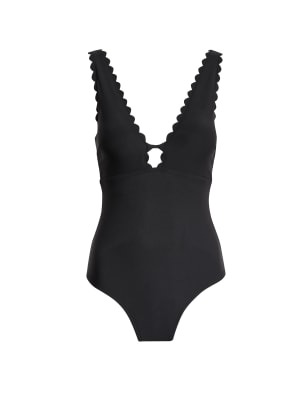 Padded Scallop Plunge Swimsuit, £32.50, M&S – buy now
The Laura swimsuit, £150, Cossie+Co – buy now
Padded-cup swimsuit, £24.99, H&M – buy now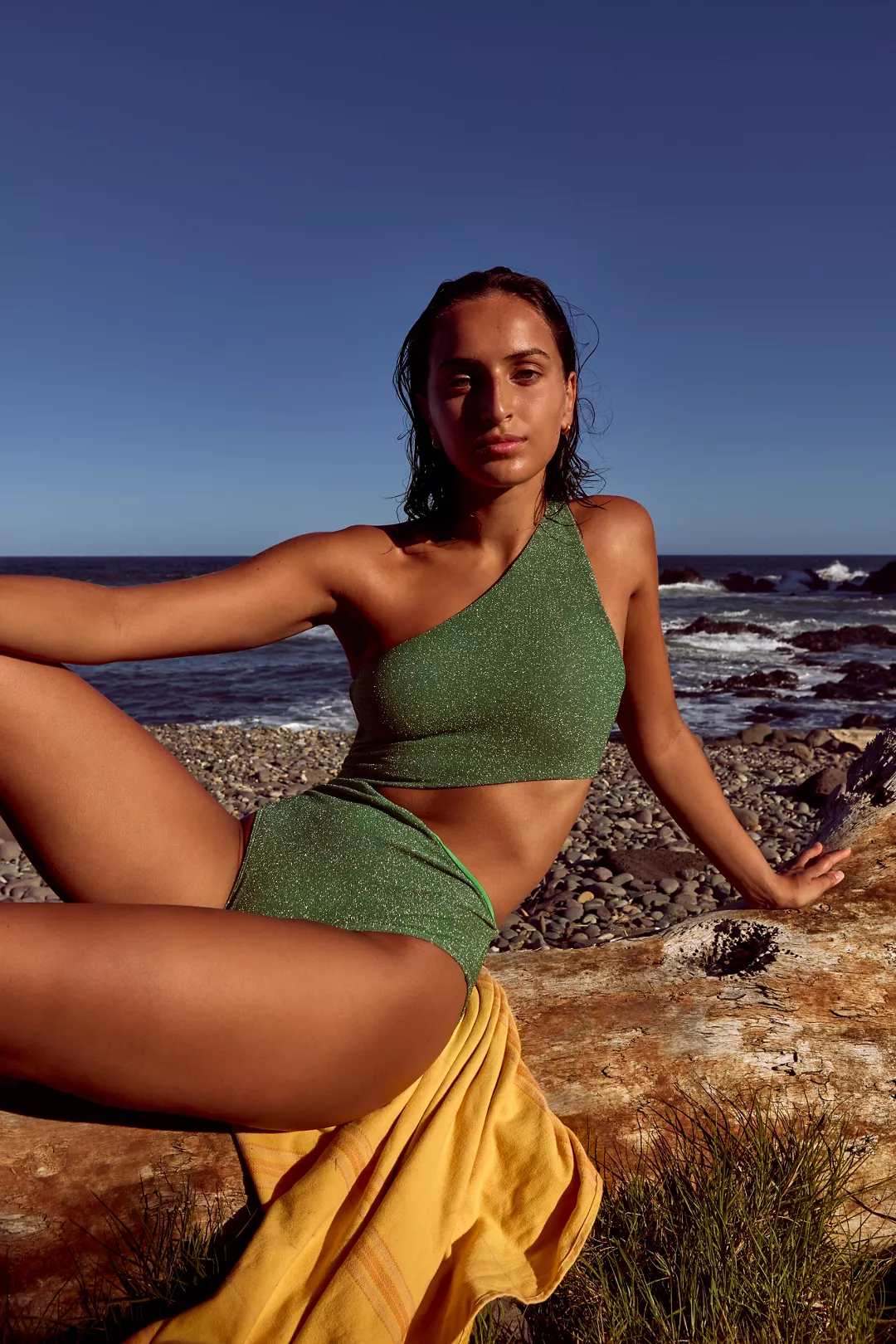 Celine Shine One-Piece, £140, Beach Riot – buy now
Surfer Crinkle One-Piece, £188, Reina Olga – buy now
Checkered tie cut out swimsuit, £35, Monki – buy now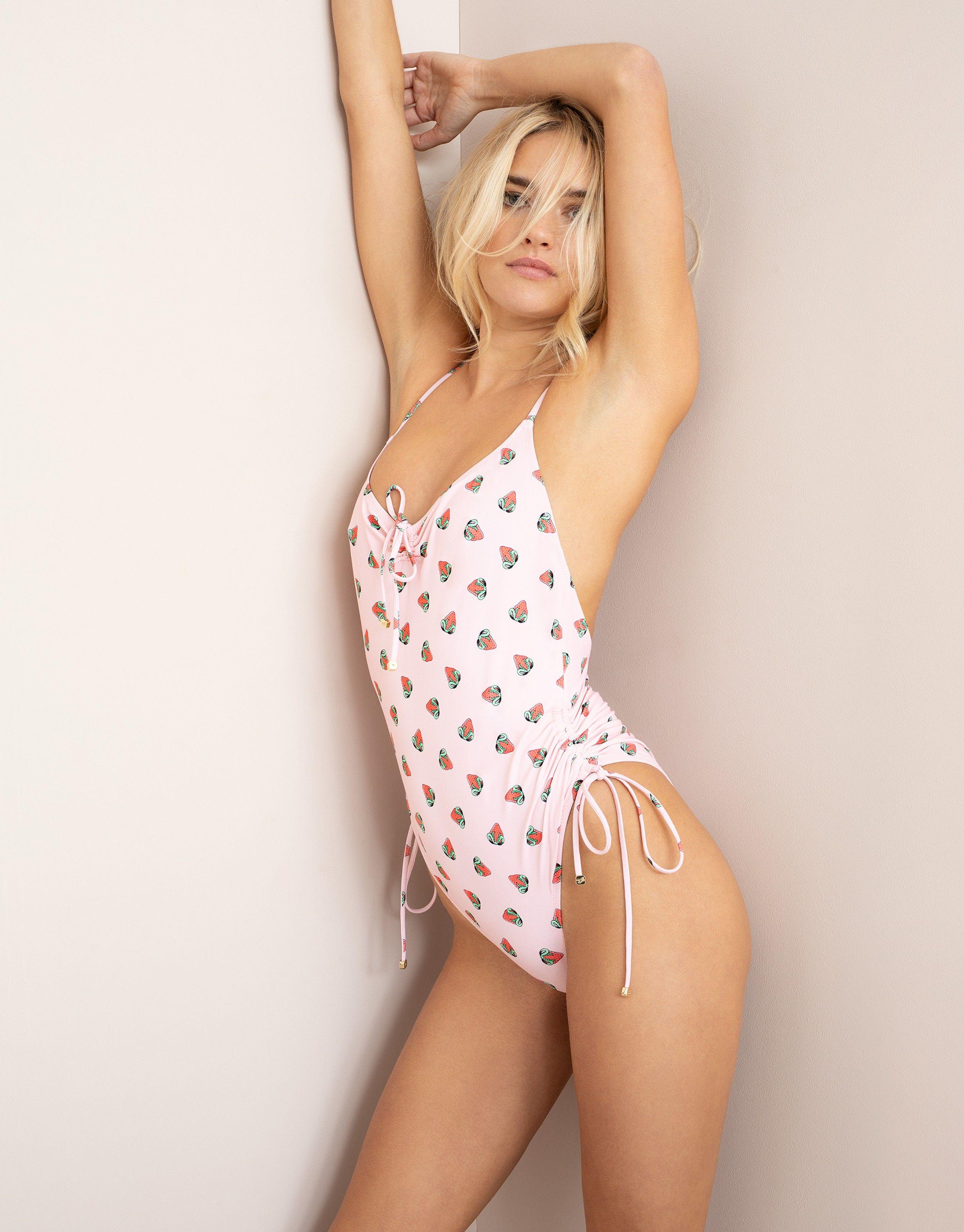 Fraise Swimsuit, now £50, Agent Provocateur – buy now
Recycled Printed Swimsuit, £55, Ganni – buy now
Floral Ruffle Shoulder Swimsuit, £44, Oasis – buy now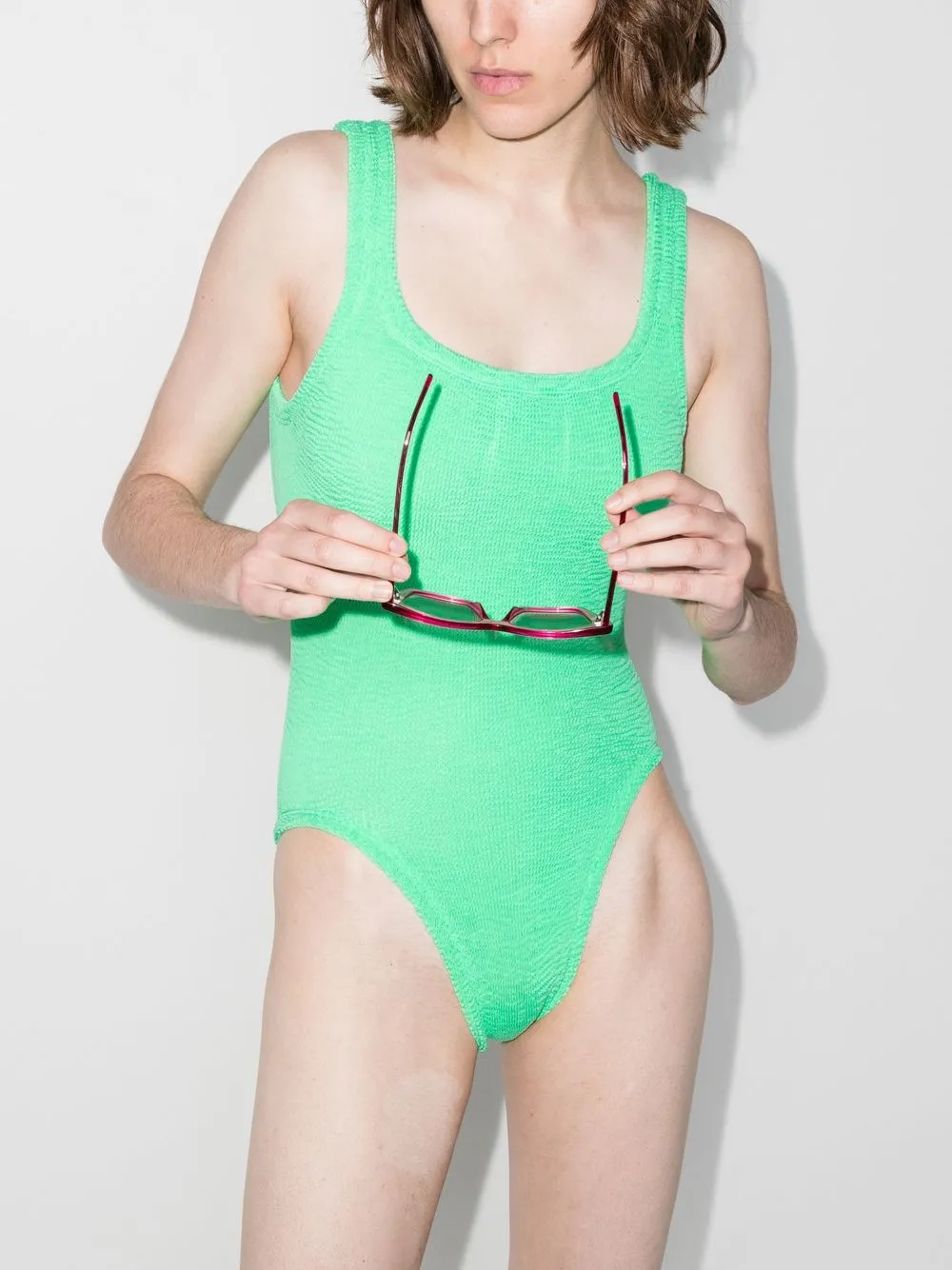 Square-neck open-back swimsuit, £155, Hunza G – buy now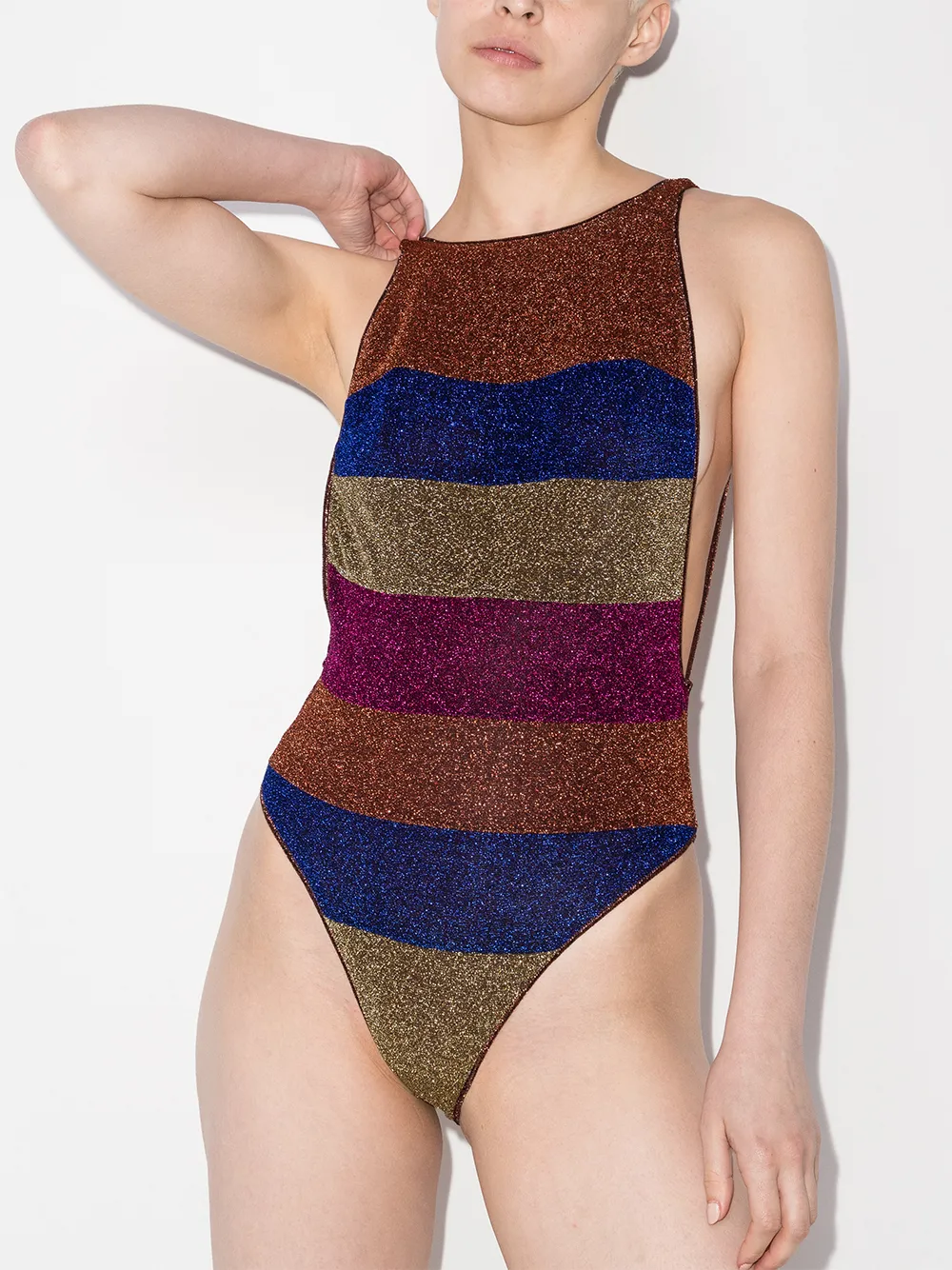 Lumiére lurex striped swimsuit, now £127, Oséree – buy now