Looking for a new bikini this summer? Look no further than these must-have styles for summer 2021.
The news is a little uncertain today about whether Brits can actually go on holiday, but regardless of where we are, we'll definitely be getting some sunbathing time in – even if it's just in our back garden.
You'd be forgiven for thinking swimwear is a trend-free zone. After all, if we find a bikini that suits our shape we don't care whether it's on trend or not – we just buy it and wear it until it falls apart. However Lyst today released their bikini report for SS21, proving not all two-pieces are created equal.
READ MORE: Struggling to get back to the gym? These colourful summer leggings will change your mind
In fact, certain styles have never been more popular thanks to certain celebrities and cultural changes – namely, the pandemic. These are the trends you need to know.
Upside-down bikini tops
It's unsurprising to hear that the Kardashians have had an impact on the trending bikinis of the summer. Upside-down bikini tops are frequently worn by the sisters, who have been sunning themselves consistently throughout the pandemic while we've been locked up. Is it obvious we're jealous?
I digress. The upside-down bikinis are consistently growing in popularity. According to Lyst, demand for them is up 49% and the most popular colours are green, hot pink and neutrals. After Khloé Kardashian wore purple version, searches for swimwear in the shade spiked 150% within that week.
Upside Down Triangle Multi Way Wrap Bikini top, now £7, ASOS DESIGN – buy now
Malibu Halter String Bikini Top, £88, Frankies Bikinis – buy now
Cut-out bikinis
Cut-out fashion is becoming more and more popular this year and we're not talking dresses. Searches for cut-out bikinis has risen 27% year-to-date, while keyhole swimsuits are trending too.
Tie Cut-out Swimsuit, £30, Monki – buy now
One Shoulder Cut Out Bikini Top, £24, Motel at ASOS – buy now
Underwire bikinis
Big boobs? Great news – bikinis with underwire have developed from a supportive style to one of SS21's most stylish pieces.
Lyst report that searches for them have gone up by an incredible 166% over the past 3 weeks in comparison to this time last year, while swimsuits with underwire are trending too. Ganni, Onia and Reina Olga underwire swimwear is amongst the most wanted.
Dalia Shimmer Rib Bikini Top, £73.04, Onia – buy now
Brigitte Bikini Set, €165, Reina Olga – buy now
READ MORE: The body positive swimwear brands to get to know now
Conscious swimwear
As sustainability becomes more of a pressing topic in fashion, conscious swimwear is on the rise. Sustainability-related keywords have increased 101% over the last month, with the word 'recycled' being searched 211% more in relation to swimwear in in May.
Vitamin A, Fisch and Mara Hoffman are amongst the brands people are searching.
Coquillage Electric Green Bikini Top, $125, Fisch – buy now
Moss Top, £77, Vitamin A – buy now
Terrycloth styles
Terrycloth swimwear is also on the rise, with searches for both swimsuits and bikinis in the material up by 66% since the start of May. According to Lyst, swimwear brands Frankies Bikinis and Lisa Marie Fernandez have seen the sharpest increase in searches related to the term 'terry'.
Foxy String Terry Bikini Top, £88, Frankies Bikinis – buy now
Yasmin Terry Cloth Swimsuit, $395, Lisa Marie Fernandez – buy now
READ MORE: 7 of the best plus-size swimsuits with underwire for extra support
Minimal swimwear
Despite the rise in maximalism, minimalist swimwear is still very much a thing. Demand for black swimsuits has reportedly been growing all year, while minimal styles have been searched for 306% more this month compared to May last year.
Swimwear brands Norma Kamali and Matteau have been trending over the past few months, while popular search terms include 'one piece' and 'nude.'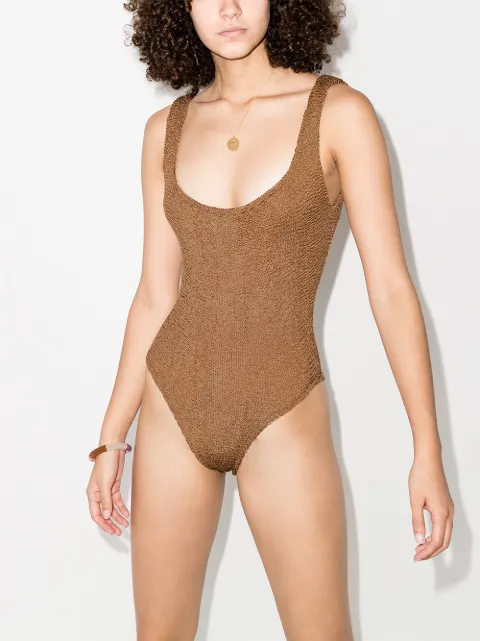 Square-neck Crinkle-effect Swimsuit, £130, Hunza G – buy now
Ruched Halterneck Bikini Top, £165, Norma Kamali – buy now
Retro prints
If minimalism isn't your thing, you're in luck. Colourful retro prints are set to be huge in 2021.
Over the past month, searches for retro styles have increased 107% compared to 2020, with colourful swimwear from Frankies Bikinis, Pucci and Zimmermann amongst the most popular.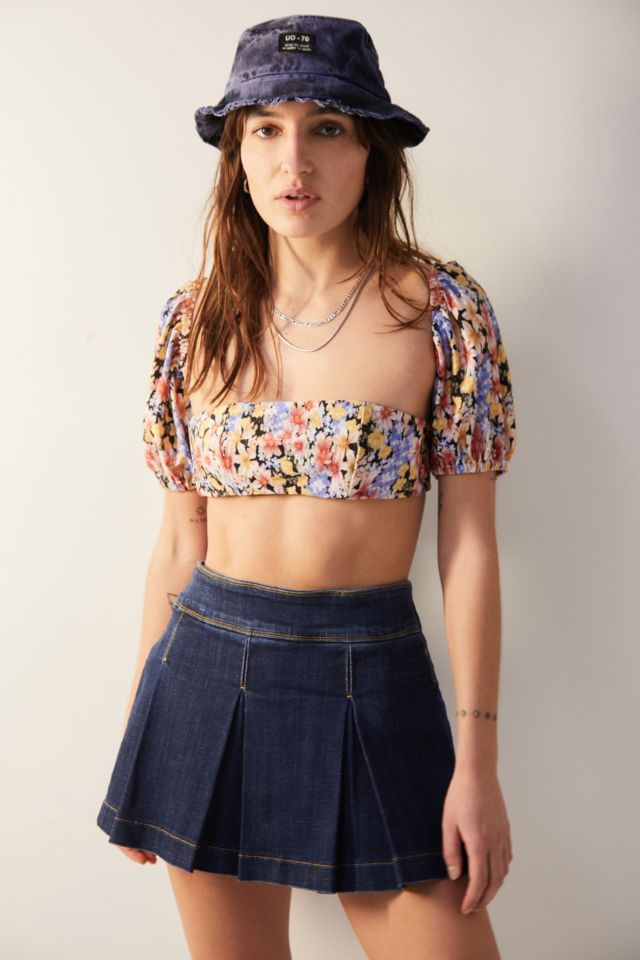 MINKPINK Thelma Puff Bandeau Bikini Top, £40, Urban Outfitters – buy now
Malibu Halter String Bikini Top, £88, Frankies Bikinis – buy now
For fashion advice and chit-chat, join our Facebook group What To Wear Next or follow us on Instagram.
READ MORE: Sustainable fashion brand Damson Madder has just landed on ASOS – and this co-ord is still available
READ MORE: Struggling to get back to the gym? These colourful summer leggings will change your mind
Wear Next may receive a small commission if you click a link from one of our articles onto a retail website and make a purchase.