Last Updated on September 18, 2021
Love it or hate it, animal print is one of those long lasting trends that never strays far. Will it stick in 2021?
At Wear Next, we encourage you to wear what feels comfortable and makes you feel confident, but for those seeking advice, we're taking a look at whether the fierce print is still in style this year.
READ MORE: 90s fashion continues to take over with yet another unlikely trend – but will you wear the waistcoat?
But before we answer that, let's backtrack a bit. How did this fashion trend become so popular in the first place?
The lowdown on the trend
Did you know that the animal print has been in vogue since the 1930s and it's all thanks to Tarzan?
Prior to the release of the movie Tarzan, prints that bore a likeness to animals' fur or patterns were worn as a sign of power. After seeing the character Jane onscreen, people decided it was just fun and exciting to dress up that way — power or no power — and now, here we are.
So, is animal print in style in 2021?
If last year's designer fashion collections are any indication of what's to come, we say the animal print is here to stay in 2021 (and beyond).
The runways were also rife with prints inspired by some of our favourite jungle animals — from Bottega Veneta's zebra prints for spring summer, to Saint Laurent's leopards for autumn winter, while the high street hasn't stopped embracing the zebra, leopard and even cow prints.
But it's not only the clothes that are getting the animal print treatment, shoes for autumn and winter have them too. That's thanks in part to the rise of the Western look.
We're still seeing a lot of cow print — this time on mules and cowboy boots. Crocodile, zebra and snakeskin are everywhere too. Colourised animal print has also risen; think neon snakeskin and lilac crocodile print.
READ MORE: Staycay or vacay, these swimsuits are super cute anywhere
For fashion advice and chit-chat, join our Facebook group What To Wear Next or follow us on Instagram.
Wear Next may receive a small commission if you click a link from one of our articles onto a retail website and make a purchase.
READ MORE: Are slides in style in 2021?
Celebrities are on board too. Actress Priyanka Chopra Jonas recently posed for Instagram in a zebra print number alongside her dog Diana, who wore a matching ensemble. Singer Chloe Bailey attended the Grammys wearing a tiger-striped Louis Vuitton gown print covered in sequins too, while reality star Kylie Jenner, momager Kris and daughter Stormi also graced the March cover of Harper's Bazaar Arabia in matching leopard print looks, too. Meanwhile, designer Amina Muaddi is all about maximalism in the form of animal prints.
So it's safe to say the trend is rising — if not already at its peak. But will you be wearing it? If the answer is yes but you need a little inspiration, check out some of our picks below.
Buy now
Peter Pan Collar Animal Print Dress, now £15, Monki – buy now
Flowing Animal Print Shirt, £27.99, Zara – buy now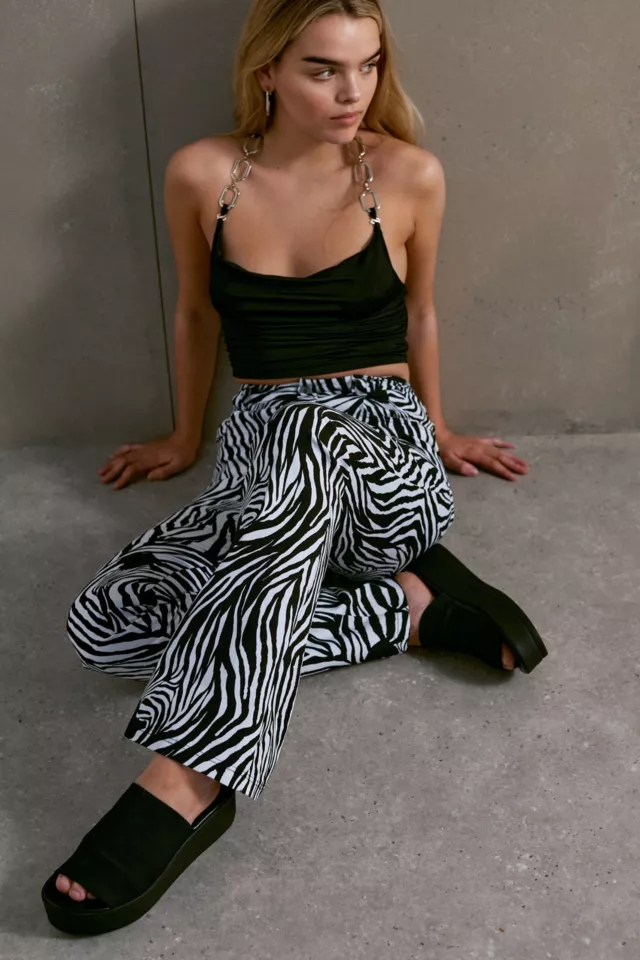 Zebra Print Flare Trousers, £49, Urban Outfitters – buy now
Ruffled Collar Leopard Print Cotton Poplin Blouse, now £70, Ganni – buy now