Last Updated on December 14, 2021
It's been hard to look on Instagram without seeing a steady stream of checkerboard prints in 2021, whether they're emblazoned on clothes, nails or floors.
Will it continue its style streak until 2022?
READ MORE: From 90s-Inspired Styles to Checkerboard Prints, These Are H&M's Best Jeans Right Now
While the print first became popular as an interior decor style in the 60s and 70s, it became a must-have for clothes in the 80s and 90s.
Vans is known for showcasing the print no matter the season or decade, but more recently the print came back in fashion and has been utilised by countless designers and brands.
Zara, Paloma Wool and Stand Studio are among those to champion the chequered look, with the latter's gorgeous faux fur coats becoming one of the most wanted items of the past two years.
If you're unsure how to style the print for the cold, you can look to influencers for inspiration.
You can opt to go down the classic route and pick the standard black and white checkerboard print, but it now comes in a rainbow of colours too — from apple green, to hot pink.
For fashion advice and chit-chat, join our Facebook group What To Wear Next or follow us on Instagram.
Wear Next may receive a small commission if you click a link from one of our articles onto a retail website and make a purchase.
READ MORE: I'm Still Not Over Checkerboard – Here's How to Wear It This Season
Will checkerboard be trending in 2022?
According to Pinterest's trend predictions for 2022, it's here to stay.
Searches for the pattern on the platform are up 160%, so expect to see a lot more of it over the next 12 months.
Are checks in fashion?
Trends, as we all know, come and go. Checks have already had their time in the limelight, so it looks like it's checkerboard's turn. 
However that's not to say you shouldn't wear it. Checks are timeless – and besides, we encourage you to wear whatever makes you feel comfortable and confident.
What will be trending in 2022 fashion?
Aside from checkerboard prints, 2022 will also see the sustained popularity of the crochet dress — lots of 60s and 70s trends are going to come back.
Perhaps inspired by Kourtney Kardashian's new style, gothic chic is set to make a comeback too, as well as pearl-embellished pieces, colourful palettes and what Pinterest describes as 'loungerie'.
Buy now
If you're getting your 2022 wardrobe ready, start with checkerboard pieces first. Here are my top picks.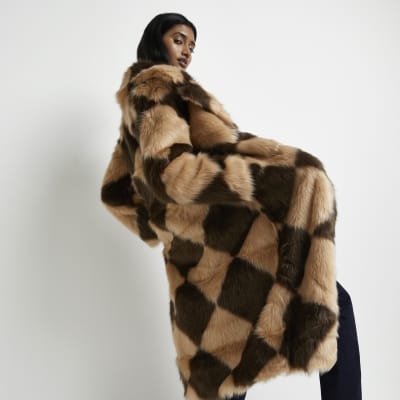 Brown Checkerboard Faux Fur Coat, £120, River Island – buy now
COLLUSION Unisex Knitted Tank in checkerboard, £20, ASOS – buy now
Check Flowy Shirt, £35.99, Mango – buy now
Checkerboard Knit Dress, now £15, Warehouse – buy now
Checker Dress, £175, KITRI Studio – buy now