I always feel a little ridiculous wearing my sunglasses in winter, but it turns out it's not to silly after all.
Stars such as Kim Kardashian, Beyoncé and Madonna seem to wear their shades 24/7 (even indoors), and while it's easy to put it down to their superstar status, they might be onto something.
READ MORE: The Biggest Y2K Makeup Trends and How to Get the Look
Just like wearing SPF all year round (yes – even in the UK), keeping your eyes covered can have huge benefits – not just for your outfit, but for your eye health too.
Even if you live in the drizzliest of cities, the occasional glimmer of sunshine does appear and while it's always a welcome treat, the sun brings with it some dangers too.
I have to say I'm almost glad to hear wearing sunnies in winter is acceptable. Now when I've skipped the eyeliner, I can wear my shades with pride!
So why should we wear shades even when it's chilly? Here's what you need to know.
Wear Next may receive a small commission if you click a link from one of our articles onto a retail website and make a purchase.
READ MORE: Sunglasses Have Never Been Bigger or Better – Here Are 15 Pairs of XXL Frames I'm Obsessed With
Why do you need sunglasses in winter?
They prevent headaches
If you suffer from headaches, wearing shades might be the answer.
According to All About Vision, bright lights cause your pupils to constrict, but in dim light they automatically dilate. This reduces eye strain, which could be the reason you're suffering from headaches and migraines.
If you wear sunnies however, the amount of light that reaches your eyes will be reduced.
They protect your eyes
It sounds obvious, but sunglasses literally act as barriers to your eyes. They prevent dust, sand and wind from entering and irritating your eyes, which can cause them to water if they're anything like mine.
While it might not sound like a big deal, it's a lot easier wearing shades than having to re-do your make up throughout the day. As I live by the beach, this is a constant irritation of mine!
READ MORE: 16 Pairs of Sunglasses That Look Perfect on Round Faces
UV rays still exist in winter
For the same reason you should be wearing SPF to protect your skin, your eyes also need protecting. Yep, we're talking about UV rays.
While the sun might be softer in winter, it bounces off icy or wet surfaces and into your eyes.
UV rays can cause eye problems, such as macular degeneration, cataracts and even skin cancer, so it's a good idea to opt for polarized shades to protect your eyes. Plus, they prevent wrinkles around your eyes too.
They reduce glare while driving
Another problem I regularly face is glare from the sun while driving, so I always keep a pair of sunnies in my car.
According to Mather Vision Group, the glare is actually worse in the colder months as the sun is lower on the horizon, so it hits the earth and reflects at a lower angle. This can impair your vision while driving, walking, running or even skiiing.
Sunglasses reduce the glare however, making all these activities that little bit easier.
READ MORE: 12 Pairs of Sunglasses For Heart-Shaped Faces
Last but not least, they look great
If they're good enough for Kim K, they're good enough for us!
When should you NOT wear sunglasses?
According to RX Safety, if you wear sunglasses 24/7, you're actually missing out on 1,500 wavelengths that contribute to healthy eyes.
Poor lighting can also cause headaches, so you should avoid wearing them when not necessary.
You don't need to wear them inside or when it's dark.
What kind of sunglasses to wear in the winter?
The best options for winter are polarized and mirrored lenses. They effectively reduce glare and shield your eyes from direct sunlight.
The reflective coating of mirrored lenses effectively brightens your field of vision. Meanwhile, polarized lenses add a filter to your lens that reduces glares and even prevents snow blindness if you feel like skiing.
Tinted lenses are also a great choice for winter. There are a variety of colours to choose from, but neutrals are best for winter, like grey or brown.
Shop sunglasses
Pilot-frame mirrored sunglasses, £320, Gucci Eyewear – buy now
Oval-frame mirrored sunglasses, £295, Balenciaga Eyewear – buy now
Pink frameless sunglasses with rhinestone detail, £20, Monki – buy now
Sunglasses with pink tinted lense, now £13.00, Mango – buy now
Round sunglasses silver frame with green tint lens, now £103, Ray-Ban – buy now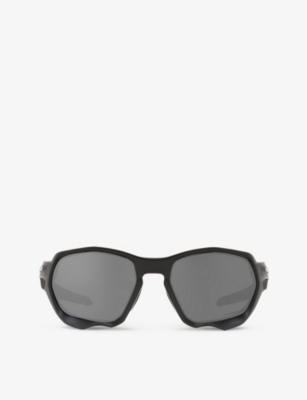 Plazma rectangle-frame nylon sunglasses, £192.00, Oakley – buy now
Rossi Speedway sunglasses in black, £83, Poppy Lissiman – buy now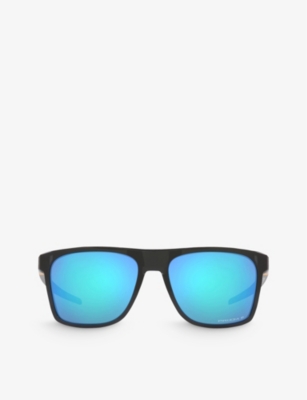 Leffingwell square-frame sunglasses, £175.00, Oakley – buy now