Last Updated on May 19, 2023
Struggling to find sunglasses to suit your round face shape? You've come to the right place.
It can be really tough finding sunnies to suit you, especially when most of us shop almost exclusively online these days. Many brands offer digital try-on technology on their websites, but it's fair to say that nothing beats trying them on IRL.
If you're looking for advice, I can point you in the right direction if you have a round face shape.
Firstly, contrast is the way to go. Choose sunnies that have a sharp angle or a bit more height to complement your face shape.
There's nothing wrong with breaking the rules though. Wear whatever you feel confident in and the rest will take care of itself.
READ MORE: The Sunglasses That Just Work Perfectly For Heart-Shaped Faces
But if you don't know where to start, we're here to help. Here are the best styles for round faces, with cat-eye, square and oversized styles from a selection of our favourite brands. And if you're wondering which styles are trending this year, read our guide to this season's trending sunglasses.
Wear Next may receive a small commission if you click a link from one of our articles onto a retail website and make a purchase.
Cat-Eye
Need a (frame) lift? Go for the cat-eye. It's up to you of course, but we recommend those that have a sharp line instead of round shapes for the most flattering look.
Cat's eye-frame acetate sunglasses, £255, Linda Farrow x Dries Van Noten – buy now
They don't come better than this. The shape, the colour of the frame, the tint on the lens — what's not to love?
Good Times Eyewear Spark Visor Sunglasses, £35, Urban Outfitters – buy now
In 2023, Y2K is making a big comeback. These cat-eye-inspired shades from Urban Outfitters have an angular and sharp shape, which gives them a modern yet retro vibe.
The Linda, £149, Jimmy Fairly – buy now
If you're looking for a pair of shades that will go with absolutely anything, we recommend these monochrome sunnies from Jimmy Fairly.
Pointed Cat Eye Sunglasses, £27, & Other Stories – buy now
Prefer the classic shape? Try a pair of white cat eye sunglasses that will go with everything.
Square
Square and rectangle sunglasses are a great match for you because they complement your soft features. Their strong lines balance out and elongate your shape.
Square II Polarized Classic Sunglasses, £194, Rayban – buy now
Inspired by the brand's iconic I-Shape legacy, the Square II is a classic.
Bobby Large Tigerwood Sunglasses, from £110, Ace & Tate – buy now
The chunky square frames are eye-catching but won't overpower your face. Plus, they come in classic chic colours that can be paired with just about anything.
After Hours Shield Sunglasses, £59, QUAY – buy now
Despite the name, these shades can be worn just about anywhere. These square frames are given an update with a subtle cat-eye addition – and don't worry, they flatter you too.
Monogram-motif Square-frame Sunglasses, £180, Burberry – buy now
For those with a bigger budget looking for an investment pair, we love these oversized shades from Burberry.
Oversized
Whether they're square, cat-eye, or aviators, they'll work for round faces – as long as they're oversized.
Double G oversize-frame sunglasses, £330, Gucci – buy now
Invest in a pair of classic oversized shades from Gucci. With black frames and tinted lenses, these look sleek and stylish, while looking flattering to round faces.
Angular oversized cat-eye sunglasses, £27, & Other Stories – buy now
If you want to try the style on a smaller budget, & Other Stories has a great selection. These oversized cat-eye styles will suit you down to the ground.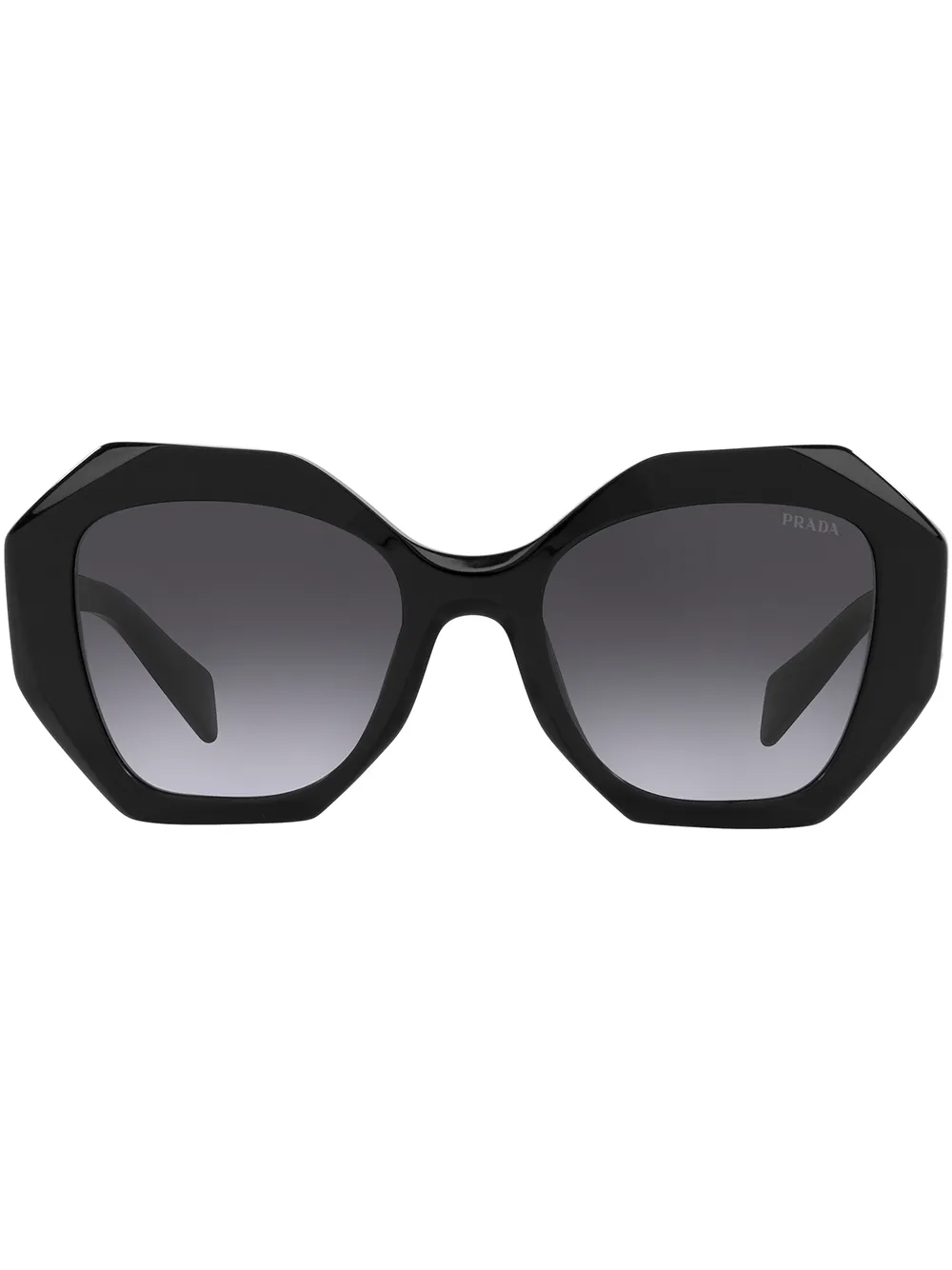 Oversize-frame gradient sunglasses, £284, Prada Eyewear – buy now
Another investment option is Prada's oversize-frame gradient sunglasses. Obsessed.
Oversize Retro Sunglasses, £19.95, NA-KD
Rock these oversized retro sunglasses and you'll feel like bringing the sun and the cool back.
Aviators
Aviators work in a similar way to oversized shades to flatter your features. Find pairs that sit higher on your face, so they frame your face by sitting above your cheekbones.
Aviator Sunglasses, £16, River Island – buy now
As the resurgence of 70s fashion continues for SS23, we love these retro shades from River Island.
High key aviators, £49, Quay London – buy now
Classic aviator styles, like these shaded frames from Quay, are a timeless investment worth making.
JimBob Sunglasses, £126, Poppy Lissiman – buy now
Poppy Lissiman's summer shades come in a variety of colours. We can't get enough of this pair, and while they're a little more on the spenny side, they're still cheaper than many designer styles.
READ MORE: All Eyes On 70s Sunglasses — We've Found The Chicest Oversized Pairs
Classic Aviator Sunglasses, £27, H&M – buy now
Keep it classy and simple with these aviator frames from H&M.