Last Updated on March 4, 2023
From ancient Rome to high street, sandals have remained a constant in fashion.
Sandals are comfortable, easy to wear, and perfect for the warm weather months. But finding sandals that go with everything can be a challenge.
READ MORE: 4 Telltale Signs You're Wearing the Wrong Bra Size, According to Curvy Kate's 'Bra Whisperer'
When it comes to styling sandals, you must always consider the occasion. If you are going to a formal event, you may want to opt for sandals with heels. If you are going to a casual event, neutral-coloured or espadrille sandals may be a better option.
Another tip is to consider the style of the sandal. If you are wearing a maxi dress, you may want to opt for strappy lace-ups. If you are wearing cargo shorts or jeans, a slide sandal may be a better option.
With so many styles, it can be overwhelming to decide what to buy. From bohemian-inspired gladiator sandals to sleek and modern mules, you want a pair that's versatile.
Check out our edit of the five classic sandals that are still on trend and go great with almost everything!
Wear Next may receive a small commission if you click a link from one of our articles onto a retail website and make a purchase.
Platform Sandals
The era of chunky soles is still going strong, and there is a stylishly good reason for it. The enhanced shape of platform sandals is suitable for every style. Whether you're wearing a summer dress or a pair of jeans, platform sandals can elevate any outfit. Especially, if you want to make your legs look longer.
They offer height without sacrificing comfort. Platforms give you the added height that you desire without the discomfort that comes with high heels.
READ MORE: We Tried Out 5 Different Types of Period Pants – These Were the Best of the Bunch
Flatform Sandals, £45.99, Zara – buy now
Slingback platform sandals, £15, Monki – buy now
Platform strap sandals, £59.99, Mango – buy now
Espadrilles
Espadrilles are the perfect vacation-vibe sandals for the summer or if you want to give your outfit a more relaxed look. Nearly every brand has its unique take on this classic type of sandal.
They come in different heel heights, from flat to high, making them suitable for any event.
For a sophisticated beach look, slip-on espadrilles pair well with silky tailored pants or a matching lounge set. Alternatively, if you want to showcase your pedicure, they complement a simple shirt and jeans ensemble.
Woven raffia wedge espadrilles, £119, Castañer – buy now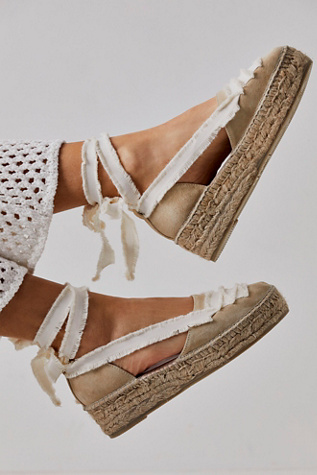 Destino Espadrille Platforms, £148, Free People – buy now
Embroidery-detail espadrilles, £17.99, H&M – buy now
Buckled slides
Not everyone likes the Birkenstock style, but not all buckled slides are Birkenstocks. There are other styles that have the same suede, chunky sole aesthetic and other designs that exude a more classy vibe.
Buckled slides go well with denim shorts or jeans and a simple t-shirt for an effortless look. You can also add a denim jacket or a cosy cardigan for a more layered look. For a more polished look, you can pair them with tailored pants and a blouse.
The right style of buckled slides also looks good with a maxi dress or skirt to have a laid-back yet well-put-together look.
Buckled leather slides, £385, Dries Van Noten – buy now
Lennyo studded suede slides, £425, Isabel Marant – buy now
Arizona suede slides, £95, Birkenstock – buy now
Lace-up Sandals
You can match a pair of flat lace-up sandals with a flowy maxi dress for an effortless look or a tailored dress for a relaxed, yet polished look. But if you want a little more height, heels are definitely the better option.
When styling lace-up sandals, it's essential to show off the strap, especially gladiators. Opt for cropped pants or a short skirt to highlight your sandals and add some interest to your outfit.
READ MORE: Everything You Need to Know About Mugler x H&M
Alex Recycled Polyester Tie-Around Thong Sandals, now £49, Charles & Keith – buy now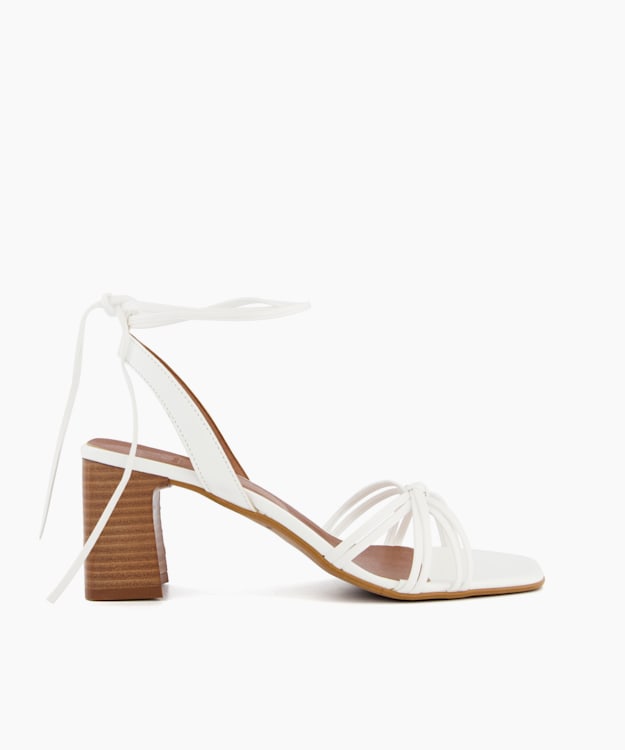 Imagine – White Lace Up Sandals, £42, Dune London – buy now
Daphnee Heeled Sandals, £85, Aldo – buy now
The fisherman sandal
The fisherman sandal has a casual, sturdy, athletic, and formal style. They are also comfortable and breathable, making them an excellent choice to pair with casual dresses, shorts, and skirts.
You can create a boho-inspired look by pairing them with peasant blouses and cargo shorts. Personally, I like wearing them with a long maxi skirt. If you really want to lean into the spring vibe, you can wear it with a flowy sundress, floral or botanical prints are also an option.
Fisherman flat sandals, now £318, Le Silla – buy now
Madelyn fisherman sandals, £99, Kurt Geiger London – buy now
Malcom square-toe leather sandals, now £290, Khaite – buy now