Leggings are a wardrobe staple. You might think they're only required for workouts or yoga classes, but after seeing how fashion girls are wearing them now, you'll think otherwise.
The comfy trews are pretty much synonymous with '80s style, but the way we wear them has changed over the last few decades.
READ MORE: These Zara Perfumes Smell Just Like Designer Fragrances
Back then you'd wear them with oversized sweatshirts and/or leg warmers, then they came back in the noughties. I cringe when I think back to those American Apparel shiny disco pants I used to wear, or the dresses I may or may not have worn over the top.
It's those kind of outfits that give leggings a bad reputation, but I'm coming round to the new way of wearing them now.
Split hems, faux leather pairs, and my personal favourite, printed pairs worn as co-ords are just some of the leggings trends we're seeing coming through for 2023.
As always, we encourage you to wear whatever the hell you want. Style rules are there to be broken and you should wear what makes you feel the most comfortable and confident.
If you're looking for inspo however, I've got just the ticket. Here are the ways to wear leggings in 2023, as shown by some of our favourite influencers.
READ MORE: Just Dropped: 11 New Arrivals You Need to See This Week
Wear Next may receive a small commission if you click a link from one of our articles onto a retail website and make a purchase.
Printed
Printed leggings aren't just for workouts. Emili Sindlev shows us how it's done in D&G.
Abstract print semi-sheer leggings, £295, Pucci – buy now
Glittery flared leggings, £12.99, H&M – buy now
Marble print leggings, £19.99, Zara – buy now
Co-ordinated
Team your leggings with a matching top like Sara Thomas. When it comes to this trend, more is more.
Crescent moon print jersey top, £200, Marine Serre – buy now
Moon-print stirrup leggings, £262, Marine Serre – buy now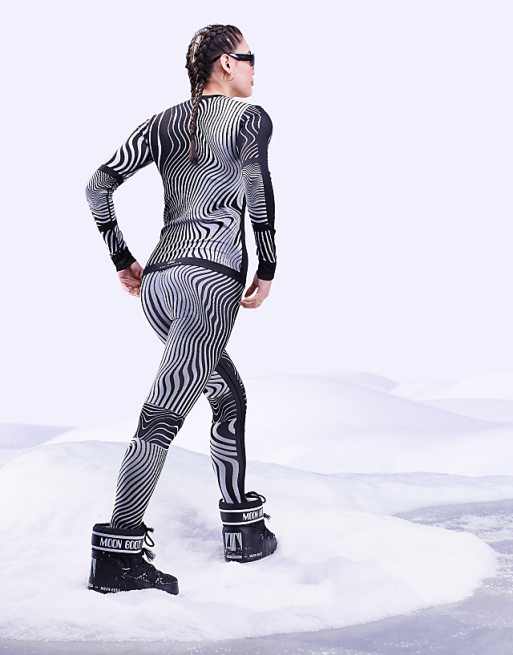 Base layer top in mono swirl, £32, ASOS 4505 – buy now
Base layer legging in mono swirl, £32, ASOS 4505 – buy now
READ MORE: 7 Spring Summer 2023 Fashion Trends To Get To Know Now
With chunky boots
Queen of minimalist fashion, Felicity Bird teams hers with some chunky welly boots and an oversized knit.
Basic leggings, £22.99, Mango – buy now
Flat Knee High Boots, £59.99, Stradivarius – buy now
Split hem
Unless you've been living under a rock, chances are you're seeing split hems everywhere.
Slim-fit Super Stretch Slit Pants, £27.95, NA-KD – buy now
Zip-Hem Leggings, £59, COS – buy now
Leather
Effortlessly chic, leather or leather-look leggings are an easy way to elevate the staple.
Black High Waist Matt Coated Leggings, £28, River Island – buy now
Imitation leather leggings, £17.99, H&M – buy now