Last Updated on September 29, 2023
Looking for decent basics for autumn winter? Zara's selection is huge, so I'm sharing my personal favorites with you – right here. The start of the new season is when I realise what's missing in my wardrobe. There are some items that we all just need, like white tees, sweaters and a great pair of blue jeans, so it's good to have a wardrobe audit every once in a while rather than always focusing on the immediate trends.
I'm super excited about AW23's biggest trends of course, but I do need some pieces to go well with my metallic pants, little black dresses and bold red sweaters. The first place I head to when I'm looking for basics tends to be Zara, as the retailer has such a huge selection of everyday items that don't break the bank.
Look for timeless pieces that work well with the rest of your wardrobe, rather than the items that will earn you compliments. That might sound counterintuitive, but I have a tendency to look for eye-catching like cargo pants, shoulder pads, an asymmetric hem and bright colours when sometimes I need simple.
You shouldn't need to buy basic tops or mom jeans very often if you buy well. That's the beauty of basics – they never go out of style.
So without further ado, these are the must-haves from Zara that your closet will thank you for. And after you've seen my top picks, you might want to check out these edits of the best Zara bags, ankle boots and jumpers.
Wear Next may receive a small commission if you click a link from one of our articles onto a retail website and make a purchase.
The Oversized Blazer
£49.99 – buy now
An oversized blazer is such a useful piece to throw over your outfits for an effortlessly cool vibe. This affordable jacket comes in grey marl, khaki, camel and black, so choose a colour that teams well with the rest of your wardrobe and you'll never look back.
If you want help styling it, read our guide to how to wear an oversized blazer.
The White T-Shirt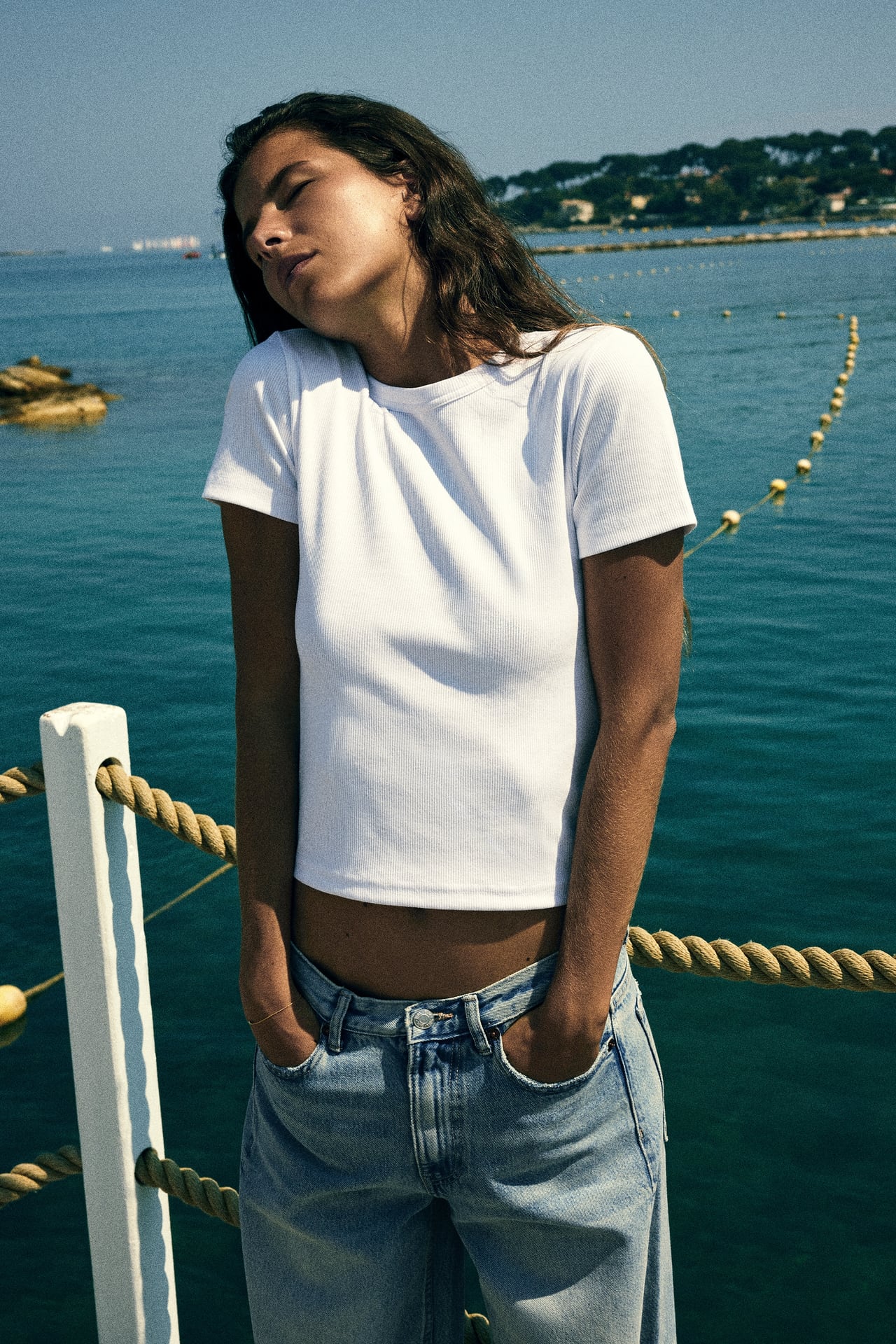 £9.99 – buy now
A white tee is a must for every person's wardrobe if you ask me. The style you go for depends on just that – your style. This ribbed T-shirt offers a tighter fit, but Zara also has baggier tees that I really rate too. This will be your everyday go-to, so make sure it works with your wardrobe.
The Oxford Shirt
£25.99 – buy now
Zara's Oxford shirt is such a versatile piece to style, and not just for the office. Wear it with jeans and a trench coat during the transitional period, or give a glimpse of the collar and sleeves by wearing it under an oversized sweater.
The Felt Texture Coat
£35.99 – buy now
Zara is yet to drop a huge selection of winter coats, but this felt texture coat is ideal if you're looking for a coat that goes with anything and everything. An open coat with a lapel collar and side pockets, it will keep you warm in autumn without having to break the bank.
The Straight Fit Jeans
£25.99 – buy now
If you're still not sure about low waists and baggy jeans, may I introduce you to Zara's iconic straight-fit high-waist style? A fit that never dates, these jeans are available in a variety of washes. At £25.99, they're really affordable too.
I tried on these jeans and a few more pairs at Zara. Here's what I found.
The Leather Look Jacket
£49.99 – buy now
Zara's leather jackets have always been a staple in my wardrobe and this leather look style is a perfect example of why. The oversized fit means it can be worn over chunky knits and it's cropped to sit well with high-waisted jeans and skirts.
The Sweater
£17.99 – buy now
Whatever the colour, Zara's sweater will be one of your wardrobe's best loved items as the weather cools down. I personally love the lilac colour, but it comes in a wide variety of neutral hues too.
The Bodysuit
£15.99 – buy now
We all have skirts and trousers that would look great with a tighter-fitting top. Zara's square-neck bodysuit is available in bright green, orange, brown and black. It's not just great for summer outfits, but as we edge closer to Christmas, it will work with dressier skirts too.
The Striped Sweater
£22.99 – buy now
Whether you're aim is to dress like a French girl or you simply love the look of a striped sweater, this is another super wearable item to add to your wardrobe. The round neckline will soften your look, and the short sleeves are ideal for this confusing transitional period.