Last Updated on September 13, 2021
Bucket hats started growing in popularity in 2019 and now printed, faux fur and leather iterations are everywhere – but are they still on trend in 2021?
At Wear Next, we encourage our readers to wear makes them feel comfortable and confident, regardless of what's on trend – but for those who are considering buying a bucket hat or simply want to know more about the trends of the summer, we're here to help.
READ MORE: Stocking Up On Knitwear? Start With These & Other Stories Picks
Are bucket hats still in style in 2021?
Despite being huge in 2020, bucket hats aren't going anywhere in 2021.
The 90s hat is everywhere, from gingham and floral prints, to rattan styles worn over the summer.
After Rihanna was spotted wearing a 90s-inspired faux fur bucket hat with a slip dress, searches for the hat sky-rocketed. This winter, the furry style is set to explode.
If you haven't got one, there's still plenty of time to invest.
For fashion advice and general chit-chat, join our Facebook group What To Wear Next.
Wear Next may receive a small commission if you click a link from one of our articles onto a retail website and make a purchase.
READ MORE: This Iconic Item Worn by Carrie Bradshaw in SATC is Blowing Up
Are bucket hats trendy in 2021?
While bucket hats were not one of the major trends of the year, they continued to be popular not just in the fashion crowd but also in the entertainment crowd.
Rihanna was spotted wearing them a few times this year — the styles ranged from simple to fuzzy. Hailey Bieber and Kourtney Kardashian continued to be a fan of them too.
Are bucket hats out of style?
It's safe to say that they are still in style.
They may not be the hot topic this year but they continue to be a staple for casual looks and streetwear for many.
What hats are in style for 2021?
We're predicting the return of bucket hats in the limelight.
We think their comeback will be accompanied by the return of trucker hats and cowboy hats too.
Can bucket hats be worn in winter?
There are a variety of winter-friendly bucket hats in stores now.
Fleece and faux fur are the fabric of choice for winter bucket hats, keeping heads warm while looking chic too.
In summer months, keep the sun out of your face with lighter-weight hats in a selection of pretty prints.
Where to buy
Whatever your style, there's a bucket hat for you. Here are our favourites.
Nylon Bucket Hat, £23, & Other Stories – buy now
READ MORE: Arket's Jeans Selection is Small But Mighty – These Are the Pairs Not to be Missed
Le Bob Gadjo Logo-appliquéd Cotton-canvas Bucket Hat, £80, Jacquemus at Matches Fashion – buy now
Britt Hat, £54, Lisa Says Gah! – buy now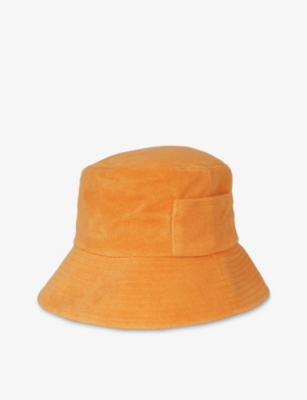 Wave Cotton-terry Bucket Hat, £80, Lack of Color at Selfridges – buy now
COLLUSION Unisex Bucket Hat, £10, ASOS – buy now
adidas Originals Trefoil fluffy bucket hats in leopard print, £22.95, ASOS – buy now